Mungret St, Limerick
James O'Mara
and many other family members, in different branches, lived in the mid 19th century on Mungret St,
Irishtown
, Limerick city.
James O'Mara founded O'Mara's bacon factory in Mungret St in 1839.
He moved some time in 1856-1862 to Roches St.
---
Griffiths Valuation, 1850
Mungret St in
[Griffiths Valuation, 1850]
shows many family members on the same street.
See full size TIF
p.1
and
p.2
.
Plot numbers do not always correspond to postal house numbers.
And in any case, streets got re-numbered. See
Roches St renumbering
.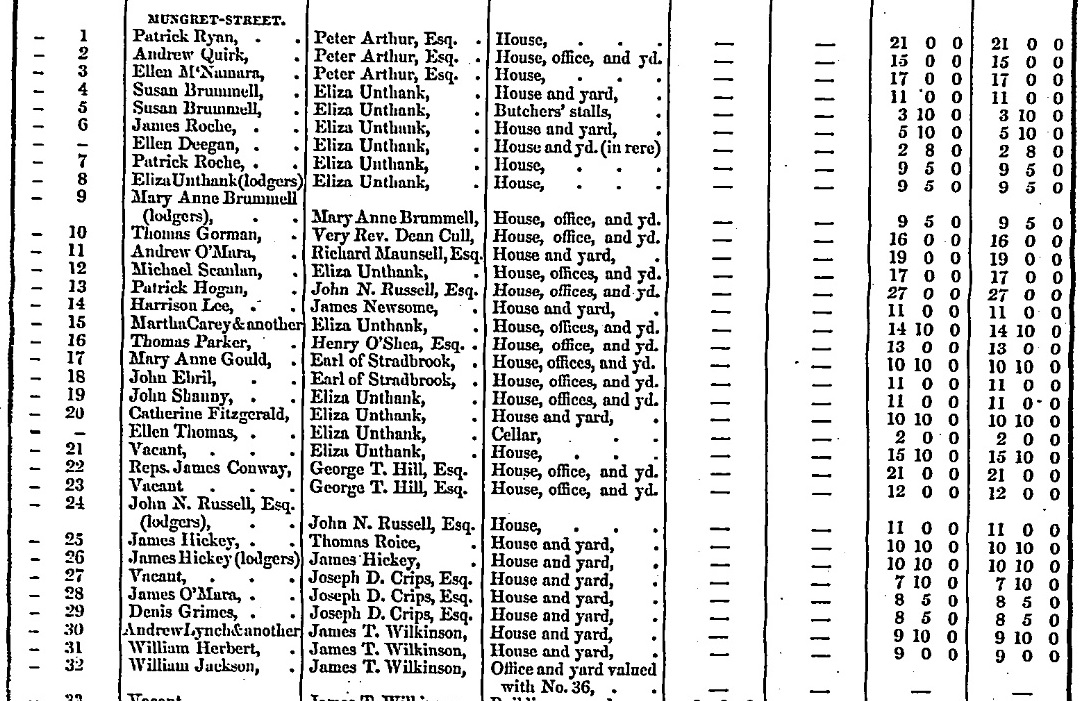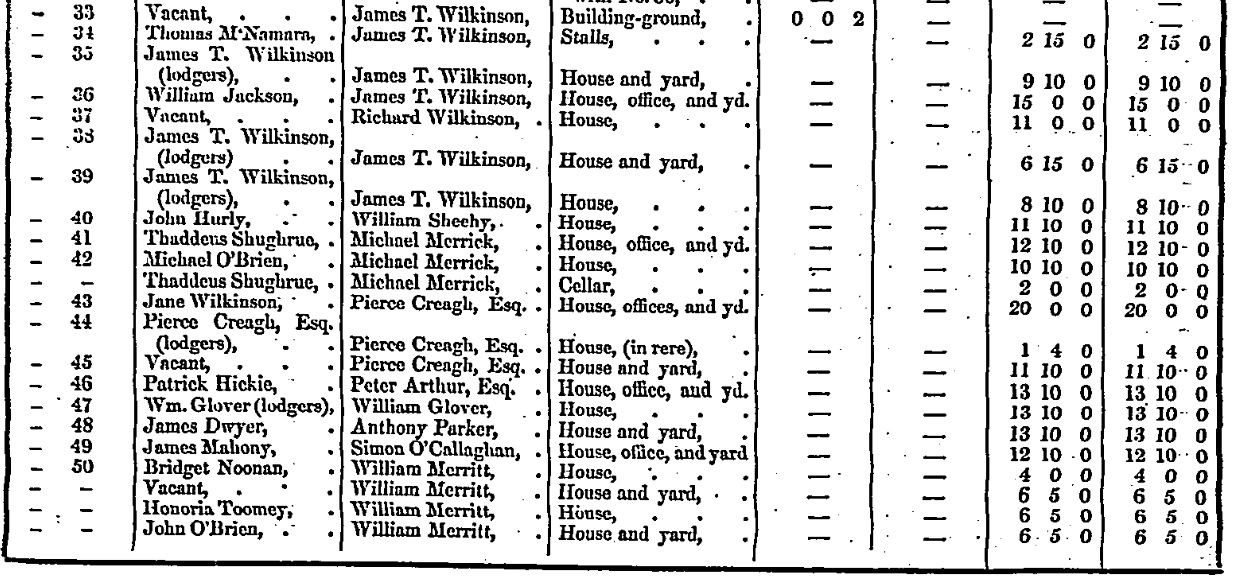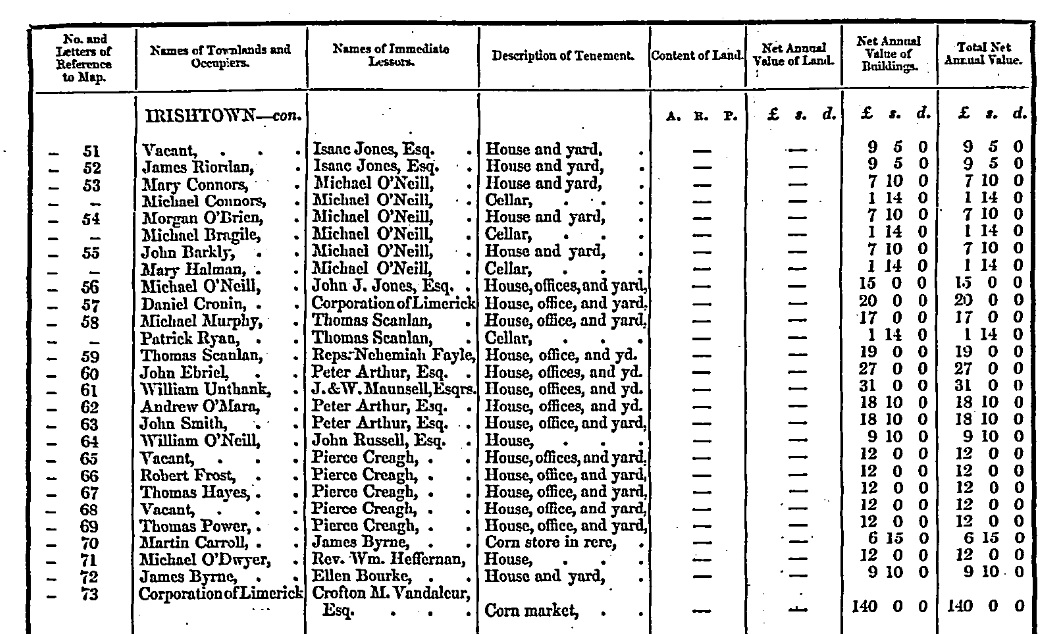 People and plots:
Relationships:
Andrew O'Mara and James O'Mara are brothers.
Honora Foley and Mary Foley are sisters.
Catherine Ebrill is daughter of John Ebrill and Bridget Gould.
Bridget Gould is probably aunt of Mary Anne Gould.
Later, in 1853, Mary Anne Gould married the son of James Wilkinson and Jane Dickson.
Later, in 1867, the grand-daughter of John Ebrill and Bridget Gould married the son of James O'Mara and Honora Foley.

Fr. Paddy O'Mara
thinks the James O'Mara house
was
28 Mungret St.
Is this evidence that the Griffith's numbering
does
match the postal numbering? Or is he just going from Griffith's?
Note he is confused about his grandmother's name.
See
full size
. From
J/552/58
.
---
Later maps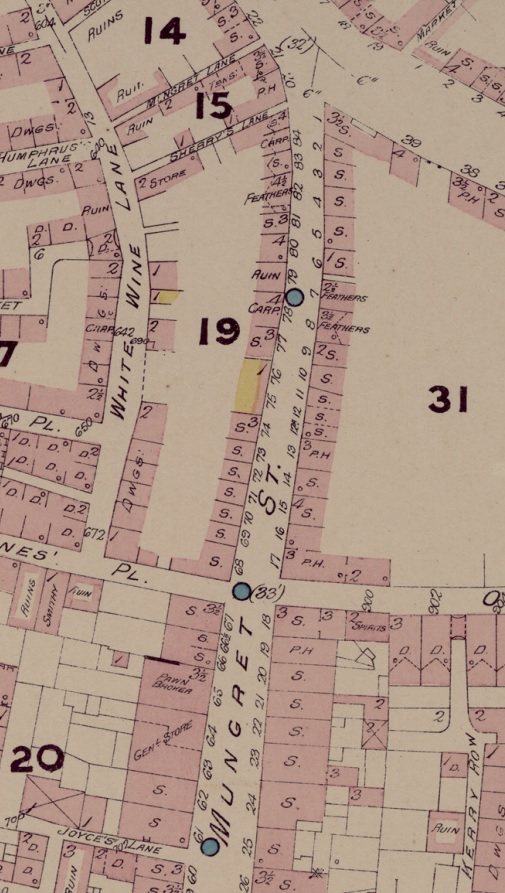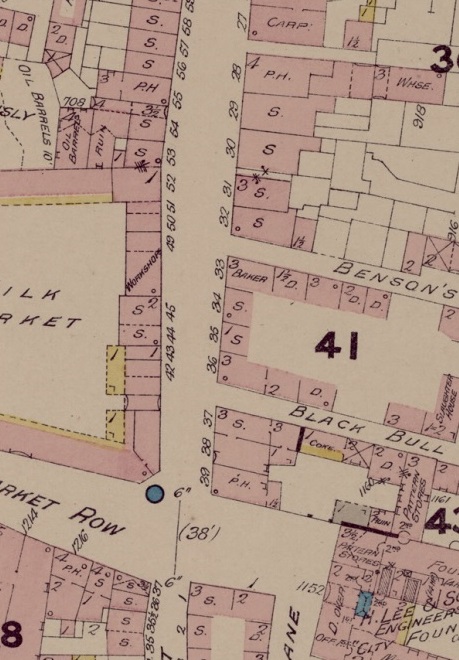 Map of Mungret St, Limerick, in 1897, with street numbers.
Not exactly aligned with N. Should rotate this R a bit.
The street numbers could be entirely different to the plot numbers in Griffith's Valuation.
From Insurance plan of Limerick, 1897, by Charles E. Goad, Leonard Collection at
UL
library.


Modern street view looking NE up Mungret St.
The street is almost completely cleared.
The Milk Market survives, and almost nothing else.
Click to rotate. From Google street view.