Herbert James Wells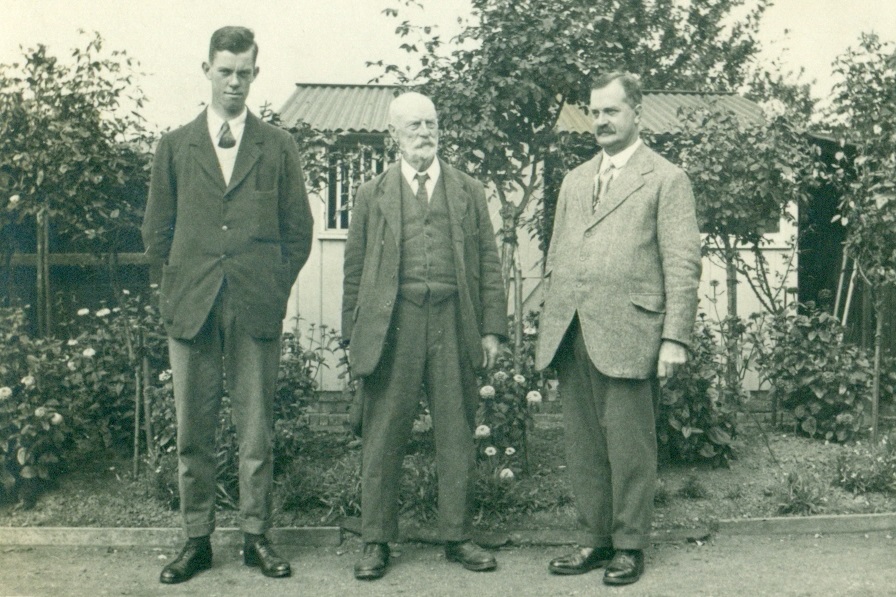 Left to Right: Donald Wells (born 1907), his grandfather
Joseph Leonard Wells
(born 1839), his father Herbert Wells (born 1871).
See
full size
. Courtesy of
Richard Parker
.
Herbert James Wells
,
Herbert Wells, born 14th Jan 1871, Tannington, Suffolk.
His mother died 1878.
He is listed in
[UK census, 1881]
as living with
grandparents
in Ipswich town. His father and some of the children are in London.
He is
listed
in 1891 census as "Bank Clerk" in accomodation for a large bank at 1-2
Lombard St
, City of London.
He mar 1stly, 1900, Erith, Dartford, Kent, to Florence Belcher [born 1863, Islington, perhaps sister of Lily Belcher].
They are listed in 1901 census at 52 Woolwich Rd, Belvedere, E side of London. He is "Banker's Clerk". They have one servant. This is near his father's house, Tower House, Berkhampstead Rd, Belvedere.
Florence died 1901, Erith, Dartford, age 38 yrs.
Herbert had issue by 1st wife:
Muriel Wells,
Florence Muriel Wells,
born 1901, Belvedere,
mar 1926, Bromley, to Philip Bell [Philip Michael Bell, born 1899, poss. Phillip],
lived in Bromley area,
he is described as "manufacturers agent" at probate of Florence Crosher 1957,
she fl 1960,
he died 1972, age 73 yrs,
had issue:

Valerie Bell.

Herbert mar 2ndly, 1905, Lewisham, London, to Jeanie Ross Gay [born 21 Aug 1879, Stepney or Hackney, London, NOT Jeannie, NOT Rossgay].
Jeanie was dau of Robert Charles Gay and Sarah Ann Bath. She was bapt 2 May 1880, St Dunstan and All Saints, Stepney. See entry.
They are listed in 1911 census at 130 Bargery Road, Catford, Lewisham, London (see map). He is "Banker's Clerk". They have one servant.
Herbert is described as "assistant bank manager" at father's probate 1930.
He died 27th Feb 1936, Southwark, London, age 65 yrs.
Jeanie's address at death is listed in burial entry as 71 Firsby Ave, Shirley, London (see map).
Though probate lists her as of Tile Cottage, Haroldslea Drive, Horley, Surrey (see map).
She died 27 Jan 1940, Tile Cottage, Horley, age 60 yrs.
She was bur 30 Jan 1940, St John the Evangelist, Shirley. See entry.
Probate granted 3 Apr 1940.
He had issue by 2nd wife: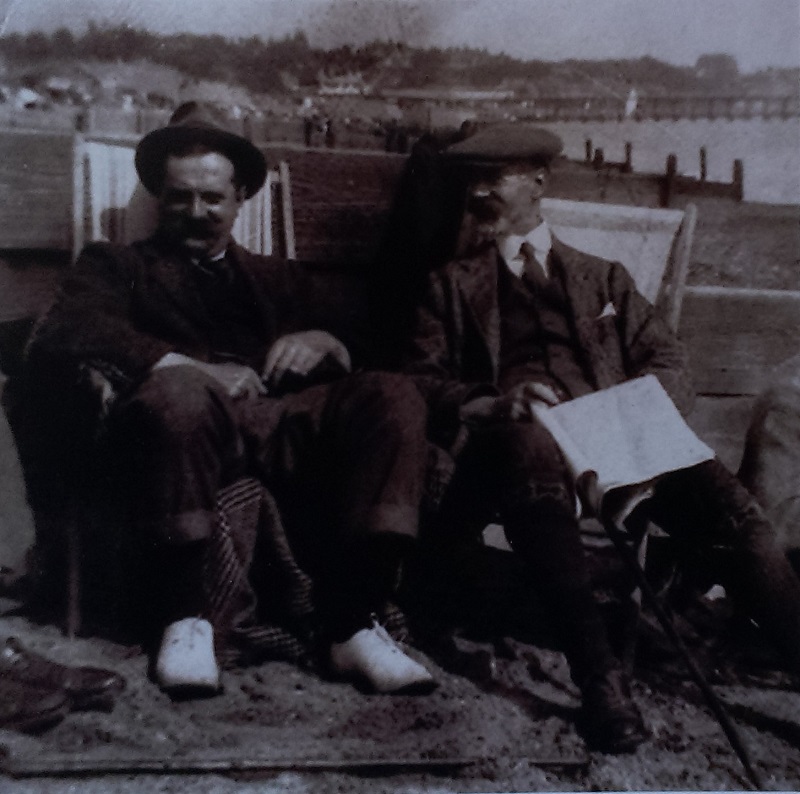 Herbert James Wells (left) and
Arthur F.V. Gibbon
, 1920.
See
larger
and
full size
.