Thomas Blennerhassett, of Flimby
Thomas Blennerhassett
,
of
Flimby Hall
, Flimby, Cumberland (Cumbria).
MP for
Carlisle
1584-1588. See list of
Carlisle MPs 1558-1603
.
Thomas visited Ireland, "at an advanced age".
Thomas and his son Robert appear in the petition of 1598 from early settlers who had to flee Kerry in the insurrection of 1598.
He returned to Cumberland, but his son Robert stayed in Kerry, and was ancestor of Blennerhassett there.
He had issue:
John Blennerhassett,
of Flimby Hall, Cumberland (Cumbria).
Ancestor of Blennerhassett of Flimby Hall (stayed in family until sold 1772).




Robert Blennerhassett,
born est c.1570,
of Ballycarty, Co.Kerry,
settled in Ireland.
---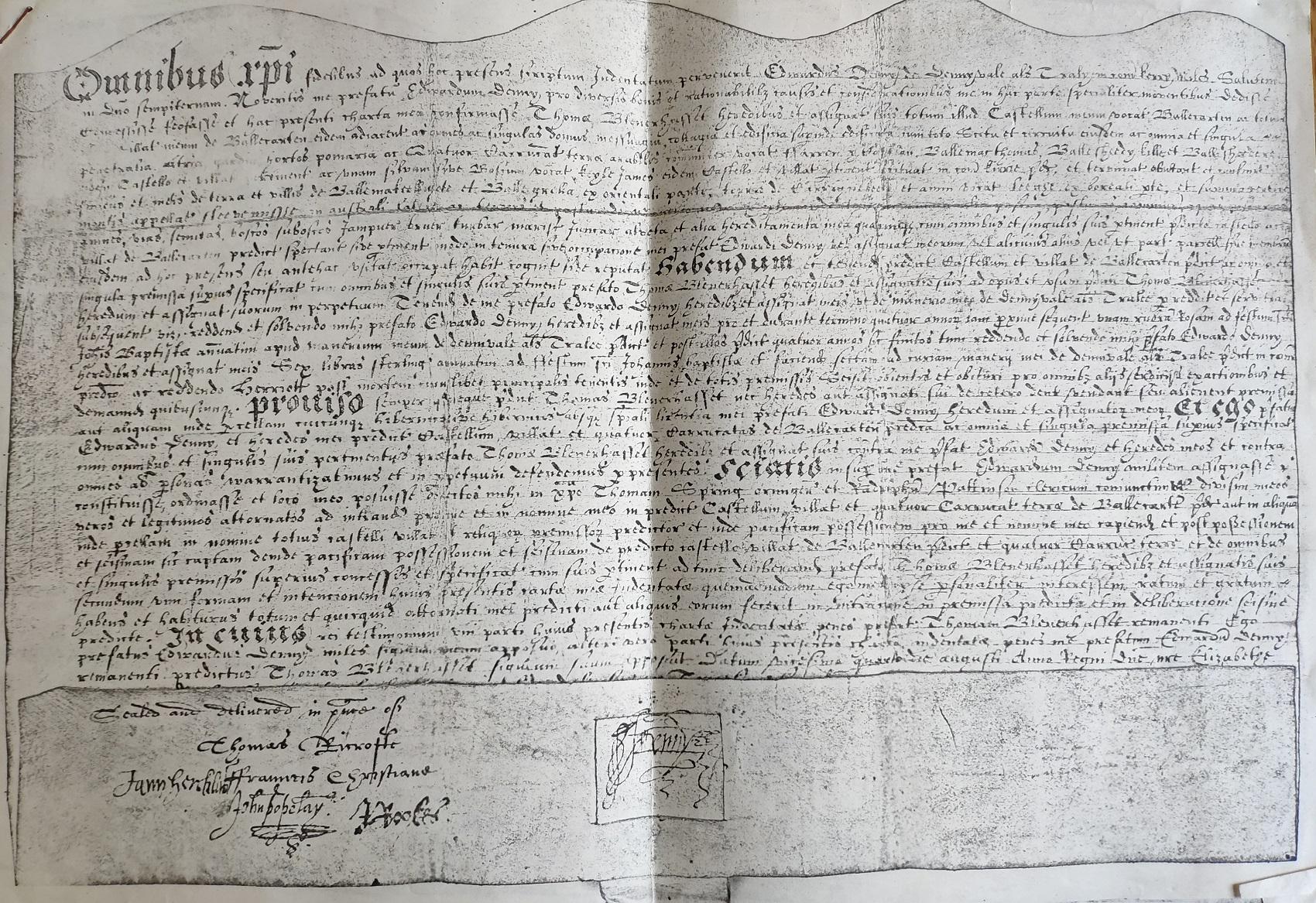 Photocopy of 1590 grant from Sir Edward Denny to Thomas Blennerhassett.
Grant of "Ballecartin" (Ballycarty).
Ms. 14,347
in
[NLI]
. Photocopy deposited in 1978. Apparently by
Brian Fitzelle
.
Location of original deed unknown.
See
full size
. See
signatures
.


Back of document.
See full size. See closer.
A note on this side of uncertain date says "24th Aug 1590".
This may be a mis-reading for 14 Aug 1590 (see below).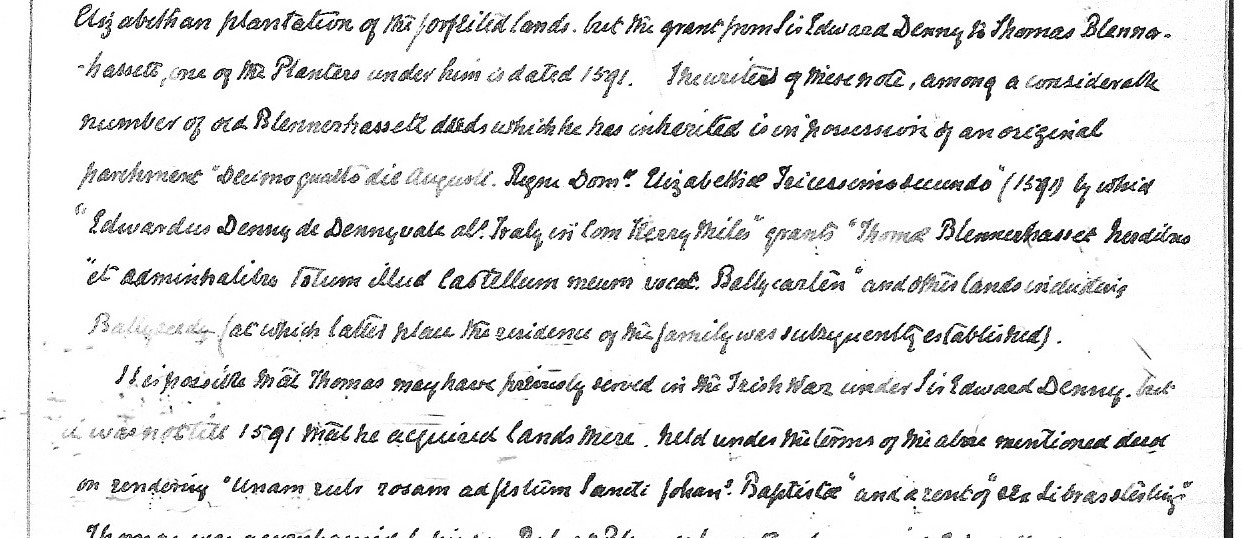 Note about 1590 grant by Edward Francis Jemmett Browne, dated 1910.
Says he then (1910) had a copy of the 1590 grant.
Note on p.7 of a bound Ms. book titled "Blennerhassett Notes, chiefly Cumberland", in Kynnersley-Browne papers, box 28 of deposit 823.
Says the grant is dated "Decimo quarto die Augusti. Regni Domi. Elizabethae Tricessimo secundo".
That is, 14 Aug, 32 Elizabeth.
That is, 14 Aug 1590 (NOT 1591 as written here).


Similar note on p.VII (a different page) of the same.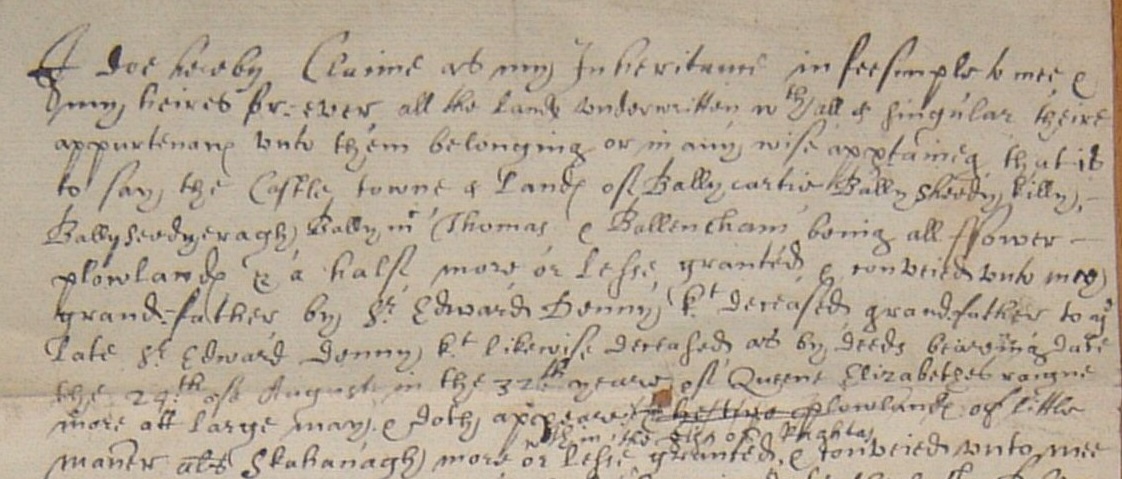 Extract from claim of 1654 by Thomas' grandson John Blennerhassett about his family's lands in Co.Kerry.
He refers to the original 1590 grant of lands to his grandfather Thomas.
See full size.
The claim says (with some spelling modernised): "I do hereby claim as my inheritance in fee simple ... all the lands underwritten ... that is to say the Castle, town and lands of Ballycartie, Ballysheedy, Killy, BallyseedyMcnagh, BallyMcThomas & Ballencham ... granted, and rendered unto my grandfather by Sir Edward Denny Kt, deceased, grandfather to the late Sir Edward Denny Kt, likewise deceased, and by deeds bearing date the 29th of August in the 32nd year of Queen Elizabeth's reign".
That is, he dates the grant to 29 Aug 1590.
As Bill Jehan points out, 29 August is actually the date rent was due (the feast day of John the Baptist) rather than the date of the grant, which is 14 August 1590.
---
1598 petition
Thomas and his son Robert appear in the
petition of 1598
from early settlers who had to flee Kerry in the insurrection of 1598.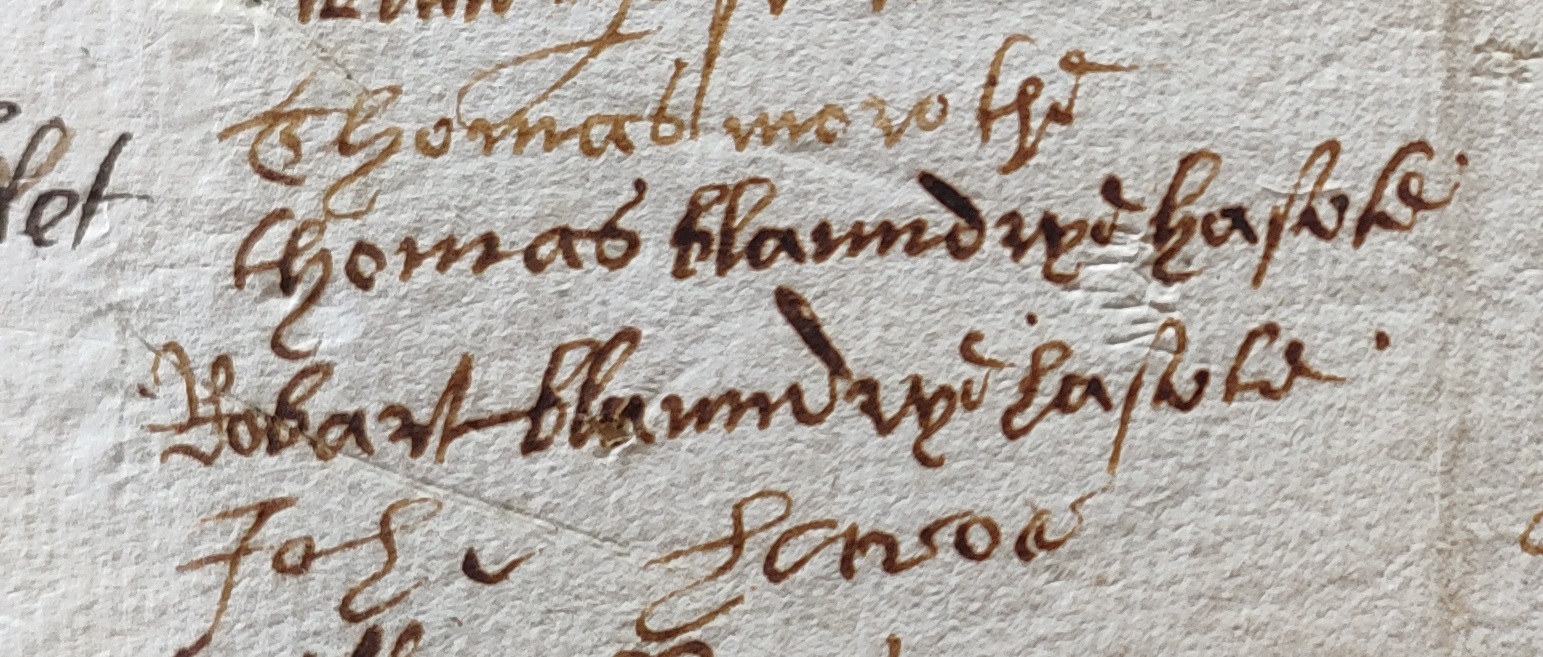 The signatures of Thomas Blennerhassett and his son Robert Blennerhassett on the petition of 1598.
See
larger
and
full size
.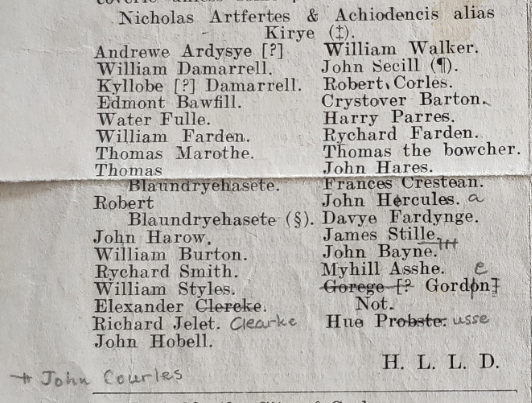 A reading of the signatures on the petition by Sir Henry Denny, 7th Baronet.
He notes that this is Thomas and Robert Blennerhassett, the first two settlers of that name in Kerry.
---
The other Thomas Blennerhassett MP:

[Burkes Irish, 1976] says it is "Another Thomas Blennerhassett" who is Mayor of Carlisle at various dates in 1601 to 1623, and MP for Carlisle in 1603-1604. See list of Carlisle MPs 1604-1629.
There is a Thomas Blennerhassett who is Mayor of Carlisle in 1597. That must be this other Thomas since it seems our Thomas would be in Ireland at this time.
See notes on Thomas Blennerhassett on historyofparliamentonline and wikipedia, which are unclear as to how many Thomas Blennerhassetts there are, and which one is Thomas of Flimby.