Richard McEllistrem

"Richard McElistrem" listed at Ballylongford in
[Tithe Survey, 1824]
.
Richard McEllistrem
(standard spelling),
or possibly Mac Ellestrem (spelling on son's grave),
born est c.1780.
He was possibly originally of
Ardfert
, near Tralee, Co.Kerry, and only came to Ballylongford after mar.
He mar pre-1805 to
Mary McCarthy
[of Ardfert, perhaps they married before he went to Ballylongford].
Richard ran a big business on Main St, Ballylongford, Co.Kerry. Shipping agent and general store.
"Richard McElistrem" is listed in [Tithe Survey, 1824] with 11 acres at Ballymacasy townland (Ballylongford), Aghavallen par.
He was supposed to have run post office at Ballylongford.
Though "Scanlan" is listed as postmaster at Ballylongford in 1825-26 and 1826-27.
This may be confusion with his grandson Mark McEllistrem who was postmaster.
He did not approve of dau Margaret marrying Rahilly in probably 1836.
All the business (including ultimately the post office) went with Margaret to Rahilly's shop.
Mary was alive in the 1840s, when her grandson Richard Rahilly (bapt 1839) was young.
Mary Barrett (bapt 1835) wrote to The O'Rahilly in [P102/207(29)], and said his father Richard knew his grandmother Mary: "Big Mamma your father used call her".
Mary might be "Mrs. McEllistrim" who is listed as one of the principal farmers in Ballylongford in 1861 ["Memory Lane", The Shannonside Journal, 1994, p.121].
Richard and Mary had issue:
Richard Mac Ellestrem,
born 1805,
spelt "Mac Ellestrem" on tomb.
Mary Barrett, writing to The O'Rahilly, described him as "your good grand uncle" [P102/207(30)].
"Richard McEllistrim" sp the bapt of his nephew Richard Rahilly 1839.
He died 10 Aug 1848, age 43 yrs.
He was bur in an impressive tomb, Lislaughtin Abbey, near Ballylongford. A big vault, standing on its own.
[P102/208(81)] says the tomb was built by his brother-in-law Michael Joseph Rahilly, who was very fond of him, and who would himself die soon after.
On Richard's tomb is written "In life esteemed and beloved. In death deeply and universally deplored."
Note his entry in [Connie Mickolajak family tree] incorrectly shows him with sons and grandsons which are confused versions of his brother's sons.




Margaret McEllistrem,
born 1812, Ballylongford.
She fell for Michael Joseph Rahilly. Her family didn't want her to marry him. They "eloped" to marry in Limerick.
They returned to Ballylongford and set up shop (or possibly continued Rahilly family business).
She mar Michael Joseph Rahilly and had issue.
They must have married in 1836 (see date of business established). Probably mar in Limerick.
Marriage not found in initial search of Limerick par records.
It is NOT the mar of Michael Rahilly in 1838 in Shanagolden, Co.Limerick (that is to Catherine Costello).




Thomas McEllistrem,
Tom, born 1821 [according to age at death].



---
Grave of Richard Mac Ellestrem (died 1848)
Lislaughtin Abbey, near Ballylongford.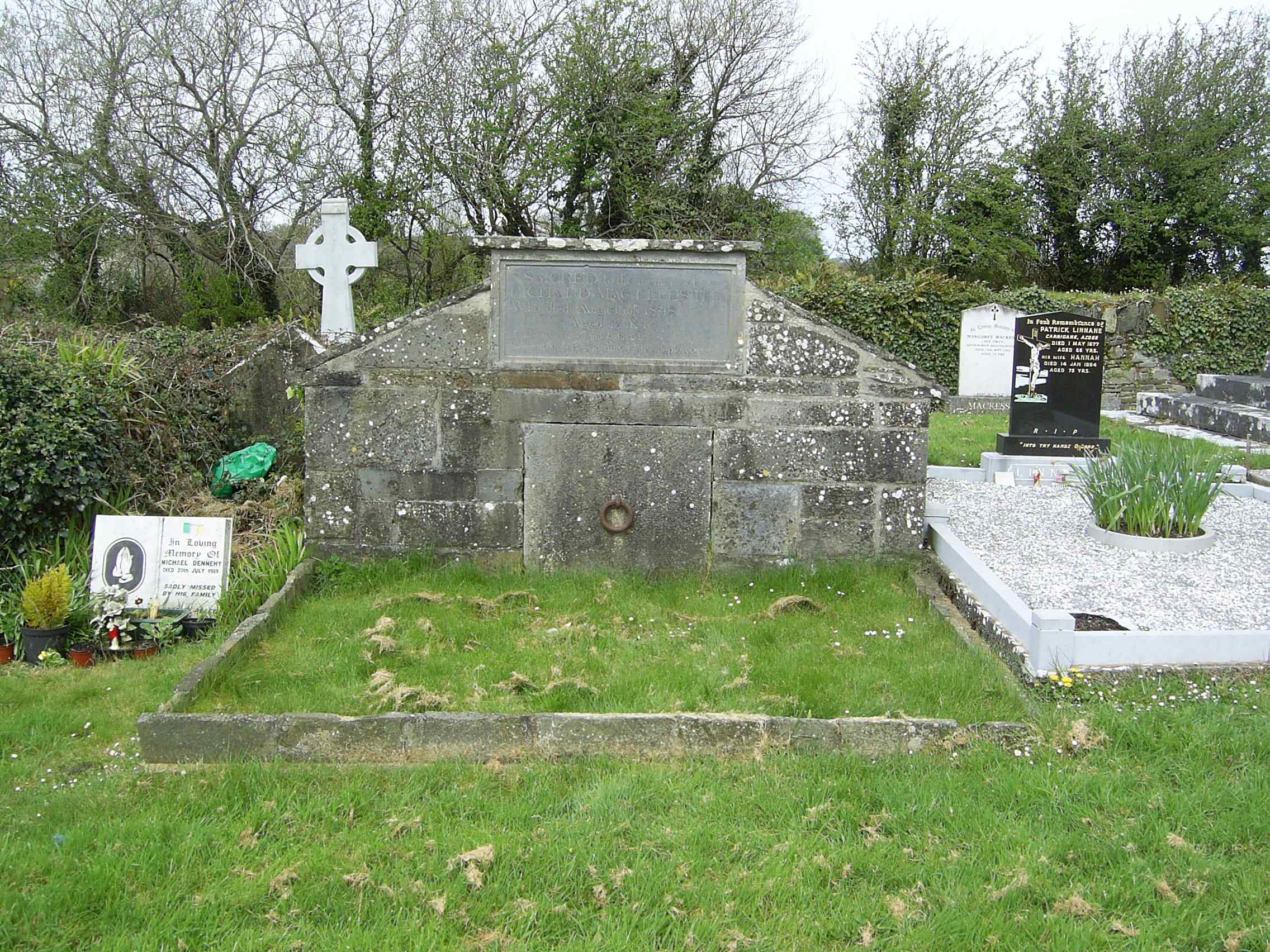 Grave of Richard Mac Ellestrem (died 1848), Lislaughtin Abbey.
See
full size
.
See also
alternative shot
and
alternative shot
(these two photos courtesy of Richard Humphreys).
Photos 2006.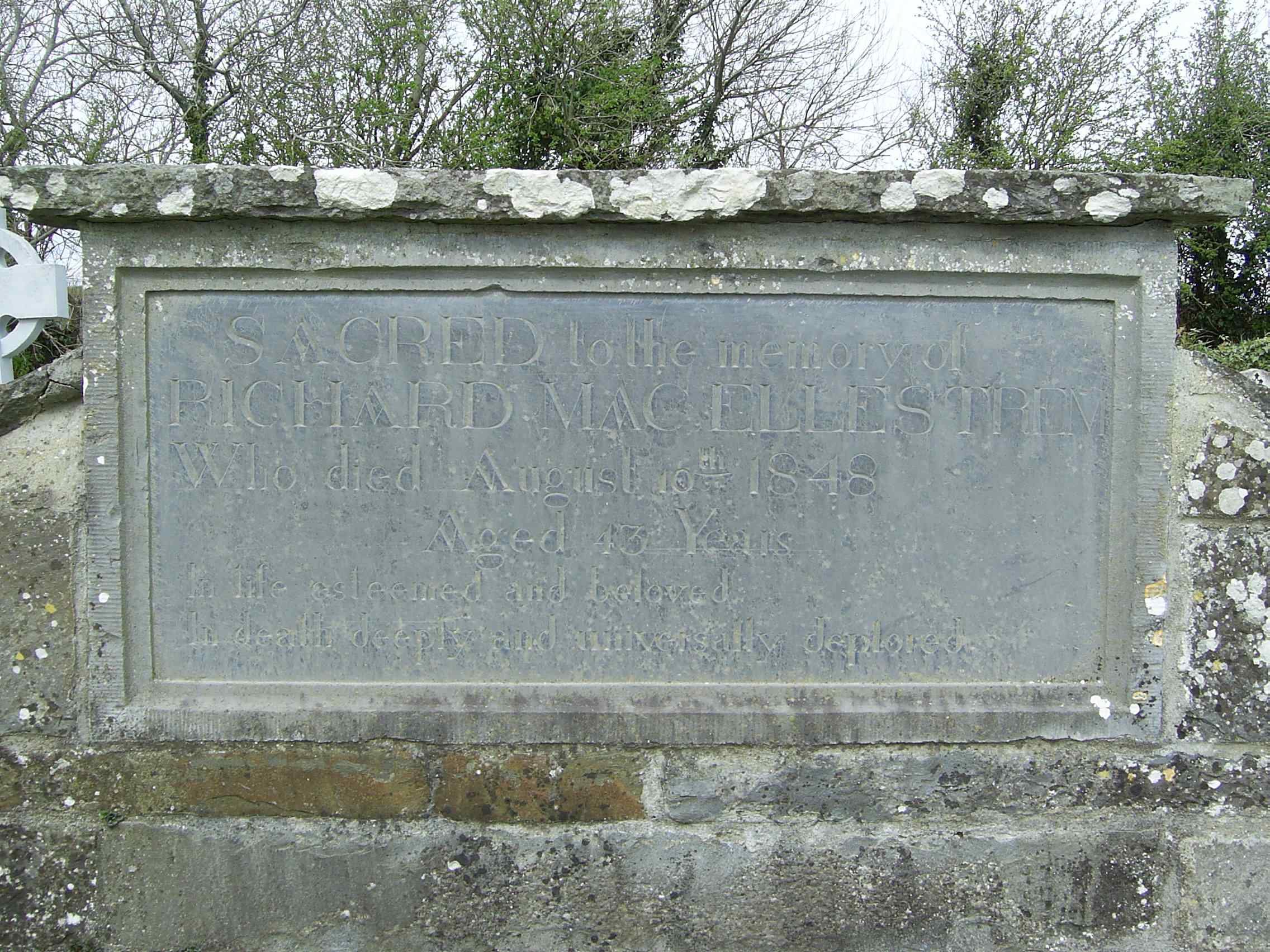 Close-up of grave, showing spelling "Mac Ellestrem".
Photo 2006. See full size.


Extract from The O'Rahilly's research in 1900 [P102/208(81)].
This says Richard's tomb was built by his brother-in-law Michael Joseph Rahilly.
See full size.
The story in the modern McEllistrem family is that McEllistrem built the tomb.