Conn O'Rahilly
Sources yet to be consulted:

Estate papers of Rahilly landlord.
[P102/3] is a letter dated 24 July 1842 from "Ellen Leahy" (on envelope, though looks like "Ellen Slattery" inside), possibly from "Newmarket", to Michael Rahilly, Ballylongford. Signs herself "your affectionate cousin". Ellen could be paternal cousin (this page) or maternal cousin (this page).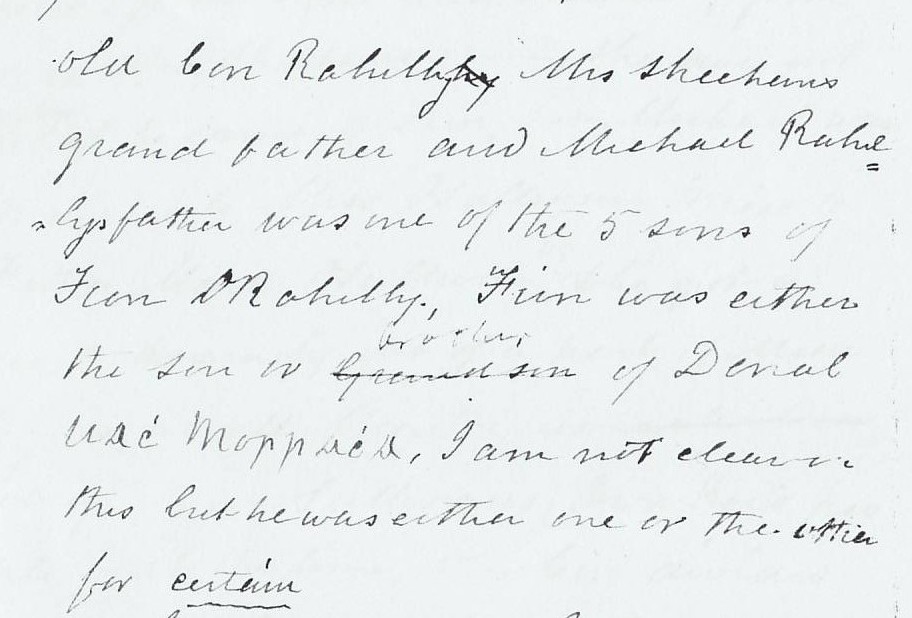 Extract from Michael Warren's letter of 1906
[P102/207(4)]
.
He meets
Julia Sheehan
and she says Conn was the son of Fionn.
Conn O'Rahilly
,
of
Upper Lisbaby
(or Upper Lisbabe), Co.Kerry,
born est c.1735.
He mar
Johanna O'Riordan
[or Norah, or Riordan, dau of Daniel O'Riordan of
Knockysheehan
, Aghadoe parish, Co.Kerry, see
map
].
[P102/207(4)]
says he
"was a well to do man and was a cattle dealer as well, having all Upper Lisbaby to himself"
.
"Old Con divided the farm between two of the sons, giving half to John ... and the other half to Michael"
[P102/207(4)]
.
Evicted from Lisbabe:
[P102/207(4)] reports on Julia Sheehan telling how her grandfather Conn O'Rahilly was evicted from his lands at Upper Lisbaby. Date of eviction uncertain.
[P102/207(4)] says: "Lisbaby was a part of Charles McCarthy's estate of Headfort, a branch of the McCarthy Mores. This Charles McCarthy was always in want of money and he borrowed some money from a Mr. Martin Lalor, an apothecary and tithe collector in Killarney, and he gave him a lien on the townland of Lisbaby for the money he borrowed. Lalor soon demanded the money and a litigation cropped up between them, which held for 7 years, during which time the tenants paid no rent." [Perhaps naturally, since apart from simply taking advantage of the situation, they might have been paying the wrong person.] "In the end Lalor gained the law suit and he evicted all the tenants out of the farm, and let the land to new tenants."
If Michael went to Killarney after eviction, then eviction was before 1801.
Charles MacCarthy of Headfort, Co.Kerry, died 1821 [Fitzelle, 1986].
Conn was evicted from Lisbabe.
He fl at time of his son Fionn's death (prob. 1809).
He educated his grandson James, so prob. fl 1820.
All sons listed as "Rahilly". Think this was the generation when the O' in the name was dropped ("O'Rahilly" became "Rahilly"), with the continuing Anglicisation of the country.
His descendants would restore the spelling "O'Rahilly" in the early 20th century revival.
Conn and Johanna had issue:
Fionn O'Rahilly,
of Upper Lisbaby, Co.Kerry, eldest son.
He mar Joan O'Keeffe [dau of Dermod O'Keeffe, of Knocknaskeha, Killarney parish].
[P102/207(6)] says he "died soon after his marriage before his first child a son was born to him".
He died in his father's lifetime.
He is probably "Faun Rahilly" of Knocknaskeha, whose will probate was granted 1809 (Ardfert and Aghadoe diocese).
Fionn and Joan had issue:

James O'Rahilly,
born after his father's death (prob. 1809).
His grandfather Conn "took the child to himself and reared and educated him" [P102/207(7)].
James wrote a song or poem called The Sons of Erin. [P102/207(6)] thinks written 1849.
The letter [P102/207(7)] says the song The Sons of Erin is enclosed. It may be elsewhere in the papers.
He wrote several other songs.
He died without issue.
[P102/207(6)] says he "grew up and became a great scholar and left home, and they never heard from him after".




Fionn may be the same as:

Eugene Rahilly,
mar Joanna Keeffe [or Johanna],
listed as of Knocknaskeha, Killarney parish, at dau's bapt 1807,
had issue:

Honora Rahilly,
bapt 4 May 1807 [Killarney RC par records], sp Denis O'Keeffe and Joanna Donnoghue.




Michael Rahilly, of Killarney,
born est c.1765, Upper Lisbaby, Co.Kerry.




Denis O'Rahilly,
of Knocknaskeha, Killarney parish, Co.Kerry,
married in 1804.
Oddly, Julia Rahilly only listed Fionn and Michael as uncles in [P102/207(4)] and [P102/207(6)]. She did not list Denis.




John Rahilly,
born Upper Lisbaby.
Listed as "Rahilly" at bapt of dau.
He was evicted with father.
He moved 1817 or 1818 (see below) to farm at "Knockanemeris" (Knockanimrish, Killaha par, see map).
He mar pre-1826 to Elizabeth Moynihan [Betty, dau of Patrick Moynihan, of Knockdurath (or Knockdoorah), Kilcummin par, see map].
She could be related to these Moynihans.
John is listed as of Knockanimrish at dau's bapt 1826.
[P102/207(6)] says he lived Knockanimrish for 22 years (i.e. from 1817 or 1818).
He moved 1839 or 1840 to to "Raheen" or "Raheen West" (which was said to be part of Dónall 'ac Murchadha's old land).
[P102/207(6)] says Julia was age 13 leaving Knockanimrish (i.e. 1839) and lived Raheen for 12 years before marriage (i.e. 1840).
John and Elizabeth had issue:




Julia Rahilly,
bapt 5 Apr 1826 [Glenflesk RC par records], sp James Banane and Ellen Rahilly,
listed as of Kilcummin at mar,
mar 10 July 1852 [Kilcummin RC par records] to Michael Sheehan,
mar wit by James Rahilly and Johanna Riordan.

Norah Rahilly.
Joan Rahilly.
Ellen Rahilly.
Mary Rahilly.
James Rahilly, mar Catherine Barrett [dau of John Barrett of Ardnamadama (unidentified)].
Denis Rahilly, died without issue.

"Martin Lawlor" is listed as owning all of Lisbabe in
[Griffiths Valuation, 1853]
.
The tenants are roughly the same families as seen at
Lisbabe
in
[Tithe Survey, 1824-34]
.
Need to establish when Lawlor gained possession of Lisbabe.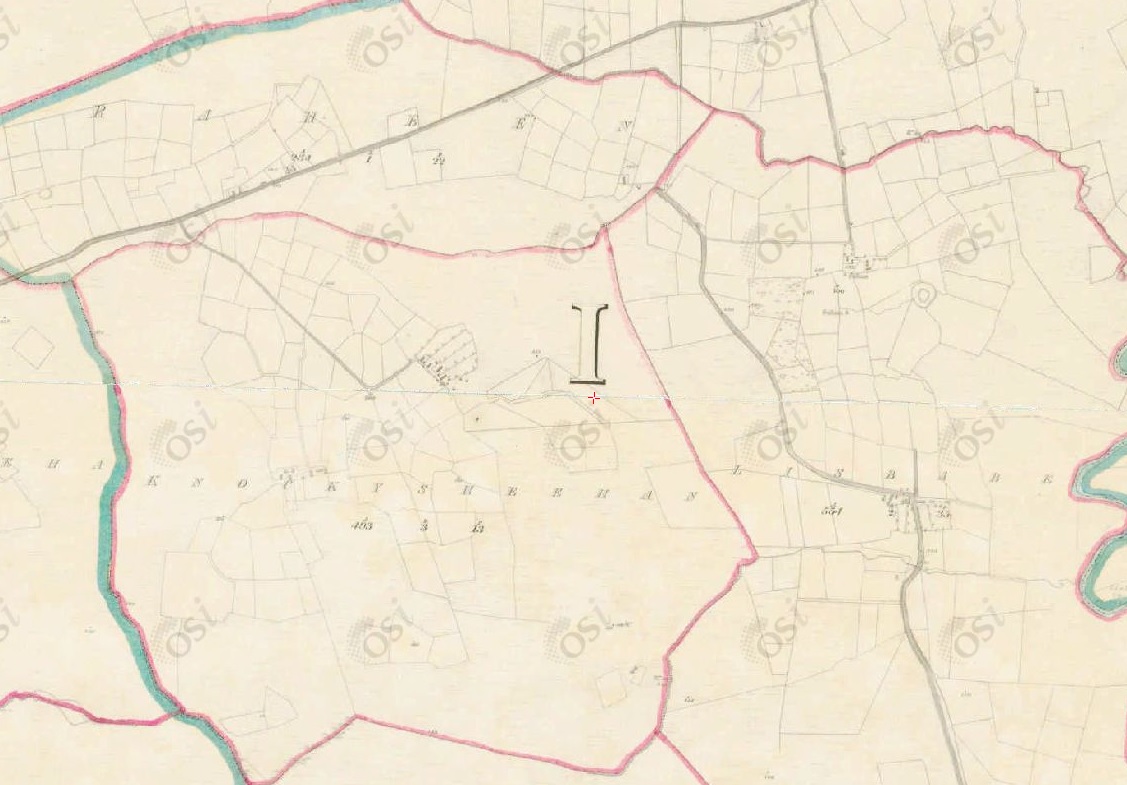 Knockysheehan on 1829 to 1842 map.
Raheen to the N and Lisbabe to the E.
---