Grave of The O'Rahilly, Glasnevin
The O'Rahilly
died in the 1916 Rising, and was buried in
Glasnevin Cemetery
, beside
O'Donovan Rossa
(died 1915).
They were the first couple of burials of what was soon to become the Republican Plot, which now contains most of the republican heroes of the War of Independence and Civil War.
Location: to the RHS of the O'Connell tower. See Google street view.
See his grave and O'Donovan Rossa's grave.
After 45 years without him, his widow Nancy was finally buried with her husband in this grave in 1961.
Location of The O'Rahilly's grave, Glasnevin.
Click to rotate.
From
Google street view
.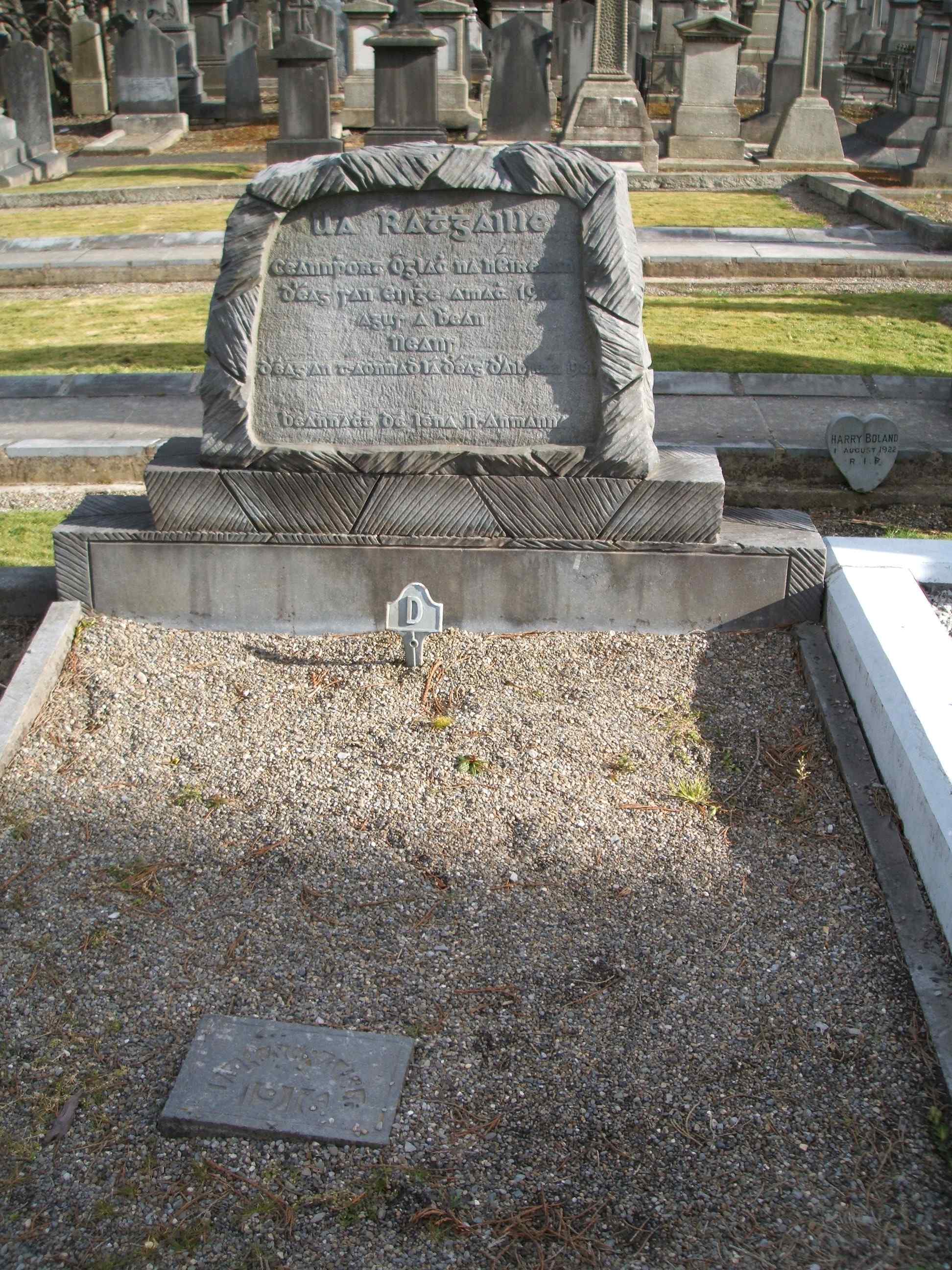 The O'Rahilly's grave, Glasnevin. Photo 2006.
See full size.
Note grave of Harry Boland in background.
Photo courtesy of Richard Humphreys.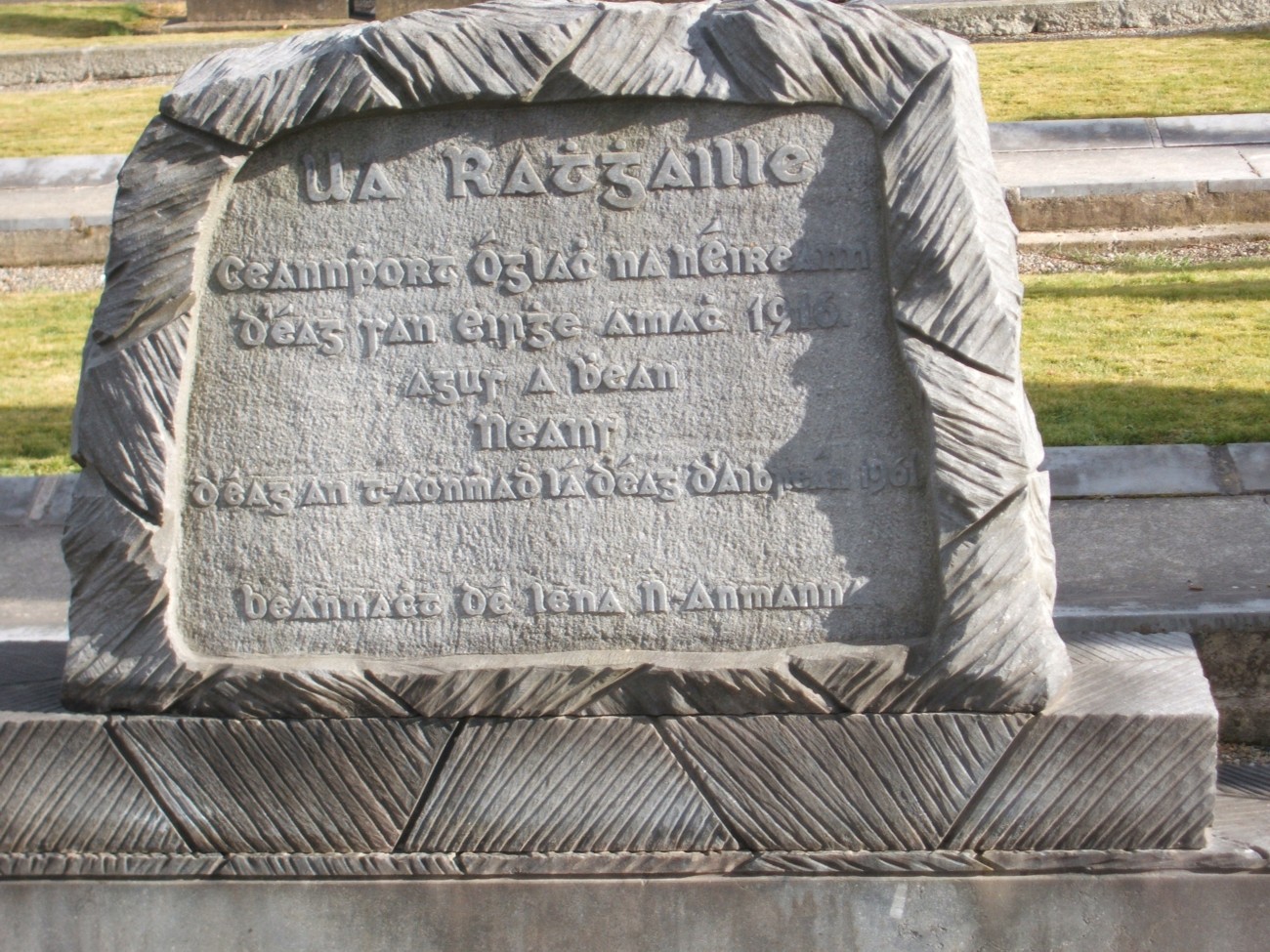 Close-up.
Note the grave simply says: "Ua Rathghaille". No other name.
Lists him as "Commander" of Óglaigh na hÉireann (the Irish Volunteers).
Photo 2006 courtesy of Richard Humphreys.
See full size.
---
Planned burial in Lislaughtin Abbey
The O'Rahilly was buried in Glasnevin in Dublin on 4 May 1916. It was assumed this would be temporary and he would be re-buried in
Lislaughtin Abbey
, near Ballylongford, Co.Kerry. But he never was.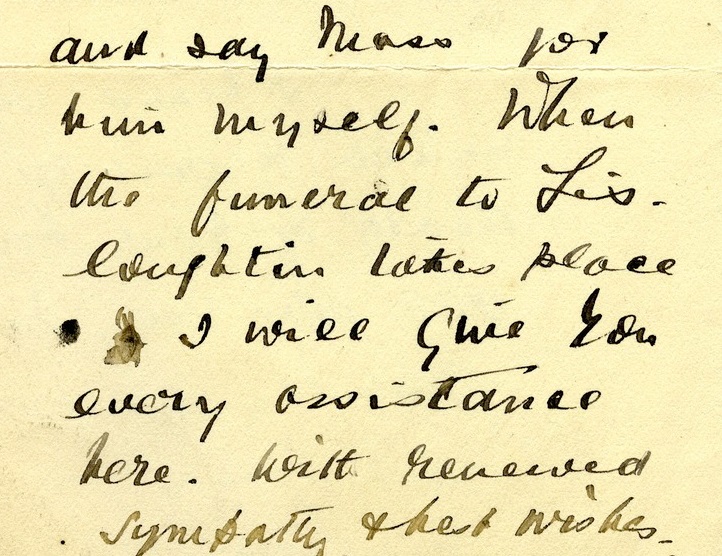 Letter of 13 May 1916 from the P.P. of Ballylongford to
Anno
.
"When the funeral to Lislaughtin takes place I will give you every assistance here."
This is
[P106/171(4)]
(see
online
).
[P106/385]
has letter of 23 May 1916 showing Nell plans to have him removed from Glasnevin and re-buried down the country.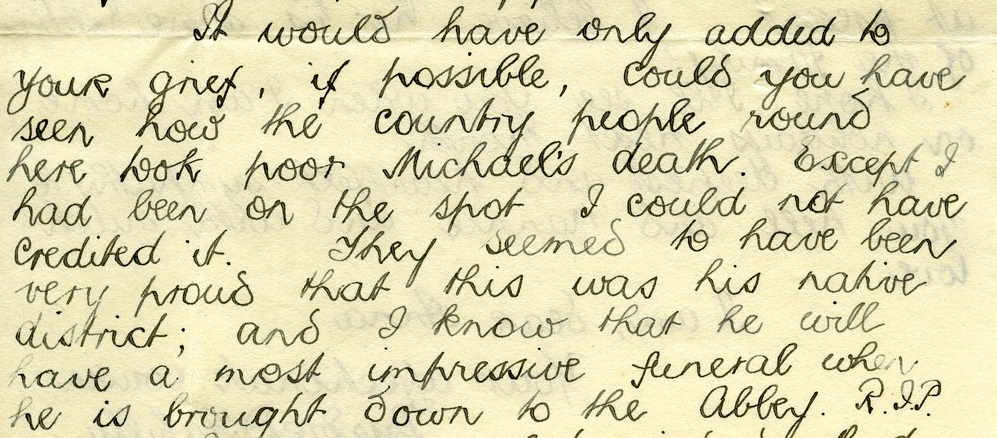 Letter of 25 May 1916 from Birdie O'Rahilly to Anno.
She says the Kerry people all mourn The O'Rahilly "and I know that he will have a most impressive funeral when he is brought down to the Abbey".
This is [P106/122(1)] (see online).
See also [P106/126].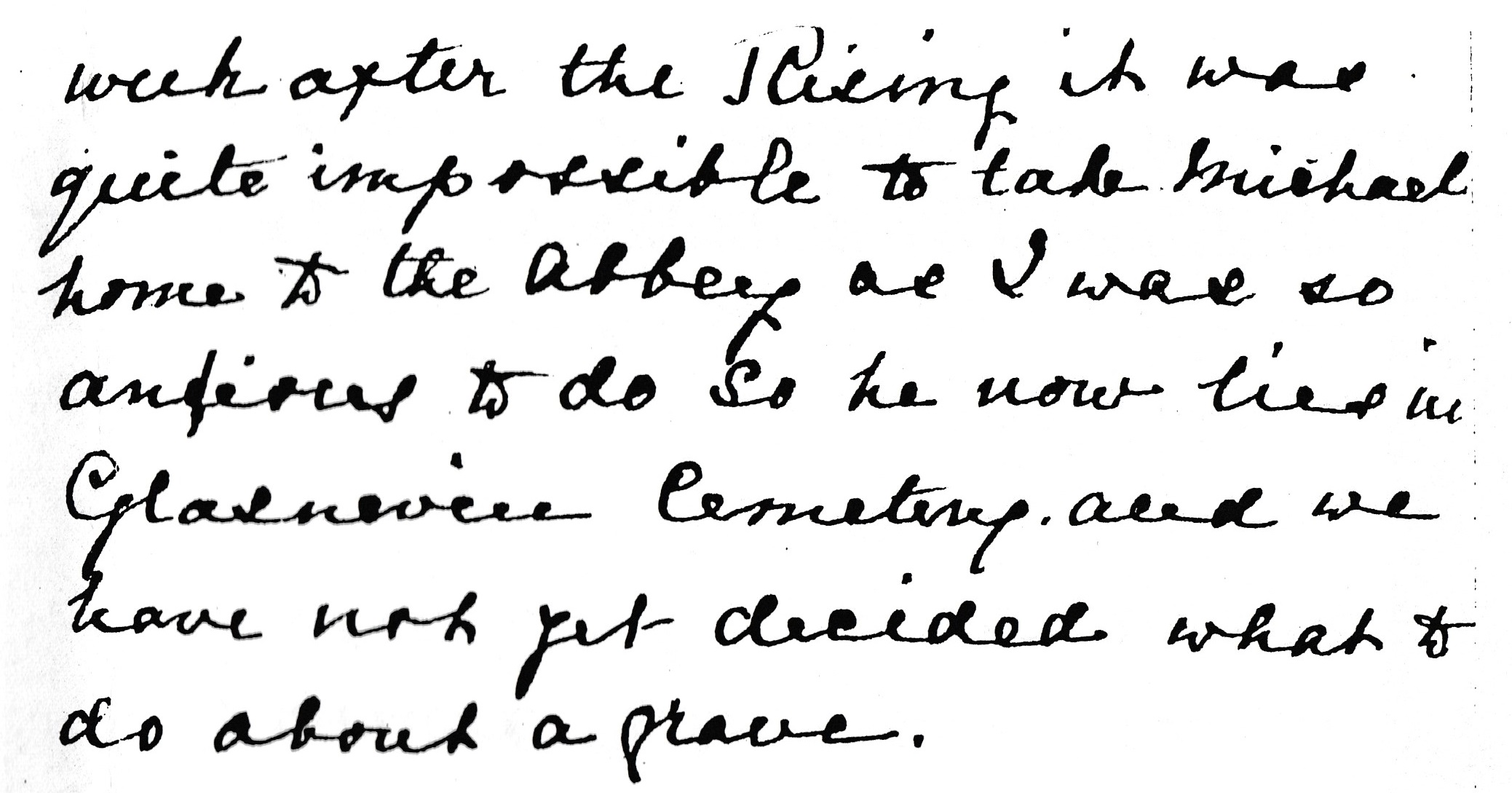 Sept 1916 letter from Nell says they wanted to bury him in Lislaughtin Abbey and Glasnevin was not their first choice.
See full size.
---
The song "The O'Rahilly Grave"
There is a strange song called "The O'Rahilly Grave". Author unknown.
The song seems to be about an imaginary version of The O'Rahilly.
His grave is lonely? It has no monument? He fought with De Valera? Seven times he charged the British lines? They laid him down? His dying wish to rest near the Liffey? Shamrocks and a hawthorn bush? A stream and mountains?
The whole thing appears completely imaginary.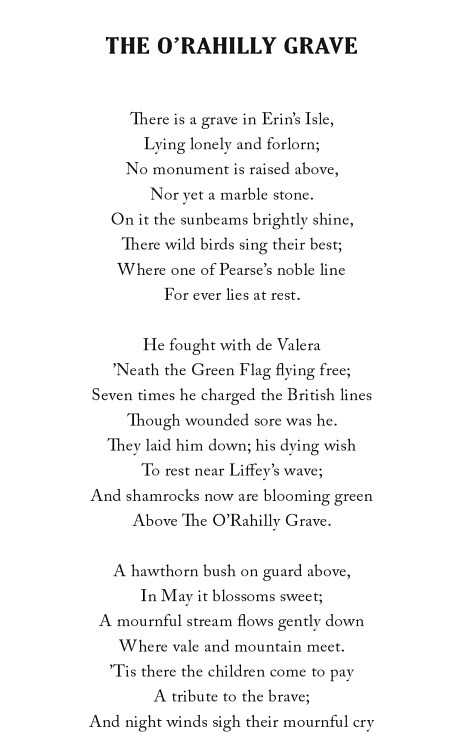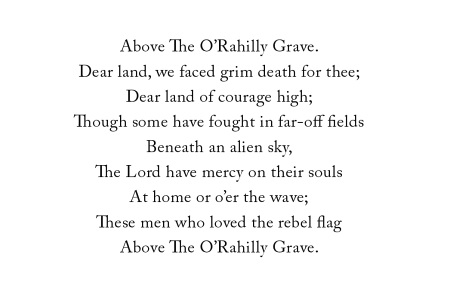 The song "The O'Rahilly Grave".
From p.136 of Kerry's Fighting Story 1916-21 by J. J. Lee (2009).
It is sung at the end of Cé a Chónaigh i mo Theachsa? (2010).
---

See The O'Rahilly and Memorials to The O'Rahilly.