Memorials to The O'Rahilly
Memorials to
The O'Rahilly
, the 1916 leader who died in action.
---
Main
---
Poems, songs, plays, etc.
---
Ballylongford GAA

The Ballylongford GAA club was re-named "The O'Rahilly's" club after him. See [Kennelly, 1985].
The pitch was McEllistrem land (a former field at the side of Main St, Ballylongford).
From 1932 on, the field was rented by the GAA from Michael McEllistrem (the younger).
In 1940 he sold it to them. As part of the deal they named it "The O'Rahilly's" after his relative.
See street view and modern map and 1887 to 1913 map.

Tralee GAA and street

One of the GAA clubs in Tralee, Co.Kerry, was named "O'Rahilly's" in the early 20th century after The O'Rahilly.
IRA Chief-of-Staff Charlie Kerins played for "O'Rahilly's", and after he was executed in 1944, the club was re-named "Kerins O'Rahilly's".
See street view of entrance.
A nearby street is called "O'Rahilly's Villas" after him. See map and street view showing sign.

Shanagolden GAA

The GAA club in Shanagolden, Co.Limerick (his mother's home town) is called "The O'Rahilly's".
---
Streets and buildings
---
O'Rahilly Square, Listowel
In 1918,
Listowel
, Co.Kerry, re-named many streets after 1916 Rising figures.
Main St / The Small Square was re-named "O'Rahilly Square" after The O'Rahilly.
But the names did not stick, and reverted back to the old usage
[Gaughan, 1974]
.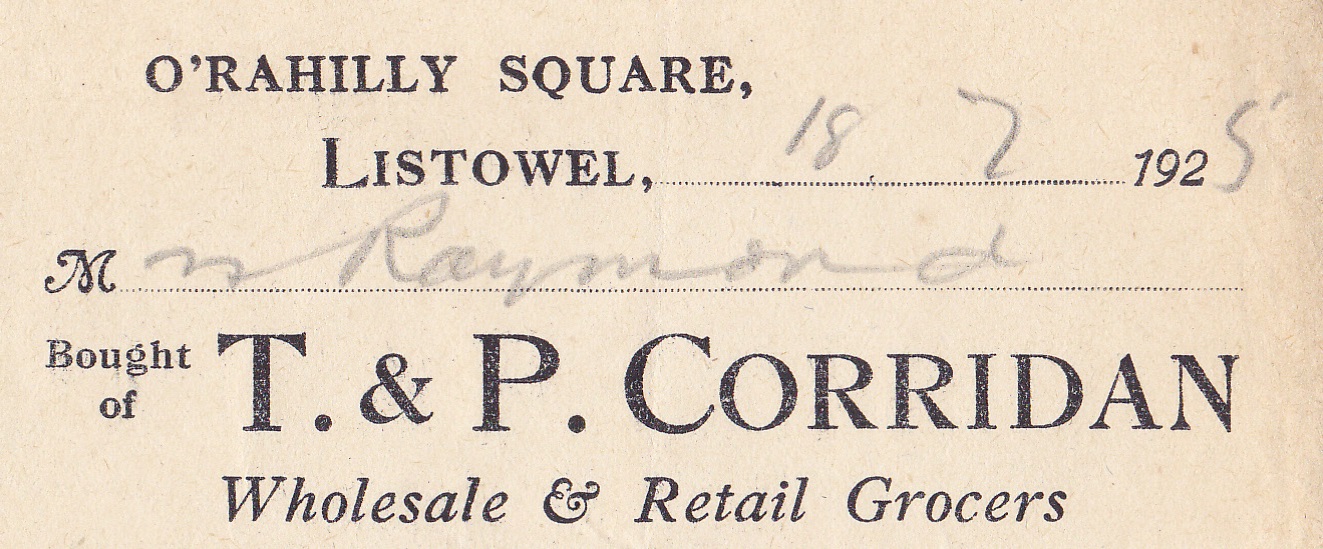 A letterhead from "O'Rahilly Square", Listowel, in 1925, showing the name before it reverted back to "The Small Square".
See
full size
. Courtesy of Vincent Carmody.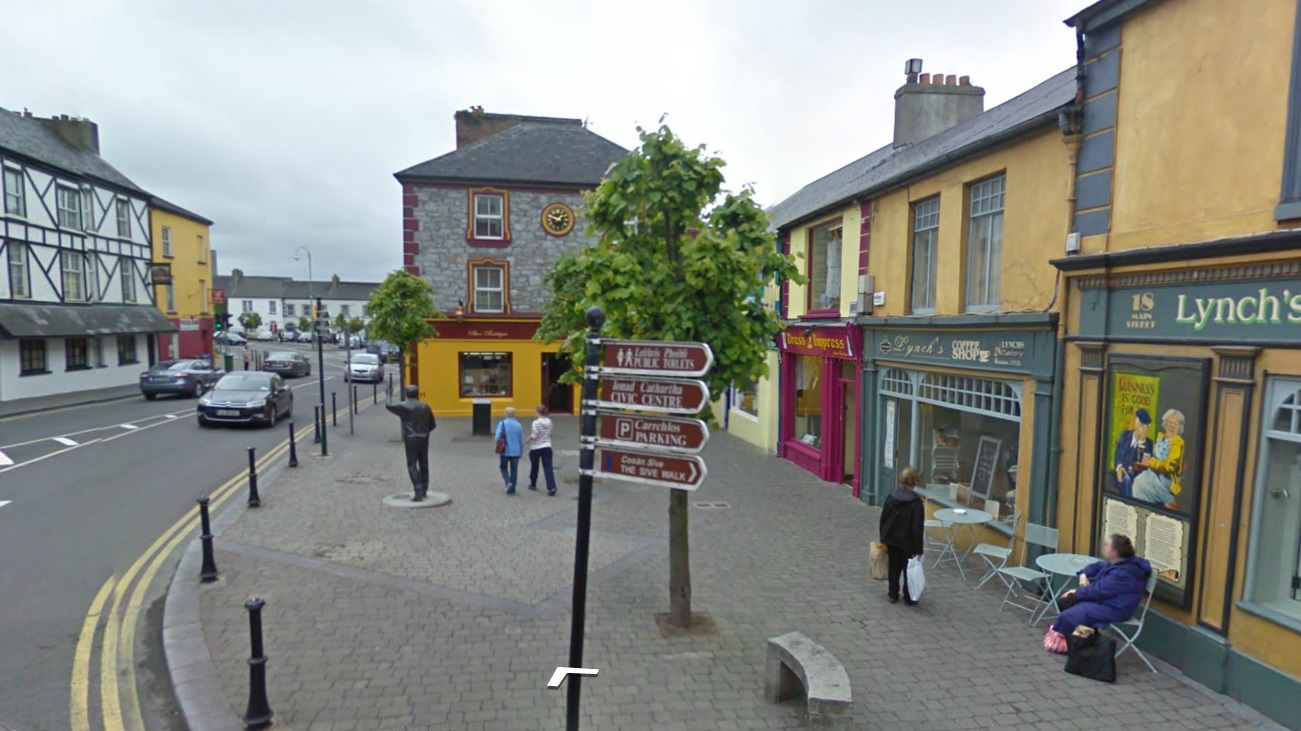 The Small Square, Listowel (formerly "O'Rahilly Square").
From street view.
---
---
---
Other
There is a pedigree greyhound called "The O'Rahilly", born Aug 1914, apparently Ireland, exported to US.
And another called "The O'Rahilly II", born 1915, apparently Ireland, owner T.D. O'Sullivan.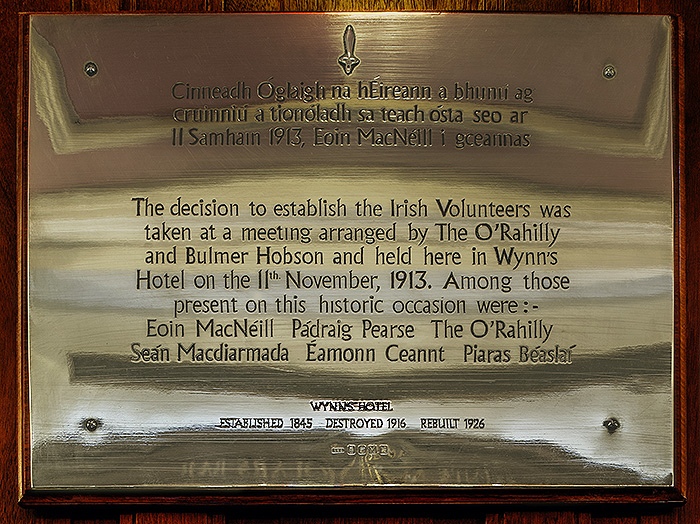 Plaque in the bar of
Wynn's Hotel
, Dublin, to commemorate the meeting founding the Irish Volunteers here in 1913.
From
Wynn's Hotel
.
See also
2009 photo
.
See also
shot
from
Cé a Chónaigh i mo Theachsa?
(2010).
The O'Rahilly is the first name listed.
See also
plaque to Cumann na mBan
at Wynn's Hotel, with the name of his wife Nancy on it.


Irish-language plaque to The O'Rahilly on church bench at St Teresa's church, Clarendon St (off Grafton St), Dublin.
This is where his cousin Rev. Dominic Mangan was Prior (see letter of Feb 1917 about the plaque).
Photo 2015. See larger and full size. See other shot.
The plaque is at the back of the church on the RHS. See wider shot.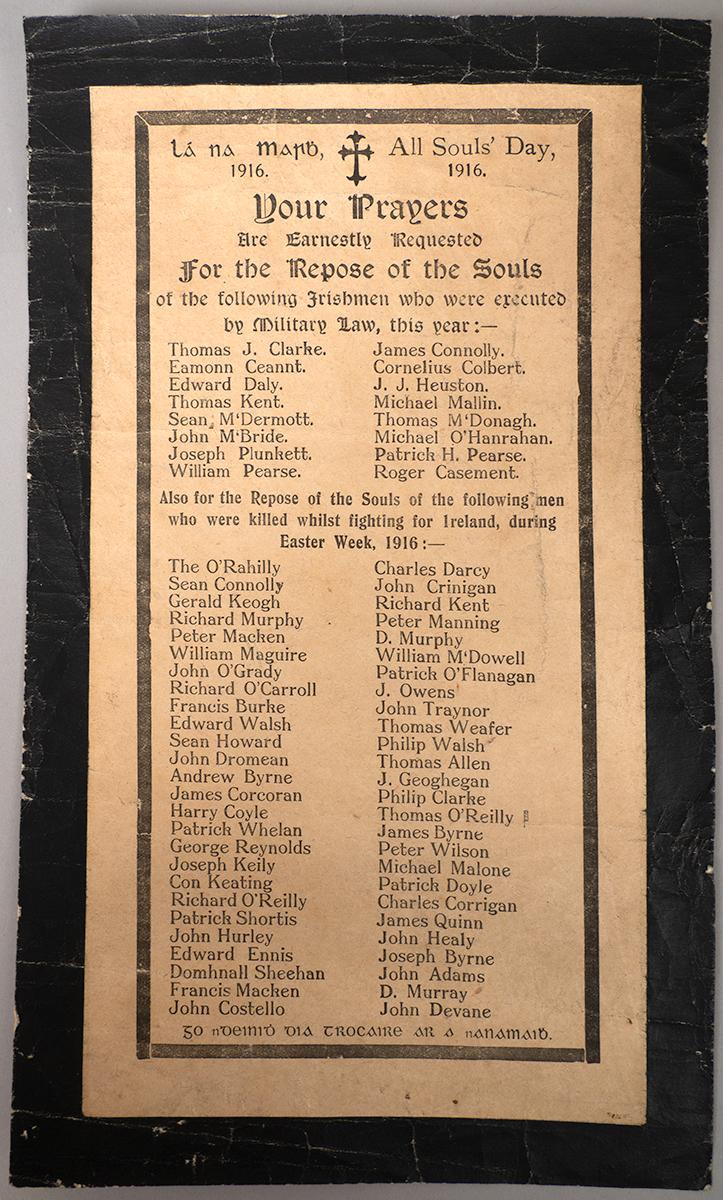 Memorial card for the 1916 dead, including The O'Rahilly.
See full size.
For sale in 2021 here.
---
Not relevant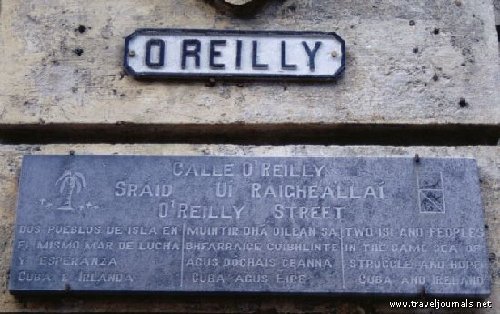 O'Reilly Street in Havana, Cuba (see map) has been mistakenly called "O'Rahilly Street".
In fact, it is named after Alejandro O'Reilly.
Image from here.