Sir George Skene, Provost of Aberdeen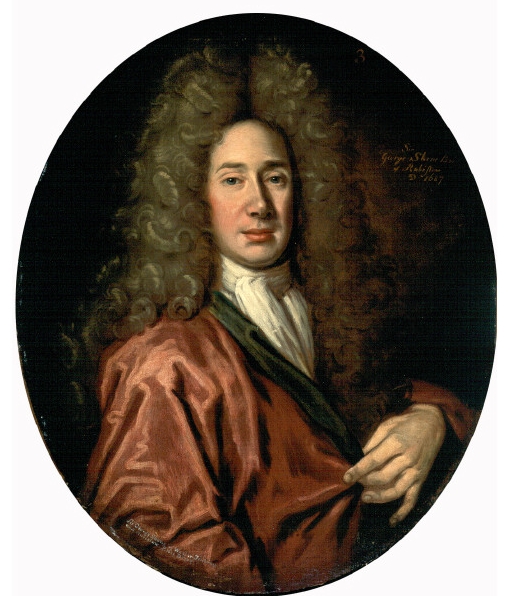 Sir George Skene, 1687, attributed to
Sir John Baptist Medina
.
From
Aberdeen Art Gallery & Museums collections
(see
here
). Used with permission.
Black and white version printed opposite
Page 180
of
[Munro, 1897]
.
Page 183
says that as at 1897 this picture was in the possession of
"Miss Skene, Folkestone"
(a descendant of
Skene of Rubislaw
).
Purchased from Colin H.C. Graham in 1975 by Aberdeen Art Gallery.
Hangs in
Provost Skene's House
, Aberdeen.
Sir George Skene
,
Provost of Aberdeen,
born 1619.
See
Wikipedia
.
His father died 1631, when he was 12.
His half-brother
David Skene
took him to Poland and apprenticed him to
George Ædie
in
Danzig
.
He went on to make his fortune in Poland, trading in Danzig.
He returned to Aberdeen 1665.
In 1666 he purchased Wester Fintray (E of Kintore, see map).
In 1669 he acquired, as a town house, a house in Guestrow, Aberdeen which is now known as "Provost Skene's House".
The Skene coat of arms is in a number of places in the house.
He never married.
After his half-brother David Skene's death, he took care of his children to treat as his heirs. He married Katharine Skene to David Ædie, son of his old master, in 1671.
However, as [Skene, 1887] puts it, "his nephews George and Alexander turned out quite profligate and debauched", and robbed him, so he disinherited them and settled everything on the Ædies and on his other half-brother's descendants.
Provost of Aberdeen 1676 to 1685:
He was Provost (mayor) of Aberdeen from 1676 until new election at Michaelmas 1685.
Knighted 1681 in Edinburgh by James, Duke of York (later James II).
Acquired Rubislaw house and lands, just outside Aberdeen, in 1687.
He settled Wester Fintray on Giles Ædie by mar contract 1690.
He sold "Provost Skene's House" 1694 to David Ædie (who had married his niece).
He sp the bapt of David's grandson (i.e. his great-grandnephew) Norman Leslie 1697. He is described as "of Fintray".
Death, 1707:
Will dated 24 Mar 1707.
He settled Rubislaw on his grand-nephew George Skene.
He died 9 Apr 1707, age 88 yrs.
He was bur St.Nicholas' church, Aberdeen.
[Skene, 1887] reads the grave as saying 9 Apr, NOT 2 Apr.
Barbara Yates Gibbon said he "went to Poland on a diplomatic mission and was knighted on his return", and that he gave each of the Ædie girls ("celebrated beauties in their day") a good dowry.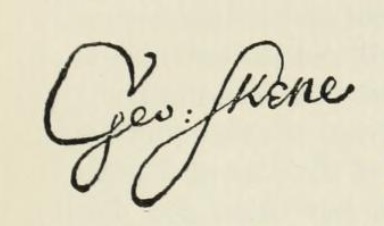 Signature of Provost Skene.
From
p.181
of
[Munro, 1897]
.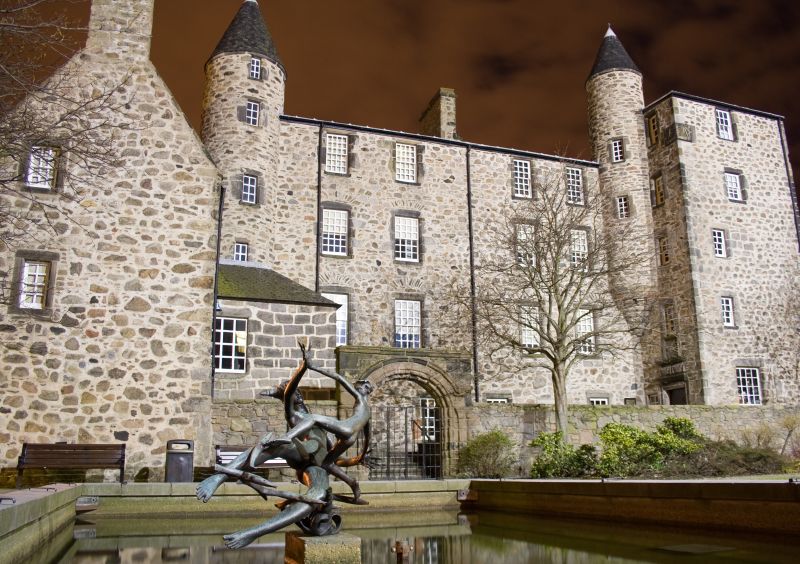 Provost Skene's House at night.
Photo 2008 by Dale Walker. From here. See terms of use.
And similar shot from here.
---
[PORTRAIT of Sir George Skene, probably around time he was Knighted in 1681]
A different portrait to the Medina one above.
Hung in
Gibbon family home
in Aberdeen as at 1871.
Was in possession of
"William F. Gibbon, Pershore"
as at 1897.

Section of
Barbara Yates Gibbon notes, 1872
about lost portrait of Sir George Skene, and other lost portraits.
---
Grave of
Provost Skene
(died 1707).
And of his nephew
Robert Skene
(died 1693).
And of
George Skene
(died 1708) and his wife
Catherine Ædie
(died 1738).
Beside the Back Wynd gate, W wall of churchyard of
St.Nicholas' church
, Aberdeen.
See
map
.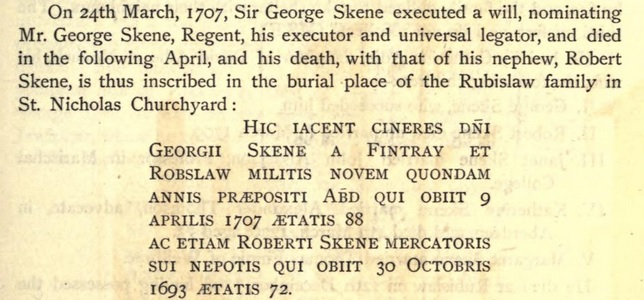 Inscription on the grave.
From
p.133
of
[Skene, 1887]
.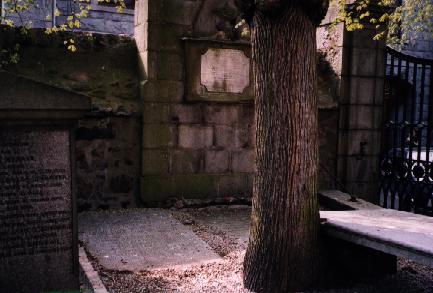 The Skene graves.
Photo 1998.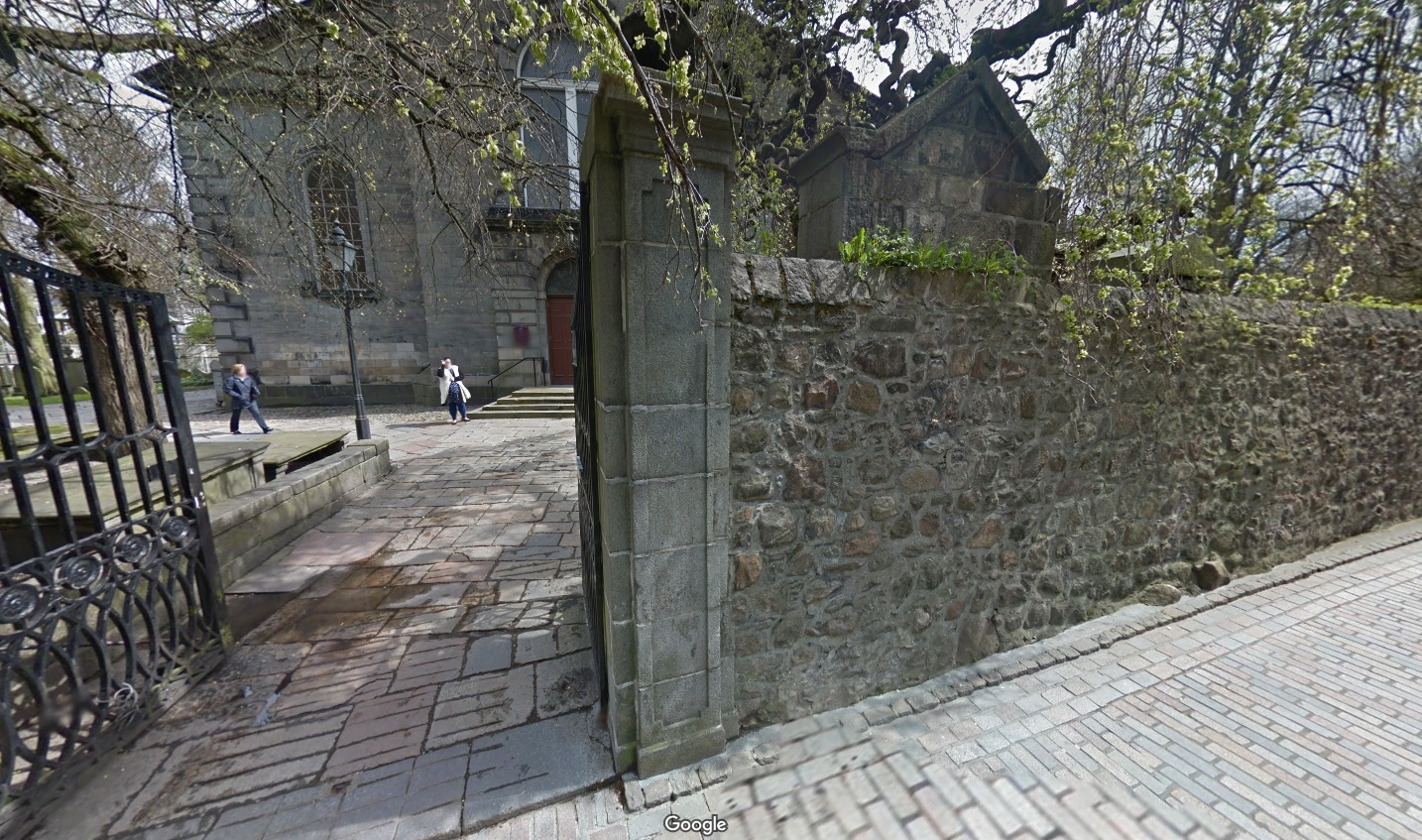 Street view just outside the Back Wynd gate.
---
References