Henry Blennerhassett, of Annaghgarry, Co.Kerry
References:

Deed, 19 Nov 1728. Registered 1774. [LR] 299 570 199378. Dorcas Blennerhassett (widow of Henry) and her son Robert.

Sources yet to be consulted:

Deed of 1708. Property at Gortnaskarry. [LR] 2 131 332.

Dorcas, widow of Henry Blennerhassett of Annaghgarry, listed in
[Deed of Nov 1728]
.
It is more clearly written as Annaghgarry later in the deed.
Henry Blennerhassett
,
born est c.1675.
Descendant of
Edward III
.
See
Wikitree
.
He was of Annaghgarry, near Killorglin, Co.Kerry.
Also called Henry of Gortmasherry, Co.Kerry.
He mar pre-1701 to Dorcas Crumpe.
Killarney or Gortmasherry or Annaghgarry?
[TCD Alumni]
says that Henry's son Arthur was born 1701 at
"Killariam"
(apparently
Killarney
), Co.Kerry.
Henry is meant to be of
Gortmasherry
but this place is unidentified. It seems to first appear in
[Burkes Irish, 1976]
. It is unclear what the source is. Gortmasherry seems to have no existence apart from with Blennerhassett.
Henry's grandson
Arthur
is listed in 1772 as of
Gortnaskarry
, parish of Knockane, Co.Kerry. Could "Gortmasherry" be a mis-reading of that?
In contemporary records, Henry is listed as of
Annaghgarry
in
[Deed of Nov 1728]
after his death.
Henry died before 1728.
He was bur in the chapel at Castle Conway, Killorglin, Co.Kerry.
[Deed of Feb 1728] shows Henry has died.
Dorcas is party to [Deed of Nov 1728]. She is a widow. Deed is about the family property at Annaghgarry.
Henry is included in the 1732 inscription on the now-vanished Blennerhassett tomb at Castle Conway.
Henry and Dorcas had issue:
Dorcas Blennerhassett,
mar John Godfrey and had issue.




Avis Blennerhassett,
also recorded as Avice or Avicia,
"Avis" in Deed of 1724 and Deed of 1726 and husband's will 1745,
mar pre-1717 to John Yeilding and had issue.




Arthur Blennerhassett,
born 1701.
He was educ TCD. Entered 15 June 1719, age 18.
See entry in [TCD Alumni]. Son of Henry Blennerhassett, gentleman.
Arthur converted to Catholicism and settled in France.




Robert Blennerhassett,
of Annaghgarry, Co.Kerry,
also called Robert of Mount Rivers,
born est c.1705.




Samuel Blennerhassett,
of Tralee.




Lucy Blennerhassett,
mar John Heaphy and had issue.




Richard Blennerhassett,
of Ballymacprior, Killorglin par, Co.Kerry.

Henry Blennerhassett listed as deceased in
[Deed of Feb 1728]
.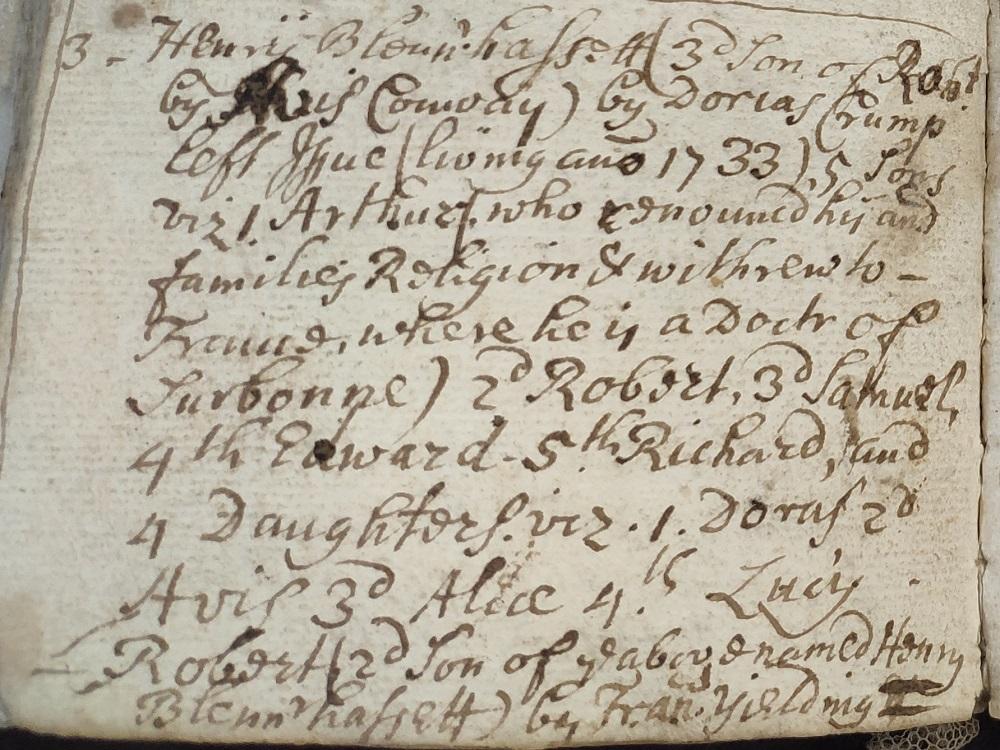 Entry for Henry Blennerhassett in "Black Jack's Book".
This is pp.22-23 of MS 7937 (this section written 1735).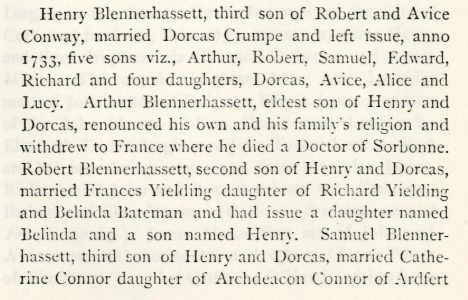 Transcript of the previous. From p.46 of [Hickson, 1872].
See also p.22 and p.23 and p.24 in the 1840 Eagar transcript of "Black Jack's Book" in [Ms 4112]. Also Addenda.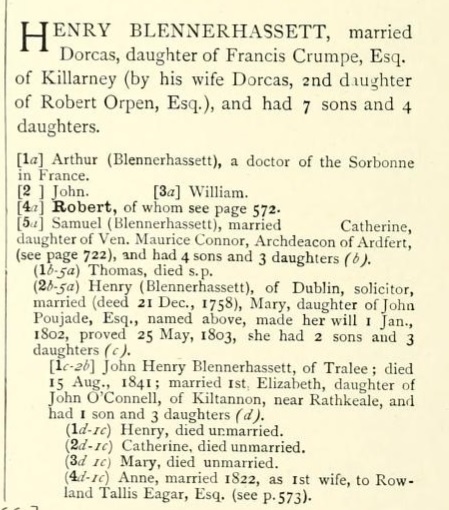 Henry Blennerhassett branch starts on p.566 of [Foster's Royal Descents, vol.4, 1886].


Entry for Arthur Blennerhassett in [TCD Alumni].