Rowland Ponsonby Blennerhassett, MP
Rowland Ponsonby Blennerhassett, MP
,
born 1850,
Kells, Co.Kerry
.
Protestant landed gentry. One of the first Irish Home Rule MPs.
See
wikipedia
.
He was educ
Trinity College, Dublin
.
He was educ
Christ Church
, Oxford.
See
1870 letter
from the poet Robert Browning. (Blennerhassett was friends with his son.)
He joined the Home Rule party led by Isaac Butt.
There were no Home Rule MPs in the 1868 general election. John Martin was the first Home Rule MP, elected in 1871.
Rowland was the 5th of 8 Home Rule MPs elected in by-elections in 1871-74.
Home Rule MP for Co.Kerry 1872-85:
Rowland served as Home Rule party MP for Co.Kerry 1872 to 1885.
His election in the Co.Kerry by-election of Feb 1872 was a breakthrough for the Home Rule party. He defeated James Arthur Dease (Liberal).
The 1872 by-election was in the last few months of election by open vote in Ireland. (Secret ballot introduced in Aug 1872.) Unbelievably, up to this point, tenants had to vote in full view of and risking the wrath of their landlords. Indeed landlords often treated their tenants as simple extensions of their own vote, and used their agents to round up the tenants for voting at election time.
It was a dramatic, hard-fought campaign. There were some riots. See letter of 20 Jan 1872 which says a priest was injured and died after a riot at Castleisland.
Letter of 6 Feb 1872 says nomination is 6 Feb and polling is 9 Feb.
Kerry had two seats. The other MP for Kerry in 1872-80 was Henry Arthur Herbert.
The big breakthrough for Home Rule was the 1874 election when there were 60 Home Rule MPs elected.
Rowland mar 1876 to Mary Beatrice Armstrong.
The other MP for Kerry in 1880-85 was his 2nd cousin, the Liberal MP Sir Rowland Blennerhassett, 4th Baronet.
They are listed in 1881 census at 54 Hans Place, Chelsea, London. From here.
He is listed in 1881 Electoral Register at 52 Hans Place. From here.
He was a barrister in London. QC 1894.
They are listed in 1901 census at 52 Hans Place.
He writes in 1910 from 52 Hans Place to Lady Charlotte, widow of his cousin the 4th Baronet. See Add.7486/52/1.
At death he is described as of 52 Hans Place, London.
He died 7 April 1913, Hotel Prince de Galles (Hotel Prince of Wales), Monte Carlo.
See Dublin probate of will granted 1913 to widow Mary [NAI]. See London admin.
Mary is listed in [Post Office London Directory 1915] as of 52 Hans Place, and of Kells, Co.Kerry.
She died 13 May 1928.
Will pr 1 Aug 1928, London. See admin.
Rowland and Mary had issue:
Richard Francis Ponsonby Blennerhassett,
born 1879, London.
He mar 1914 to Sylvia Myers.
She was dau of the classicist and psychical researcher Frederic William Henry Myers by his wife, the photographer Eveleen Tennant.
Richard inherited Ponsonby portraits.
He died 1938.
Sylvia died 1957.
They had issue:

Diana Blennerhassett,
author, born 1916, London,
known as Deenagh.
She mar 1939 to Richard Goold-Adams [born 1916].
(todo) See mar of Dianna M P Blennerhassett and Richard J M Goold-Adams, 1st qr 1939, Chelsea [GRO.UK]. Volume Number: 1a Page Number: 619.
He died 1995. Death registered in Bath district, Mar 1995.
Diana lived 33 Great Pulteney St, Bath, Avon BA2 4BX.
She apparently died 2000.
Her death was registered in Bath district, Nov 2000.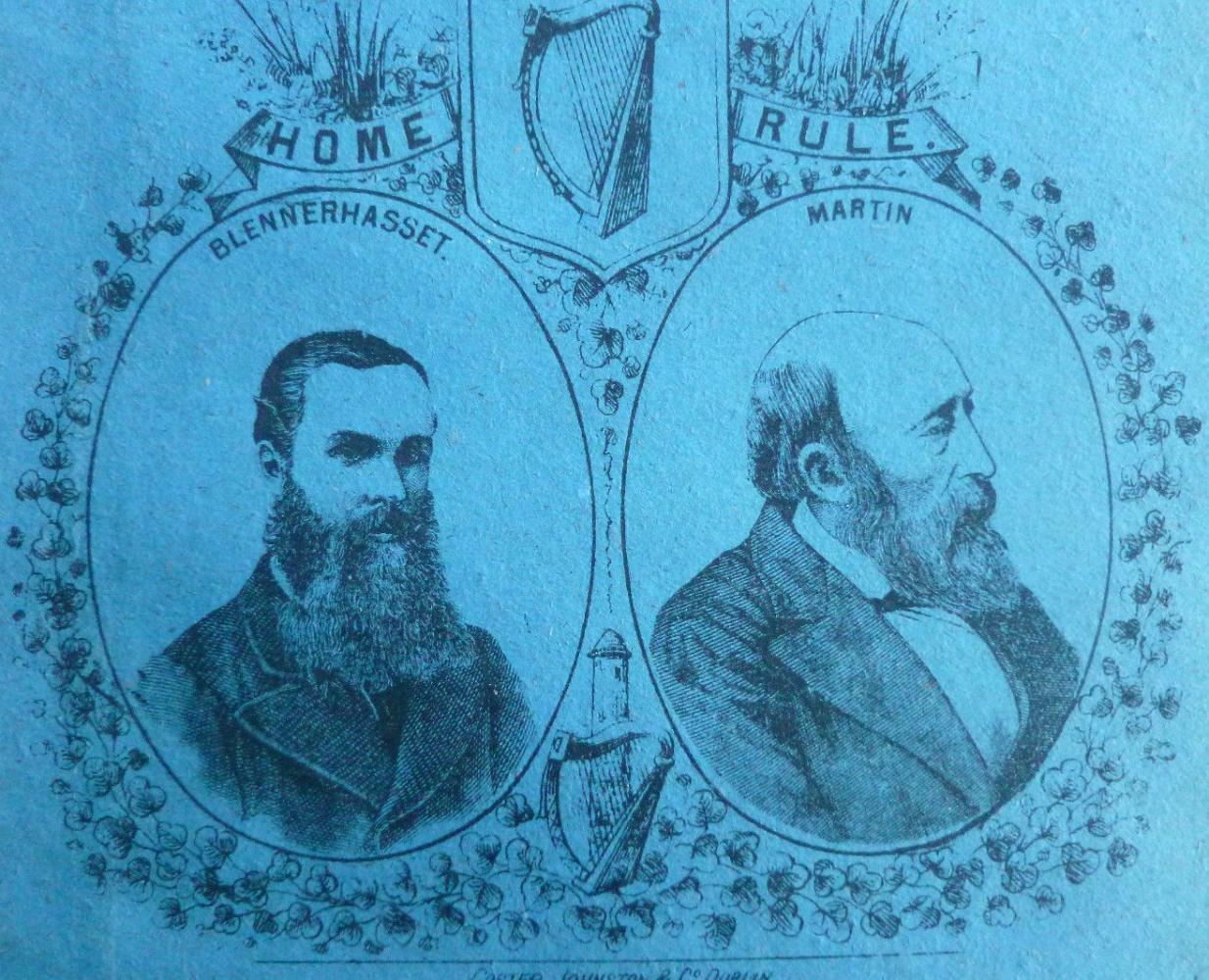 Rowland Ponsonby Blennerhassett (Home Rule MP, elected Feb 1872) and
John Martin
(the first Home Rule MP, elected Jan 1871).
Being celebrated on a set of
"Home Rule" shopping bags
in Waterford city.
From
Bill Jehan
.
See these bags in
EPH C792
and
EPH B806
in Ephemera collection in
[NLI]
.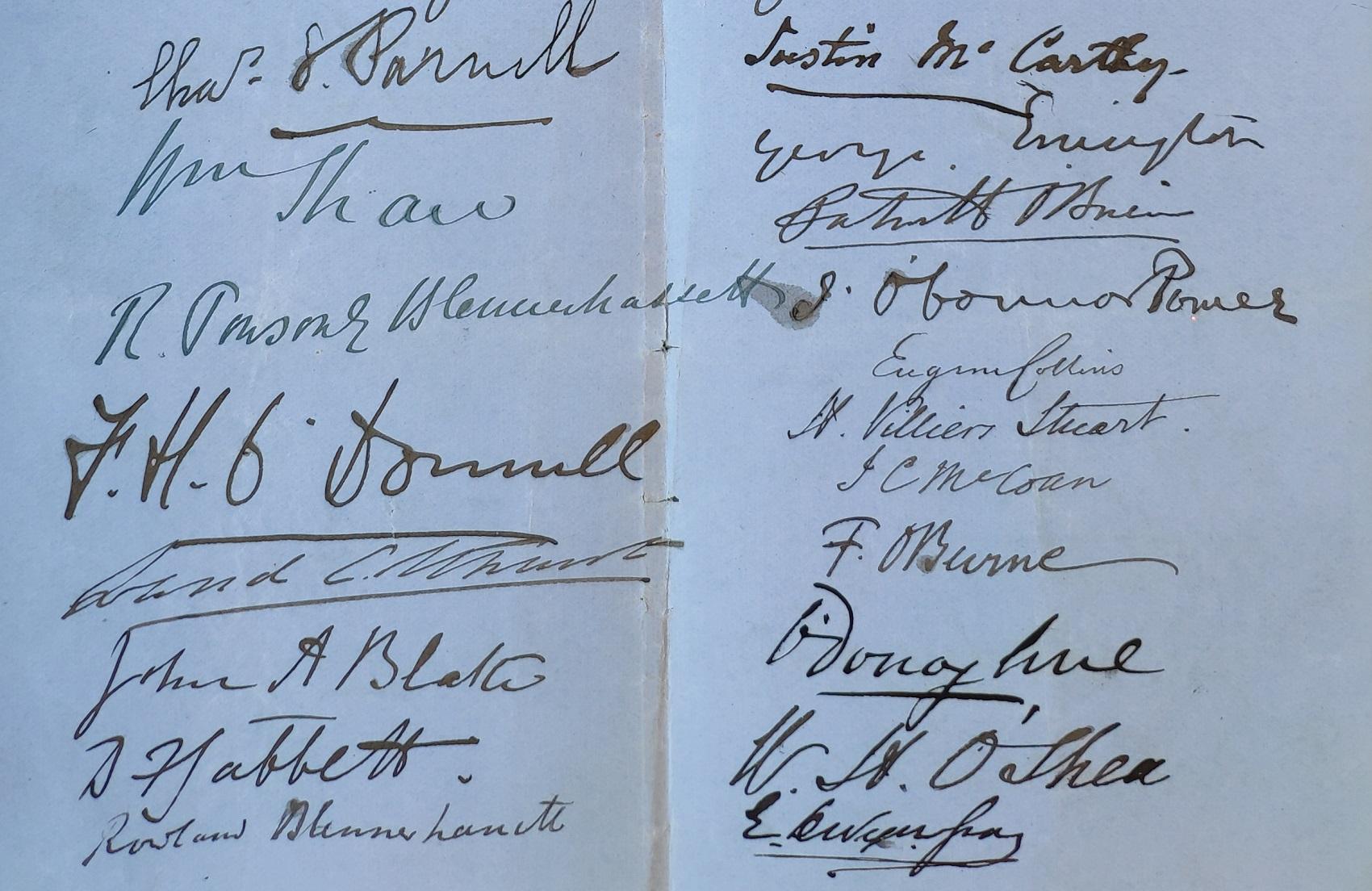 Signatures of Irish MPs on petition of 1883-84.
Includes Parnell and Rowland Ponsonby Blennerhassett and 4th Baronet.
See larger and full size.
---
Rowland Ponsonby Blennerhassett (born 1850) was friends with
Robert Barrett Browning
("Pen", born 1849).
They would have become friends when both went to Christ Church, Oxford.
Browning was son of the poets
Robert Browning
and
Elizabeth Barrett Browning
(died 1861).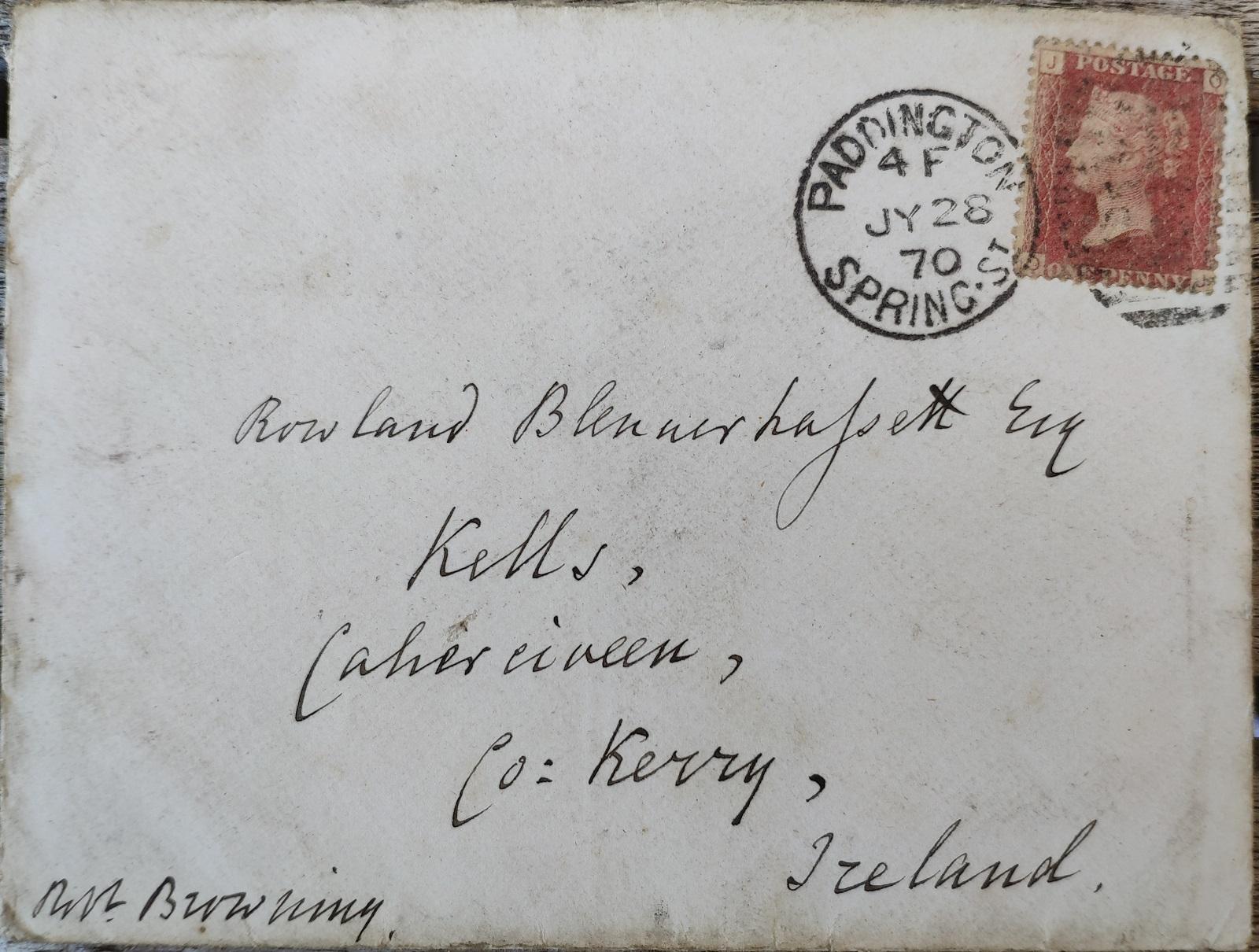 Letter dated 28 July 1870 from the poet Robert Browning (father of "Pen") to Rowland Ponsonby Blennerhassett (not yet an MP).
Found in
Baronets papers
.
See this envelope
larger
and
full size
.
The letter refers to Blennerhassett inviting them to Ireland. It refers to Blennerhassett's mother (then still alive).
The letter is written from 19 Warwick Crescent, London, where Browning lived 1861 to 1887.
---
The 1872 election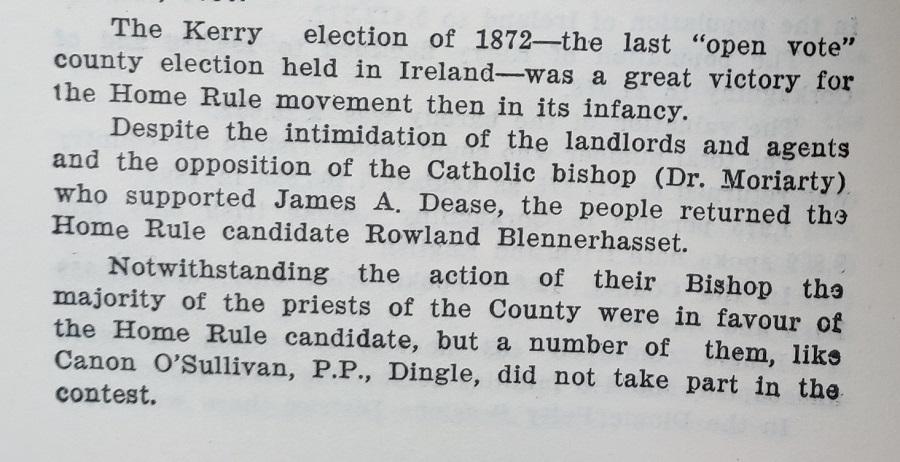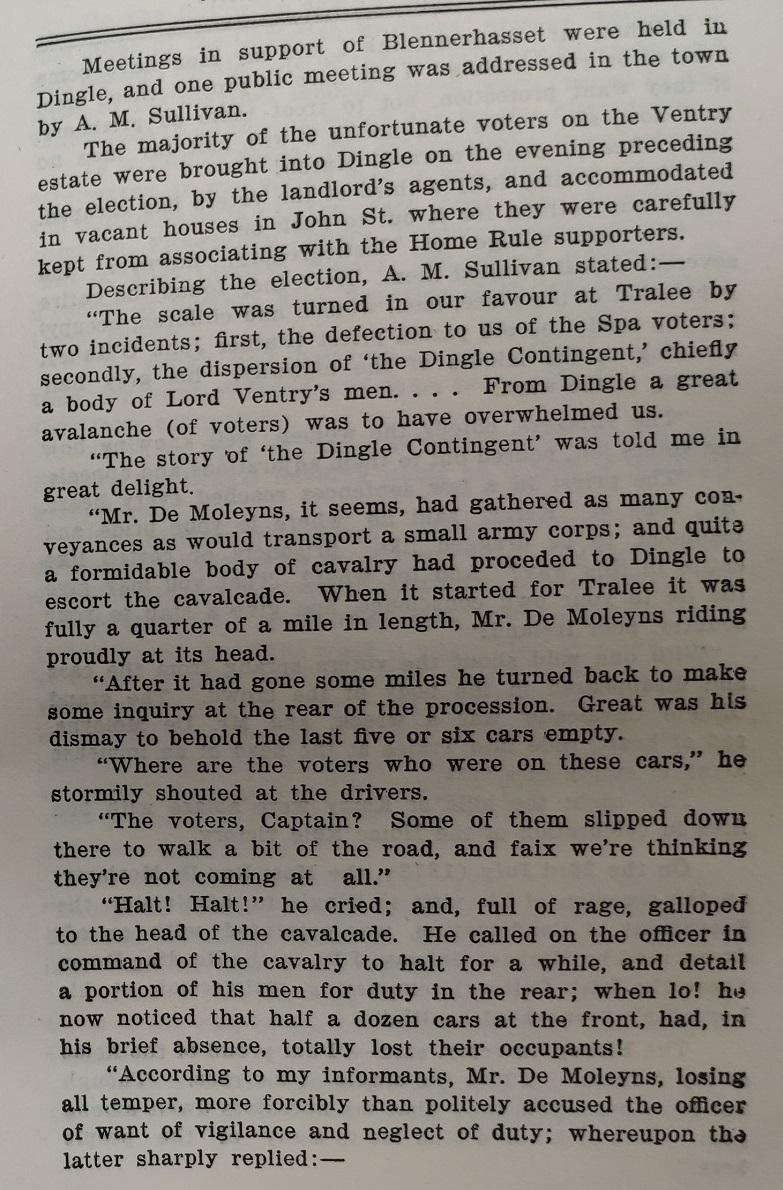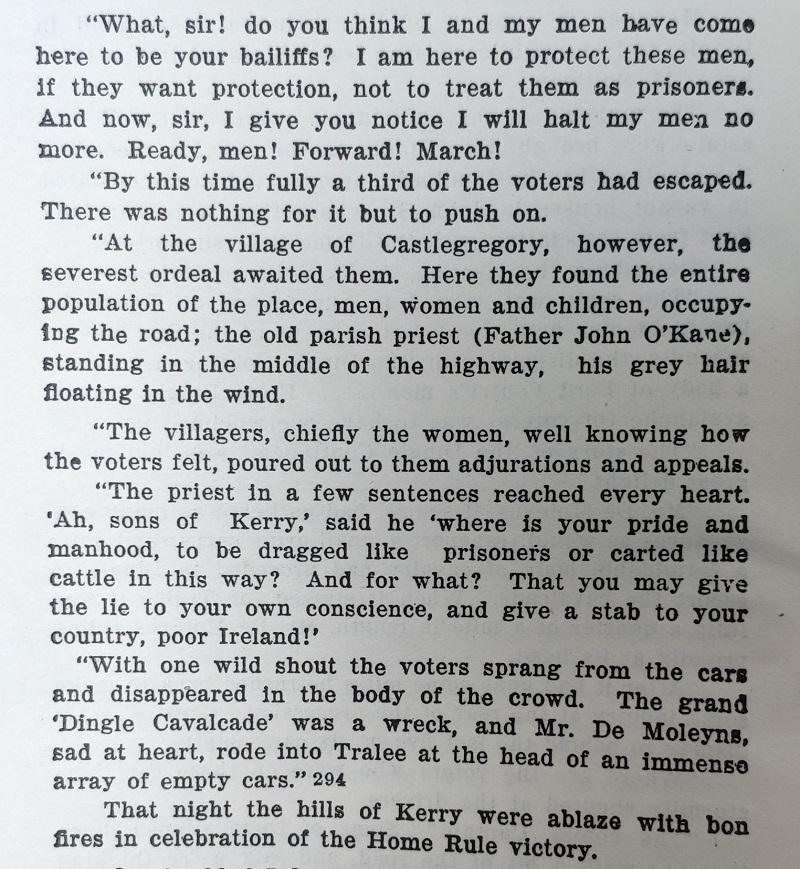 Extract from pp.234-236 of
Romantic Hidden Kerry
, by Thomas F. O'Sullivan, Tralee, 1931.
[KCL]
RR.
Tells the story of the 1872 election, where landlords rounded up their tenants to vote the way they wanted. Here the agent leads a procession of tenants towards Tralee, but the voters keep escaping.
---
References
---
Baronets papers
Among the
Blennerhassett Baronets papers
are items relating to the
4th Baronet
, and also items relating to his cousin, Rowland Ponsonby Blennerhassett MP.
For example the
1870 letter from Robert Browning
.
And also the following:
---
Sources yet to be consulted
Oxford: Archive of John Wodehouse, 1st Earl of Kimberley at [OU]. This has correspondence with Rowland Ponsonby Blennerhassett in:

Ms. Eng. c. 4170, ff.96-103.

London: Gladstone papers. [BL] Ms.

Lord Chancellorship Papers. [PRO.NI]. D2777/7/4. Correspondence and papers accumulated by Thomas O'Hagan, 1st Baron O'Hagan during his two periods as Lord Chancellor of Ireland.

Includes: "Police reports, February-April 1872, regarding the threatening behaviour of a mob at Cahirciveen, Co Kerry, towards the Knight of Kerry, the obstructive attitude of a local J.P., Dr Barry, when the police were trying to restore the peace, all placed in the context of discontent against local landlords who had supported the Liberal candidate J. A. Dease against the Home Ruler R. P. Blennerhasset during the recent by-election for the Co Kerry constituency. Dease's supporters are named as the Knight of Kerry, Sir James O'Connell, his son D. J. O'Connell, the O'Donoghue M.P., and Mr Herbert M.P., and Dr Barry is noted as the step-father of Blennerhasset."

Proceedings of the Home Rule Conference 1873, pub 1874. Blennerhassett is listed at this conference. Multiple copies at [NLI].
Irish Home Rule League papers, pamphlets, pub 1874. Multiple copies at [NLI].
Item in Kerry Evening Post, 11 Sept 1875. See notes.
Item in The Kerry Sentinel, 28 Sept 1880.

Death and obituary of Rowland Ponsonby Blennerhassett, MP

The Times, 10 and 11 Apr 1913.
The Kerry Sentinel, 12 Apr 1913.

Article in Kerry's Eye, 16 June 1988, p.22.
Wife and descendants
Death and obituary of Mary Beatrice Armstrong

Society for Psychical Research archive. GBR/0012/MS SPR in [CUL].

Obituary of Richard Francis Ponsonby Blennerhassett, on p.7 of [Co.Kerry Soc. annual report 1937-38].
Obituary of Richard Goold-Adams, The Times, 7 Apr 1995.
Obituary of Richard Goold-Adams, Daily Telegraph, 1 May 1995, p.21.