Rowland Ponsonby Blennerhassett, MP
Rowland Ponsonby Blennerhassett, MP
(see
here
),
born 1850,
Kells, Co.Kerry
.
One of the first Irish Home Rule MPs.
Protestant landed gentry.
He joined the
Home Rule party
led by
Isaac Butt
.
There were no Home Rule MPs in the
1868 general election
.
John Martin
was the first Home Rule MP, elected in 1871.
Rowland was the 5th of 8 Home Rule MPs elected in by-elections in 1871-74.
Home Rule MP for Co.Kerry 1872-85:
Rowland served as Home Rule party MP for Co.Kerry 1872 to 1885.
His election in the Co.Kerry by-election of 6 Feb 1872 was a breakthrough for the Home Rule party. He defeated James Arthur Dease (Liberal).
The 1872 by-election was in the last few months of election by open vote in Ireland. (Secret ballot introduced in Aug 1872.) Unbelievably, up to this point, tenants had to vote in full view of and risking the wrath of their landlords. Indeed landlords often treated their tenants as simple extensions of their own vote, and used their agents to round up the tenants for voting at election time.
[PAT/12, p.14-15] quotes [Romantic Hidden Kerry, Thomas O'Sullivan, 1931] as telling the hilarious story of this election, with the agent leading a procession of tenants towards Tralee, but the voters kept escaping.
Kerry had two seats. The other MP for Kerry in 1872-80 was Henry Arthur Herbert.
The big breakthrough for Home Rule was the 1874 election when there were 60 Home Rule MPs elected.
Rowland mar 1876 to Mary Beatrice Armstrong.
The other MP for Kerry in 1880-85 was his 2nd cousin, the Liberal MP Sir Rowland Blennerhassett, 4th Baronet.
At death he is described as of 52 Hans Place, London.
He died 7 April 1913, at Monte Carlo.
See probate of will granted 1913 to widow [NAI].
She died 13 May 1928.
Rowland and Mary had issue:
Richard Francis Ponsonby Blennerhassett,
born 1879, London,
mar 1914 to Sylvia Myers [dau of Frederic William Henry Myers],
inherited Ponsonby portraits,
he died 1938,
she died 1957,
had issue:

Diana Blennerhassett,
author, born 1916, London,
known as Deenagh.
She mar 1939 to Richard Goold-Adams [born 1916].
He died 1995. Death registered in Bath district, Mar 1995.
Diana lived 33 Great Pulteney St, Bath, Avon BA2 4BX.
She apparently died 2000.
Her death was registered in Bath district, Nov 2000.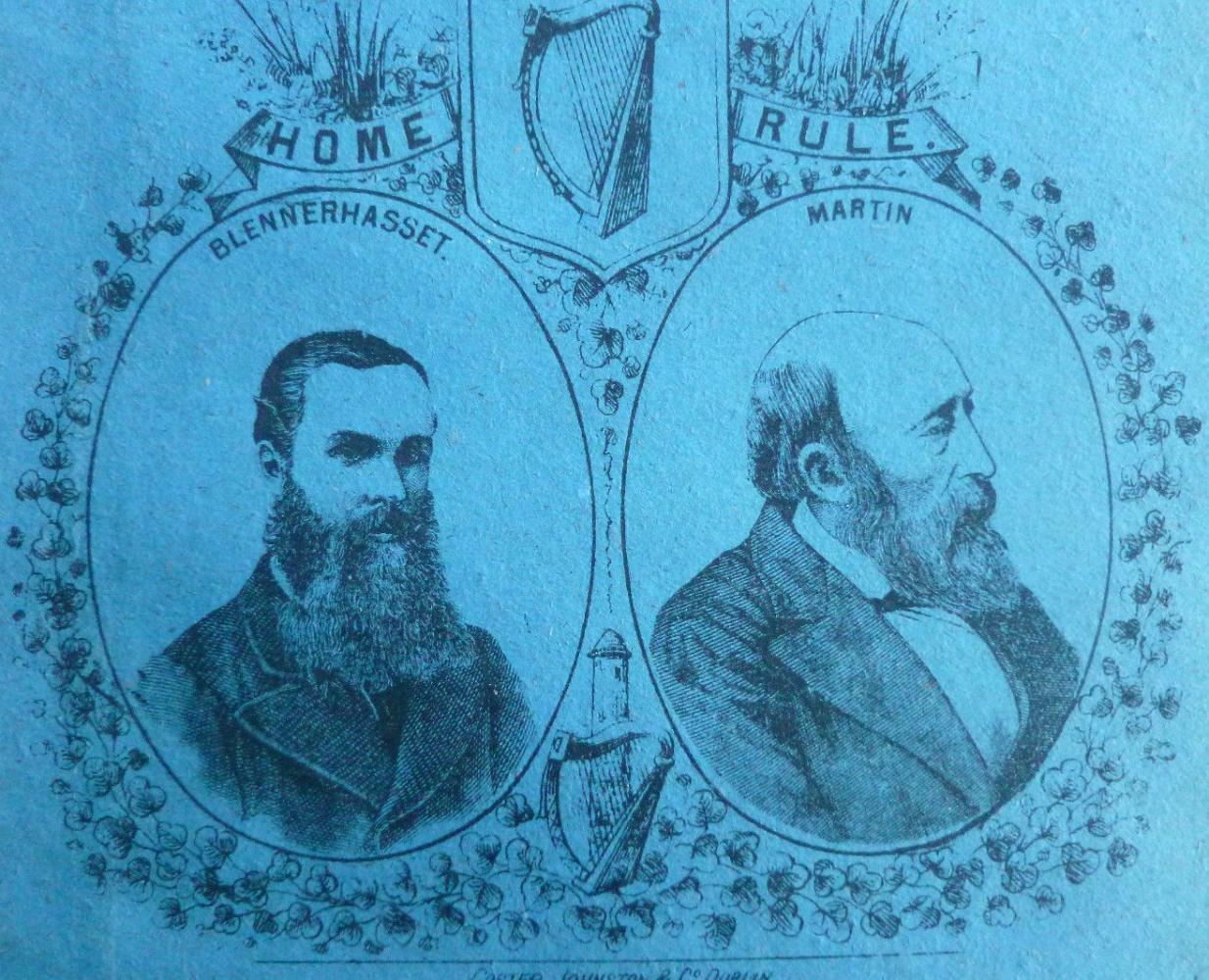 Rowland Ponsonby Blennerhassett (Home Rule MP, elected Feb 1872) and
John Martin
(the first Home Rule MP, elected Jan 1871).
Being celebrated on a set of
"Home Rule" shopping bags
in Waterford city.
From
Bill Jehan
.
---
Sources yet to be consulted
Oxford: Archive of John Wodehouse, 1st Earl of Kimberley at [OU]. This has correspondence with Rowland Ponsonby Blennerhassett in:

Ms. Eng. c. 4170, ff.96-103.

London: Gladstone papers. [BL] Ms.

Lawrence J. McCaffrey

Kerry's most exciting election, by George Rice, in the Kerry Magazine, issue 19, 2009.

Obituary of Rowland Ponsonby Blennerhassett, MP, The Kerry Sentinel, 12 Apr 1913.
Obituary of Mary Beatrice Armstrong, [Co.Kerry Soc. annual report 1928-29] p.8.

Obituary of Richard Francis Ponsonby Blennerhassett, [Co.Kerry Soc. annual report 1938-39] p.7.
Obituary of Richard Goold-Adams, The Times, 7 Apr 1995.
Obituary of Richard Goold-Adams, Daily Telegraph, 1 May 1995.