Sir Rowland Blennerhassett, 4th Baronet
Sir Rowland Blennerhassett, 4th Baronet
,
Catholic, born 5 Sept 1839.
Political writer, historian.
See
Wikipedia
and
Wikitree
and
thepeerage
and
blennerhassettfamilytree
.
He succ as Baronet as a child in 1849 when his father died.
He was educ
Downside School
(Catholic school), Somerset, 1849-56.
He was educ
Stonyhurst College
(Catholic school).
He was educ
Christ Church
, Oxford. Entered 1859. Left without a degree.
He was educ
Christ's College
, Cambridge. Entered later in 1859.
He turned 21 in Sept 1860. He inherited
Churchtown House
, Co.Kerry.
Appointed a J.P. for Co.Kerry,
3 Dec 1860
. Listed as Sir Rowland of Churchtown.
He is listed as of Churchtown on
p.1741
of The Edinburgh Gazette, 18 November 1862.
He formed a friendship with the Catholic historian
Lord Acton
from 1862.
He was educ
Catholic University of Leuven
. Certificate dated
1863
.
Liberal MP for Galway city 1865-74. See contributions in Parliament.
He is listed as of Churchtown House in his Member's Certificate for the [RIA] in 1866.
High Sheriff of Co.Kerry 1866-67.
In declaration dated 26 Feb 1867 his residence is Churchtown House.
Early in his career he supported Home Rule for Ireland.
He helped to start the Chronicle, a literary organ of liberal Catholicism, 1867. Its support for Irish Home Rule made it unpopular. It published until 1868.
He mar 1870 to Countess Charlotte de Leyden [born 1843, Munich, German Catholic]. See Wikitree.
She was dau of Count Karl Joseph August von Leyden and his wife Franciska von Weling.
She was a historian and author, a student of the 4th Baronet's friend Lord Acton.
He sold Churchtown House c.1870. NOT 1860.
Lived in London. Though retained deep involvement with Ireland.
Links to Acton, Throckmorton, Dease:
His friend Lord Acton's aunt Elizabeth Acton had married Sir Robert Throckmorton, 8th Baronet (died 1862) of Coughton Court, Warwickshire. The 8th Baronet was one of the first Catholic MPs after Catholic Emancipation. These people were all prominent English Catholics involved in politics. The 4th Baronet knew the Throckmorton family, and was in fact descended from Throckmorton.
In 1871 UK census he is listed as visiting Emily Throckmorton (dau of 8th Baronet) and her husband Gerald Dease (also here) at Coughton Court. Dease were an old Irish Catholic family who held their lands through the Penal Laws.
Gerald Dease's brother James Arthur Dease ran in the 1872 Co.Kerry by-election as a Liberal, and was defeated by the 4th Baronet's 2nd cousin Rowland Ponsonby Blennerhassett (Home Rule party).
He changed his views on Home Rule in the 1870s and became an opponent of Home Rule. A strong opponent of Parnell.
Liberal MP for Co.Kerry 1880-85.
Kerry had two seats. The other MP in 1880-85 was his 2nd cousin, the Home Rule MP Rowland Ponsonby Blennerhassett.
He is listed in 1881 census as a lodger at 3 St. James's Place, Pall Mall, London. From here.
He spoke and wrote on Irish education and land question. He advocated peasant proprietorship 1884.
President of Queens College, Cork 1897-1904.
In the 1901 census he is found at the London and North Western Hotel in Dublin.
In October 1901 he was awarded an honorary doctorate (LL.D.) by the Royal University of Ireland.
He died 22 Mar 1909, London, age 69 yrs.
(todo) See Illustrated London News, 1909.
He was bur in churchyard of St. Benedict's RC church, Stratton-on-the-Fosse, Somerset. This is beside his old school, Downside School. See map and street view.
See Blennerhassett Baronets papers.
Charlotte died 1917.
See admin.
4th Baronet and Charlotte had issue:
Sir Arthur Blennerhassett, 5th Baronet,
born Munich, 14 Apr 1871.




Marie Carola Blennerhassett, born 1876.
Charity and civic worker and advocate for women's rights.
She mar 1stly, 1894, to Raphael d'Erlanger [born 1865, son of Frederic Emile, Baron d'Erlanger].
He died 1897.
She mar 2ndly, 1913, to Sir Henry Galway [born Henry Gallwey, 1859].
He was Governor of South Australia 1914-20.
He died 1949.
She died 1963.
See Australian Dictionary of Biography.
She had issue by 1st mar:

Baron Henry Roland Kasimir d'Erlanger,
born 1895.
He mar 1921 to Margarita Covarubias. No issue.
He was killed in a plane accident in 1937.

Charlotte d'Erlanger, born 1897.
She mar 1922 to Roderick Peter George Denman [born 1894].
He was grandson of George Denman, son of Thomas Denman, 1st Baron Denman.
See DENMAN in [Burkes Peerage].
He was KIA in WW2 1941.
She was living 1959 at 25 Mulberry Walk, London SW3.
She died 1980.
They had issue.




William Blennerhassett,
Willie, born 1882.
He mar 1910 to Olivia Grove [Olivia Frances Grove, dau of Sir Thomas Grove, 1st Baronet].
See his contributions to Encyclopaedia Britannica (12th edn, 1922).
See his libel case in 1932-1933. See background.
She died 1953.
He died 1958.
They had issue:

Rowland Blennerhassett, born 1911.
Living as at 1938 at 105 Campden Hill Road, London.

Living as at 1952 at 3 Cornwall Gardens, London.
Living as at 1956 at 17 Campden Hill Rd, London.
They moved to Brighton around 1986.
Rowland died 19 Mar 1993 at St Raphael's Care Home, Haywards Heath, West Sussex.
Elizabeth died 29 Mar 1995, Brighton. NOT 1996.
They had issue.

Speculation in 1886 that Sir Rowland would be appointed
Under-Secretary for Ireland
.
It did not happen.
From The Montreal Daily Herald,
25 Nov 1886
.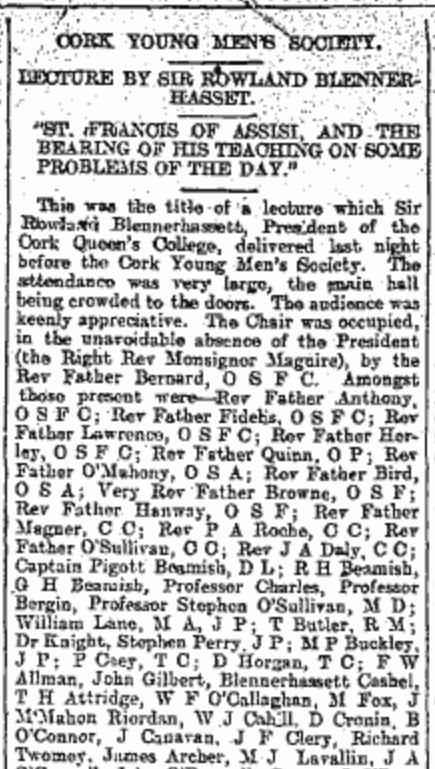 My ancestor Blennerhassett Cashel attends a lecture on 28 Mar 1899 in Cork by Sir Rowland Blennerhassett, 4th Baronet.
From Cork Examiner, March 29, 1899.
Blennerhassett Cashel was GSWR goods head at Cork, apparently 1893 to 1911.
The 4th Baronet was Catholic, succ 1849, President of Queens College Cork 1897-1904.
According to my theory they are most likely 2nd cousins.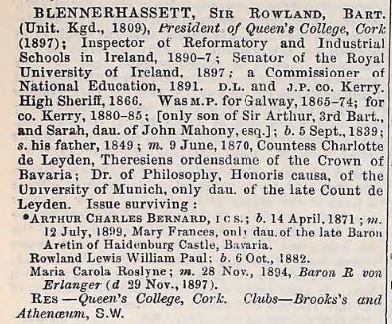 4th Baronet listed in [Thom's, 1901, p.228].
Gives his residence as Queen's College Cork.
Though this may just be a postal address. UCC profile says he "did not take up permanent residence at the President's house on campus".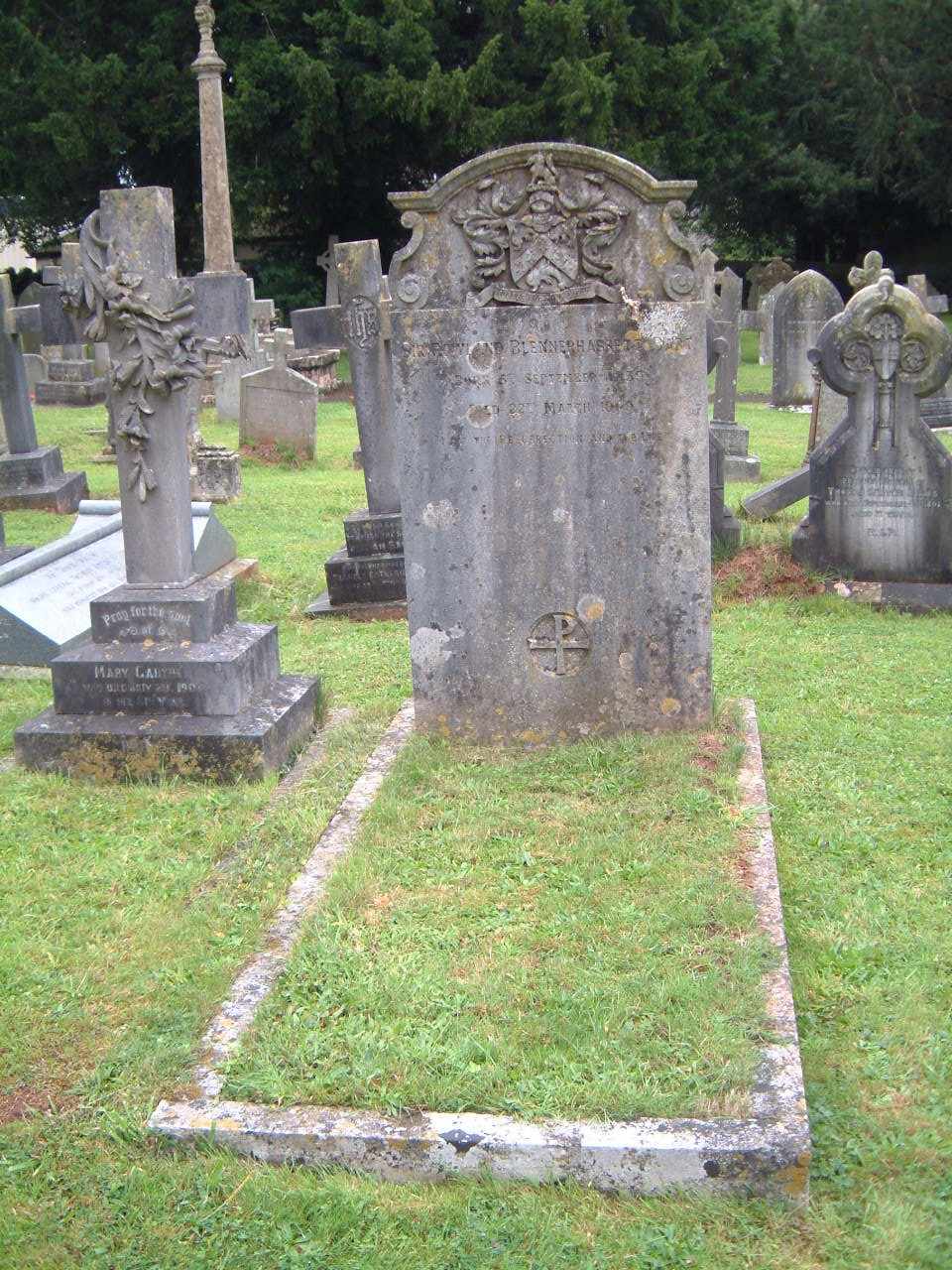 Grave of 4th Baronet, Stratton-on-the-Fosse, Somerset.
See full size.
See closer. and closest.
Photos 2006 from Bill Jehan.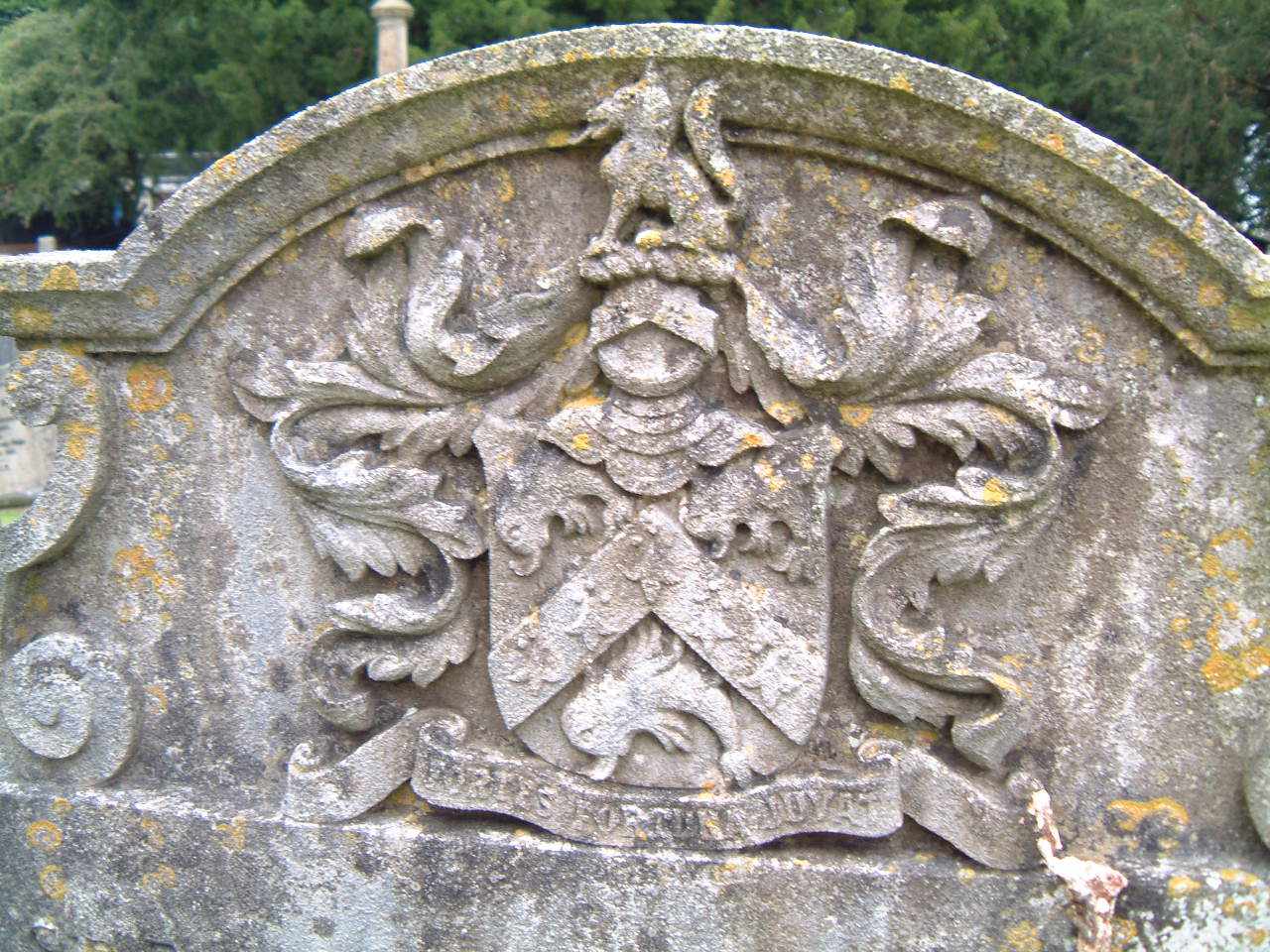 Blennerhassett arms on grave of 4th Baronet.
See full size.
Photo 2006 from Bill Jehan.
---
Sources yet to be consulted
Sir Rowland Blennerhassett, 4th Baronet, in [DNB]
Award of honorary doctorate. "University intelligence". The Times. 26 October 1901. p.7.
Obituary of 4th Baronet, The Times, 24 Mar 1909.

Memories of Gardens, Alexander Innes Shand, London, 1908. The 4th Baronet writes a "memoir" in this, but it is a memoir of the life of Shand, who died in 1907, not a memoir of the 4th Baronet's life.
Lady Charlotte and children
Lady Charlotte Blennerhassett in Deutsche Biographie.
Obituary of Lady Charlotte, The Times, 14 Feb 1917.

Laura Pachtner

Lady Charlotte Blennerhassett (1843-1917) (German language), 2020.
"Mediating European Culture in the Age of Nationalism - the liberal Catholic historian Lady Charlotte Blennerhassett (1843-1917)." (English language, forthcoming in 2020).

M. C. Galway, The Past Revisited (1953). Memoir by Lady Galway (Marie Carola Blennerhassett). [TCD] Santry Stacks [EPB only] (138.e.29).
"The Galweys of Munster", by Sir Henry Blackall, in [JCHAS] vol.74 No.219, 1969, pp.71-83. See pp.72-73.
Lord Acton
Acton and his Circle, by Abbot Gasquet, 1907.
Selections from the correspondence of the first Lord Acton, ed. by John Neville Figgis and Reginald Vere Laurence, Vol.1, 1917. [NLI] 826 a 2. [TCD] Santry Stacks (EPB only) 68.p.108.
The Acton Circle and the 'Chronicle', 1867-68, Guy Ryan, Victorian Periodicals Newsletter, Vol. 7, No. 2 (Jun., 1974), pp. 10-24.
Lord Acton, by Roland Hill, 2000.
President of Queens College, Cork 1897-1904
UCC University Archives. Correspondence of the President's Office, College Council, and of College Officers.

Boole Library, UCC [Special Collections, U.33]. Lecture delivered in Cork by Sir Rowland Blennerhassett on Sir Walter Scott, 1902.
The report of the President of Queen's College, Cork, for the session 1897-98 (Dublin: HMSO, 1898).
History of Queen's College, Cork
---
Papers to be consulted
Cambridge
Blennerhassett Papers. Add. MS 7486 in [CUL]

Papers mainly of Lady Charlotte Blennerhassett. Also some papers of Sir Rowland.
Deposited by Lady Galway, 1953. (Because 4th Baronet went to Cambridge.)
Contents. 57 sections.
Add.7486/22. Diary of Lady Blennerhassett, late 19th century.
Add.7486/50/4: Mein Mann [Letters from Rowland Blennerhassett], 1870-1882.
Add.7486/50/5: Letters from Charlotte Blennerhassett to her husband, 1870-1896.
Add.7486/53: Letters of Cabinet Ministers and others to Sir Rowland Blennerhassett, 1859-1897.
Add.7486/56: Personal papers and letters of Charlotte Lady Blennerhassett, 1887-1915.
Notes on these papers in Sir Herbert Butterfield Papers. MS Butterfield 468.

Acton Papers. MS Add. 8119-8123 in [CUL]

MS Add. 8119/7. Correspondence between Acton and Sir Rowland and Charlotte, Lady Blennerhassett.
Transcripts and abstracts of these in Sir Herbert Butterfield Papers. MS Butterfield 445.
Other England
Other UK
St Andrews: Papers of Wilfrid Ward. St Andrews University Library. Ms 38347-38348, 38469, 38508.

[PRO.NI]. D4151/G/10. Dates: 1884-1885. "Damp-press, copy out-letter-book containing copies of letters written on estate business from the Killarney Estate Office." Correspondents include the 4th Baronet.
Germany
---