Sir Rowland Blennerhassett, 4th Baronet
Sir Rowland Blennerhassett, 4th Baronet
(see
here
and
here
),
Catholic, born 5 Sept 1839.
Political writer, historian.
He succ as Baronet as a child in 1849 when his father died.
He was educ
Downside School
(Catholic school), Somerset, 1849-56.
He was educ
Stonyhurst College
(Catholic school).
He was educ
Christ Church
, Oxford. Entered 1859. Left without a degree.
He was educ
Christ's College
, Cambridge. Matric 1859.
He turned 21 in Sept 1860. He inherited
Churchtown House
, Co.Kerry.
Appointed a J.P. for Co.Kerry,
3 Dec 1860
. Listed as Sir Rowland of Churchtown.
He is listed as of Churchtown on
p.1741
of The Edinburgh Gazette, 18 November 1862.
He formed a friendship with the Catholic historian
Lord Acton
from 1862.
He was educ
Catholic University of Leuven
. Certificate dated
1863
.
Liberal MP for Galway city 1865-74.
He is listed as of Churchtown House in his Member's Certificate for the [RIA] in 1866.
High Sheriff of Co.Kerry 1866-67.
In declaration dated 26 Feb 1867 his residence is Churchtown House.
Helped to start the Chronicle, a literary organ of liberal Catholicism, 1867. It published until 1868.
He mar 1870 to Countess Charlotte de Leyden [born 1843, Catholic]. See Wikitree.
She was dau of Count Karl Joseph August von Leyden and his wife Franciska von Weling.
She was a historian and author, a student of Lord Acton.
He sold Churchtown House c.1870. NOT 1860.
Liberal MP for Co.Kerry 1880-85. Kerry had two seats. The other MP in 1880-85 was his 2nd cousin, the Home Rule MP Rowland Ponsonby Blennerhassett.
He somewhat supported Home Rule for Ireland in the Butt era, but later changed his views and became an opponent of Home Rule in the Parnell era.
He spoke and wrote on Irish education and land question. He advocated peasant proprietorship 1884.
President of Queens College, Cork 1897-1904.
In the 1901 census he is found at the London and North Western Hotel in Dublin.
He died 22 Mar 1909, London, age 69 yrs.
He was bur in churchyard of St. Benedict's RC church, Stratton-on-the-Fosse, Somerset. This is beside his old school, Downside School. See map and street view.
See UCC profile, which incorrectly says he was a Home Rule MP. It is also wrong about who the 6th Baronet was.
See portrait commissioned by UCC in 1995.
Charlotte died 1917.
4th Baronet and Charlotte had issue:
Sir Arthur Blennerhassett, 5th Baronet,
born 1871.




Marie Carola Blennerhassett,
Marie Carola Franciska Roselyne Blennerhassett, born 1876.
She mar 1stly, 1894, to Raphael d'Erlanger [son of Frederic Emile, Baron d'Erlanger] and had issue.
He died 1897.
She mar 2ndly, 1913, to Sir Henry Lionel Galway.
He died 1949.
She died 1963. See biography.
She had issue by 1st mar:

Baron Henry Roland Kasimir d'Erlanger, born 1895,
mar 1921 to Margarita Covarubias, apparently no issue.

Charlotte d'Erlanger, born 1897,
mar 1922 to Roderick Peter George Denman [born 1894].
He was grandson of George Denman, son of Thomas Denman, 1st Baron Denman.
See DENMAN in [Burkes Peerage].
He was KIA in WW2 1941.
They had issue.




William Blennerhassett, born 1882.
He mar 1910 to Olivia Frances Grove [dau of Sir Thomas Grove, 1st Baronet].
She died 1953.
He died 1958.
They had issue:

Rowland Blennerhassett, born 1911.
He mar 1945 to Lisa Stapleton [Elizabeth Charlotte Josephine Stapleton].
He died 1993.
She died 1995.
They had issue.

Speculation in 1886 that Sir Rowland would be appointed
Under-Secretary for Ireland
.
It did not happen.
From The Montreal Daily Herald,
25 Nov 1886
.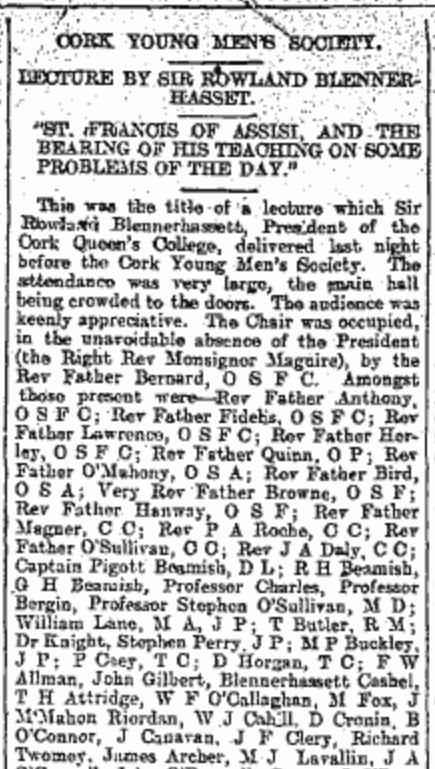 My ancestor Blennerhassett Cashel attends a lecture on 28 Mar 1899 in Cork by Sir Rowland Blennerhassett, 4th Baronet.
From Cork Examiner, March 29, 1899.
Blennerhassett Cashel was GSWR goods head at Cork, apparently 1893 to 1911.
The 4th Baronet was Catholic, succ 1849, President of Queens College Cork 1897-1904.
According to my theory they are 2nd cousins.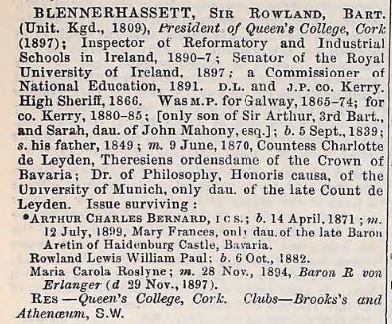 4th Baronet listed in [Thom's, 1901, p.228].
Gives his residence as Queen's College Cork.
Though this may just be a postal address. UCC profile says he "did not take up permanent residence at the President's house on campus".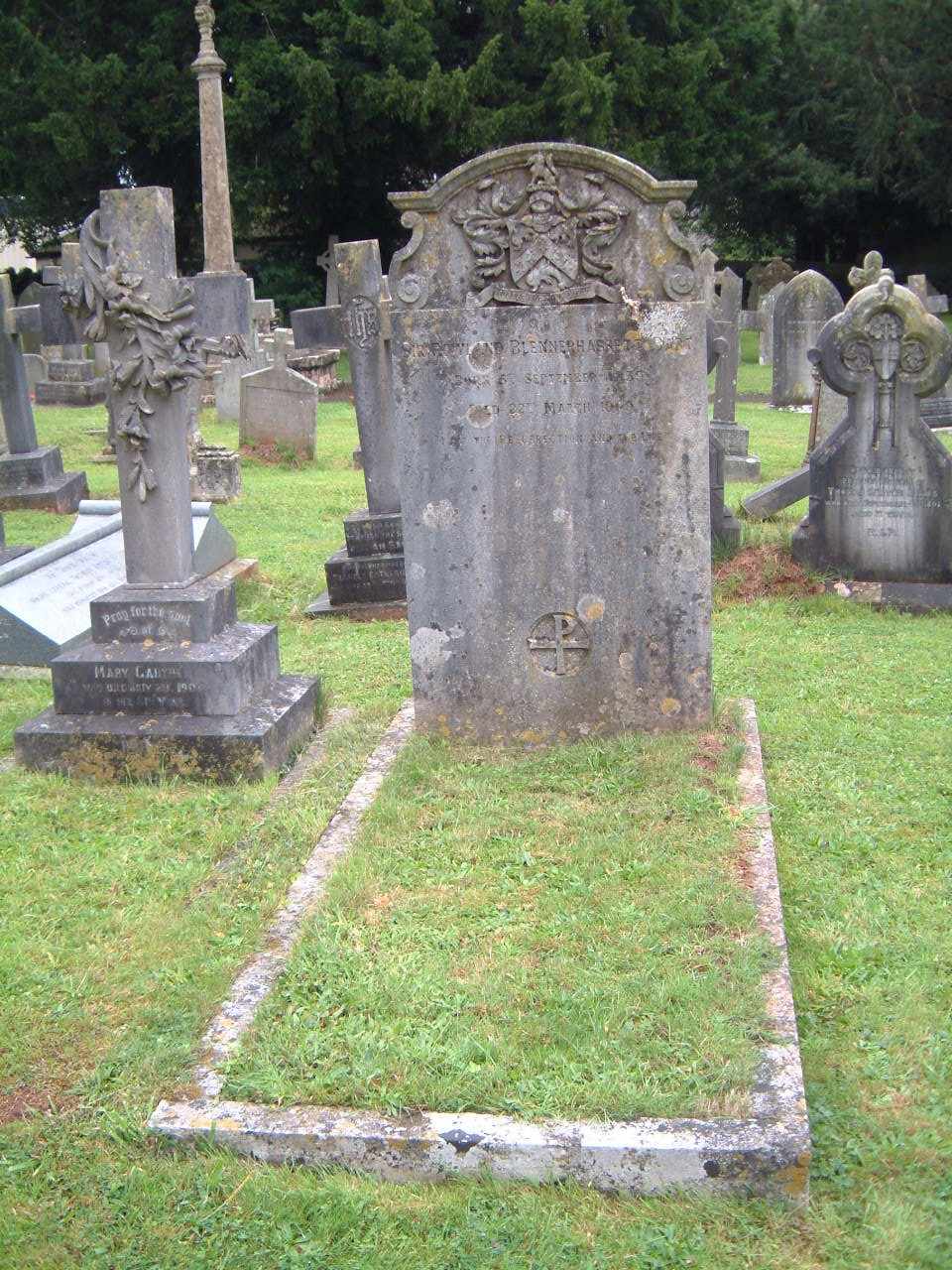 Grave of 4th Baronet, Stratton-on-the-Fosse, Somerset.
See full size.
See closer. and closest.
Photos 2006 from Bill Jehan.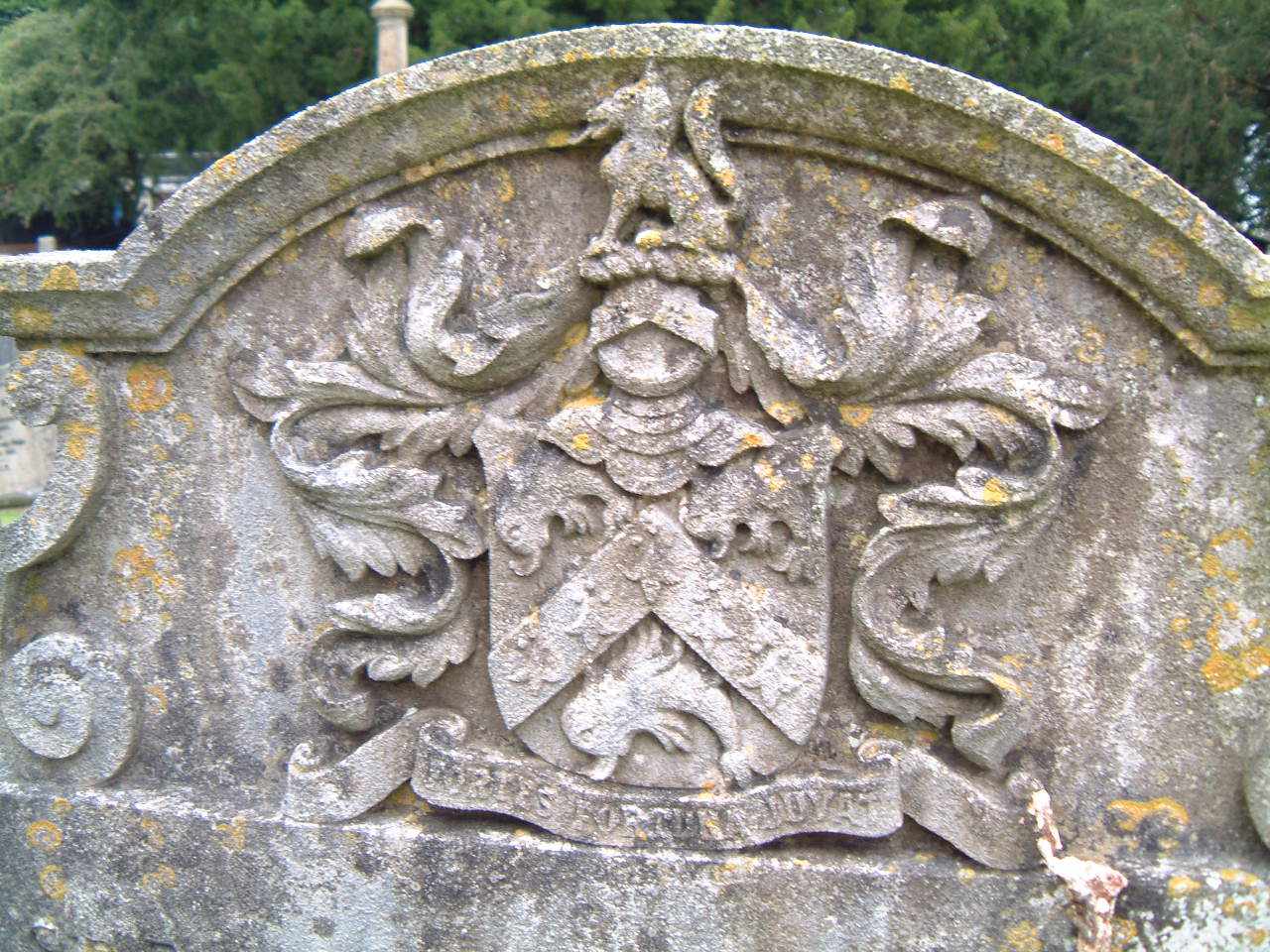 Blennerhassett arms on grave of 4th Baronet.
See full size.
Photo 2006 from Bill Jehan.
---
---
Sources yet to be consulted
Sir Rowland Blennerhassett, 4th Baronet, in [DNB]
Obituary of 4th Baronet, The Times, 23 or 24 Mar 1909.

Memories of Gardens, Alexander Innes Shand, London, 1908. The 4th Baronet writes a "memoir" in this, but it is a memoir of the life of Shand, who died in 1907, not a memoir of the 4th Baronet's life.
The Acton Circle and the 'Chronicle', 1867-68, Guy Ryan, Victorian Periodicals Newsletter, Vol. 7, No. 2 (Jun., 1974), pp. 10-24.
Lady Charlotte Blennerhassett in Deutsche Biographie.

Laura Pachtner

Lady Charlotte Blennerhassett (1843-1917) (German language), 2020.
"Mediating European Culture in the Age of Nationalism – the liberal Catholic historian Lady Charlotte Blennerhassett (1843-1917)." (English language, forthcoming in 2020).
President of Queens College, Cork 1897-1904
UCC University Archives. Correspondence of the President's Office, College Council, and of College Officers.

Boole Library, UCC [Special Collections, U.33]. Lecture delivered in Cork by Sir Rowland Blennerhassett on Sir Walter Scott, 1902.
The report of the President of Queen's College, Cork, for the session 1897-98 (Dublin: HMSO, 1898).
History of Queen's College, Cork
Papers to be consulted