Shanley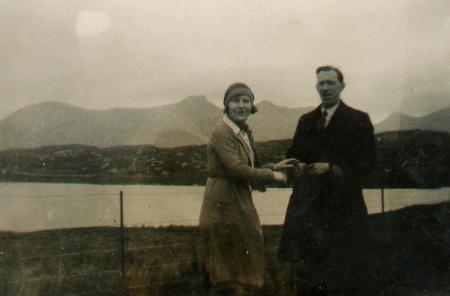 Una and John, c.1931.
Peter Shanley,
Peter William Shanley, born 1863, Co.Roscommon.
He mar 1894-95 to Mary Kelly [Mary L. Kelly, born 1864, Co.Roscommon].
Lived 109 Great Britain St (later
Parnell St
), Dublin.
Listed as "commercial traveller" at son's birth 1895.
See his family
listed
in 1911 census at 109 Great Britain St, Dublin. He is "draper". She is "draperess".
He is listed as "merchant", deceased, at son's mar.
Peter and Mary had issue:
Dr. John Shanley,
John Patrick Shanley, born 17th Sept 1895, 109 Great Britain St, Dublin [GROI].
He was educ O'Connell CBS.
He was educ UCD.
He remembered the 1916 Rising. He was taken by his uncle to see body lying in the street (near Great Britain St). It was The O'Rahilly.
He graduated UCD in medicine with 1st-class honours in 1919. MB, B.Ch., B.A.O. 1919 [NUI, 1964].
Appointed resident doctor in Richmond Hospital, Dublin.
D.P.H. NUI 1920, B.Sc. Public Health NUI 1921, MD NUI 1922 [NUI, 1964].
He became a paediatric surgeon (medical care of children). [Boylan's DIB] says he was the first full-time paediatric surgeon in Ireland "for more than 30 years".
In 1922 he became a surgeon at Temple Street Children's Hospital (and here), Dublin, and remained a surgeon there until 1975.
During the Civil War 1922-23 he was medical officer to the Dublin Brigade of the IRA (that is, he took the republican side).
In 1923 he became a surgeon at Cappagh Orthopaedic Hospital, Finglas, Dublin. He was senior surgeon there for many years.
He was an original member of the Hospitals Sweepstake Fund Committee (est 1930), later Vice-chairman.
He is listed at 28 N Frederick St, Dublin, in [Thom's, 1931] to [Thom's, 1934], listed there at marriage.


He lived 17 Merrion Square North, Dublin, from at least 1935 to death 1996.
He is listed at 28 N Frederick St and at 17 Merrion Square in [Thom's, 1936].
He served for 32 years as deputy coroner and coroner for Dublin City.
Co-founder of Irish Red Cross 1939. See Irish Red Cross Society Order, 1939.
Secretary of Irish Red Cross for many years. Their HQ was set up next door to him at 16 Merrion Square (still there).
In 1940 he was a founding surgeon of both Baldoyle Hospital, Baldoyle, Dublin, and St.Anthony's Hospital, Herbert Ave, Merrion Rd, Dublin (now St. Vincent's Private Hospital).
He was first Chairman of the re-named and re-organised "Medical Association of Eire" 1941. This is a body which went through many incarnations from 1839 to the present Irish Medical Organisation (see history of IMO).
Listed as "President of the Irish Medical Association" as at 1942 [Robins, 2000].
He was involved in the founding in 1942 of St.Patrick's Infant Hospital, Temple Hill, Blackrock, to care for the children of unmarried mothers.
Chairman of Irish Red Cross 1946-47.
Una registered her mother's death 1958.
[Boylan's DIB] says in 1970 he received "Bonn Uachtarán na hÉireann, the President's Gold Medal of Merit".
Una died 9th June 1974, age 69 yrs.
She was bur Glasnevin Cemetery, near her father's grave (see street view).

In 1975 John was made Chevalier (Knight) of the Papal Order of St. Gregory the Great (KSG), the highest honour a lay Catholic man can attain. See [1975 article].
He celebrated 100th birthday 1995. Special mass in Westland Row, Sun 17th Sept 1995.
He died Sun 21st July 1996, St. Vincent's Hospital, Dublin, age 100 yrs.
See death notice, Irish Times, July 22, 1996.
Funeral Tue 23rd July, bur Glasnevin.
John and Una had adopted issue:




Garret Shanley, mar Kitty ---- and had issue:

Paul Shanley.
Matthew Shanley.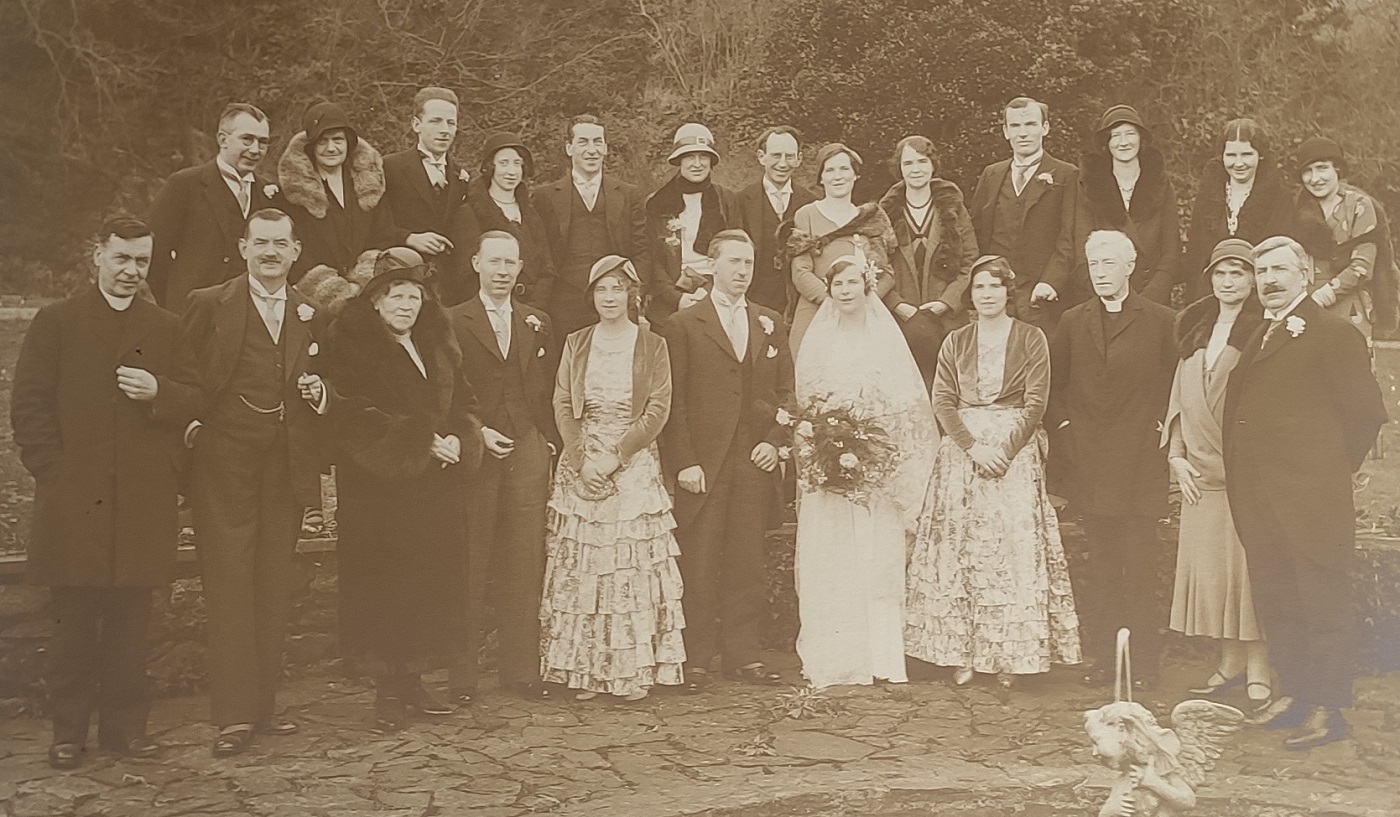 Una and John's wedding, Jan 1932.
See
larger
. See
full size
with names of people.
See
other copy
.
Back (left to right): Alec Spain, Alice Cashel, One of the Rynnes, ---, Phons O'Mara, ---, Dick and Eithne, Kat O'Mara, Steen, Helen Cashel, Maureen, Monica Delany.
Front (left to right): Fr.Paddy, ---, ---, ---, ---, John, Una, Sheila O'Mara, ---, Agnes Cashel, James O'Mara.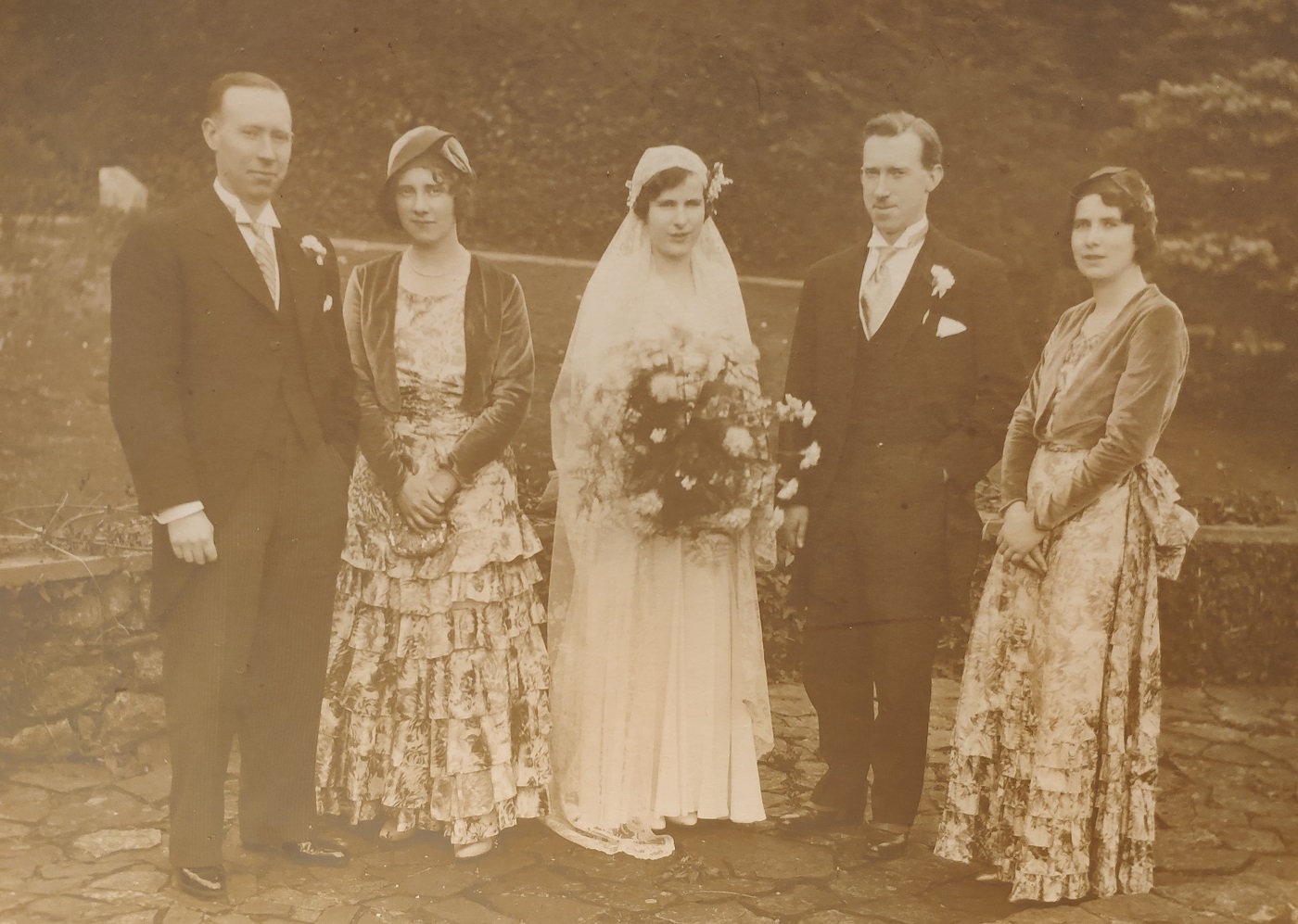 Una and John's wedding, Jan 1932.
See
larger
and
full size
.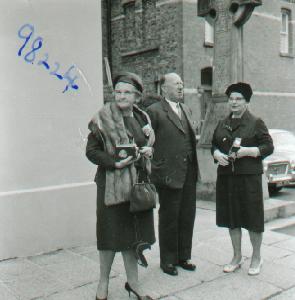 Maureen, John Shanley, Una.
Photo 1965.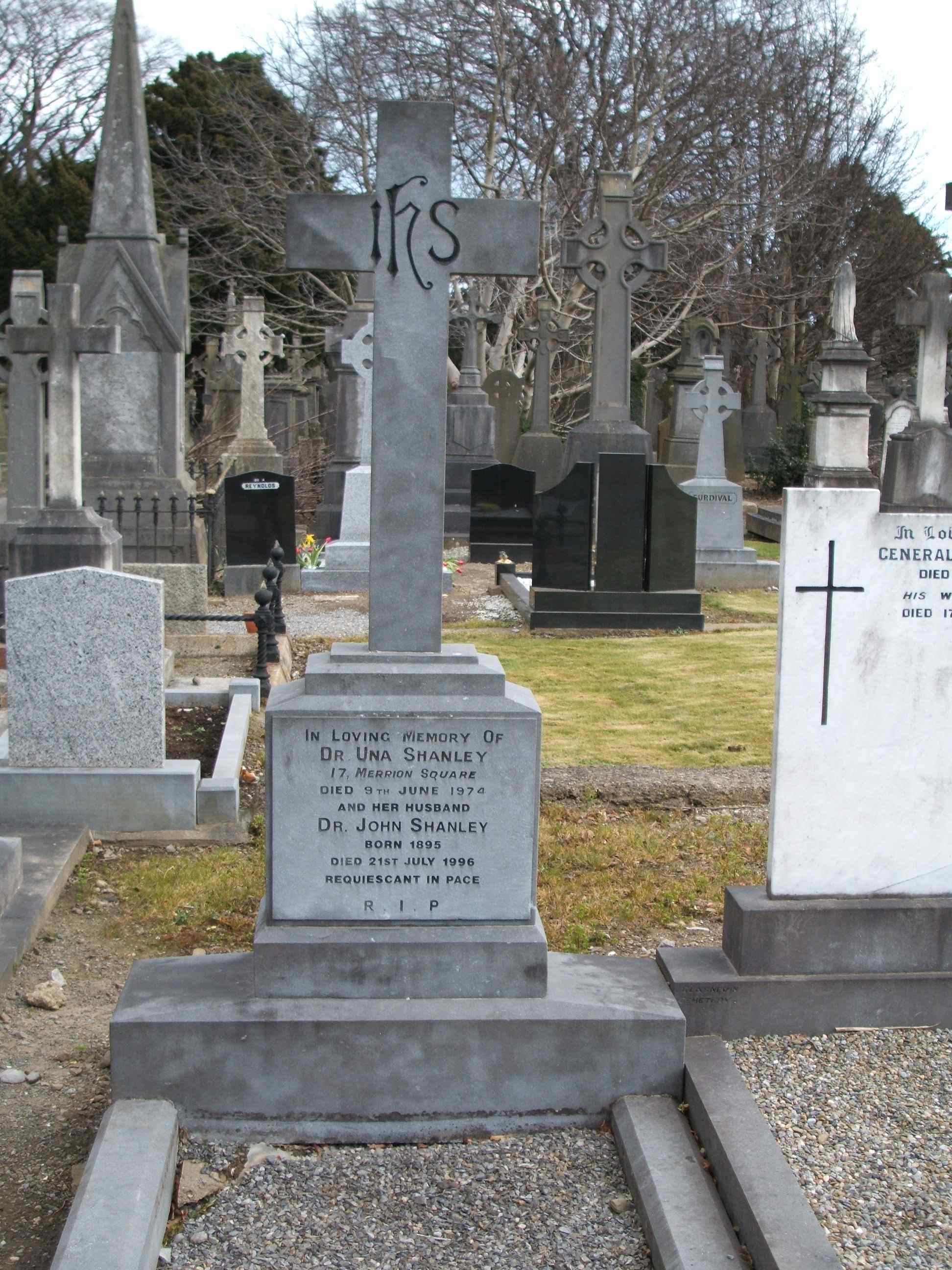 Una and John Shanley's grave, Glasnevin. Photo 2006. See full size.
Photo courtesy of Richard Humphreys.
---
17 Merrion Square, Dublin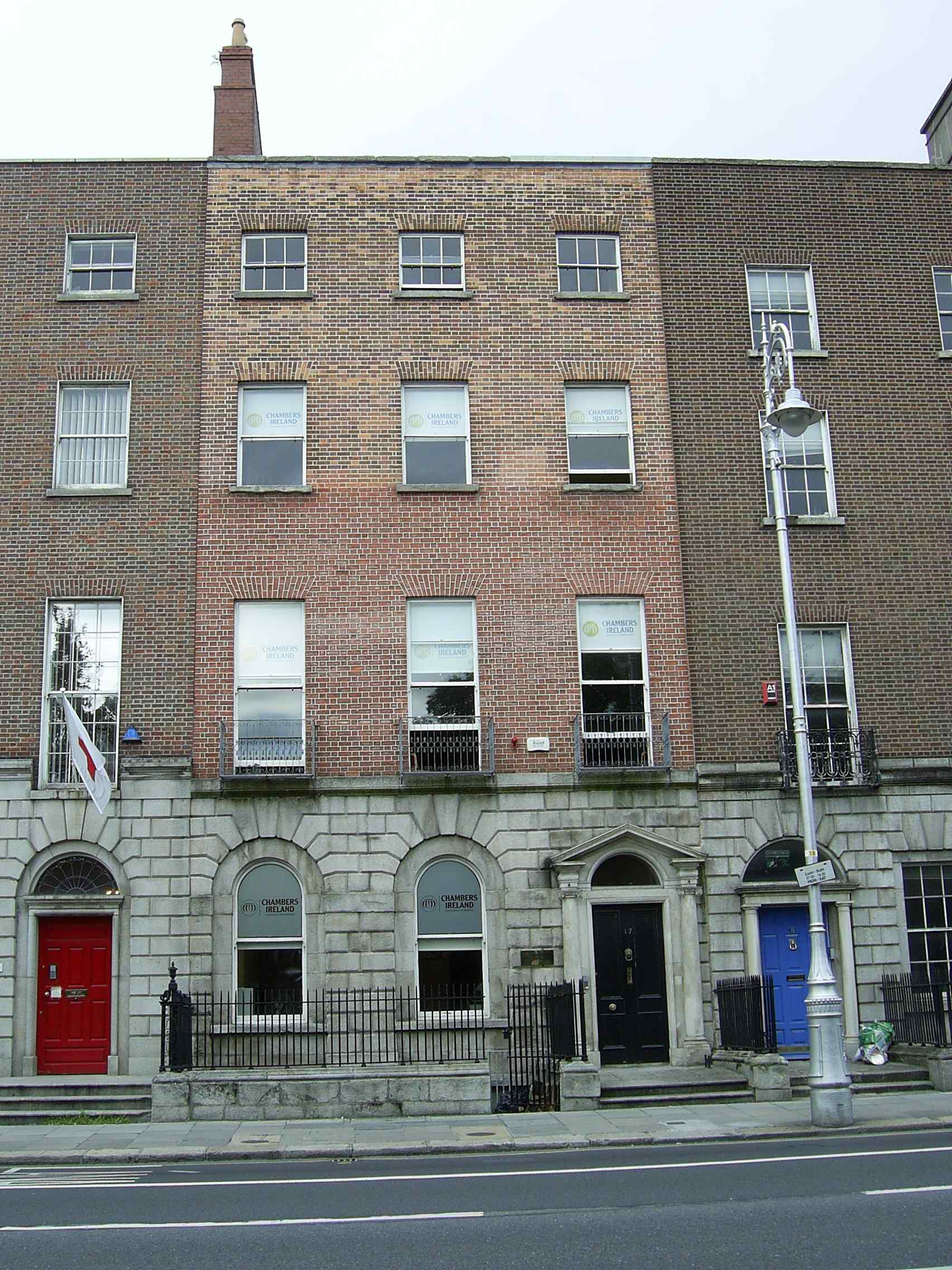 17 Merrion Square, Dublin.
Photo 2007.
Offices of
Chambers Ireland
(green-black door).
Irish Red Cross
at 16 Merrion Square on LHS (red door).
See
full size
.
See
other shot
.
---
References
---
Sources yet to be consulted