Elizabeth Montgomery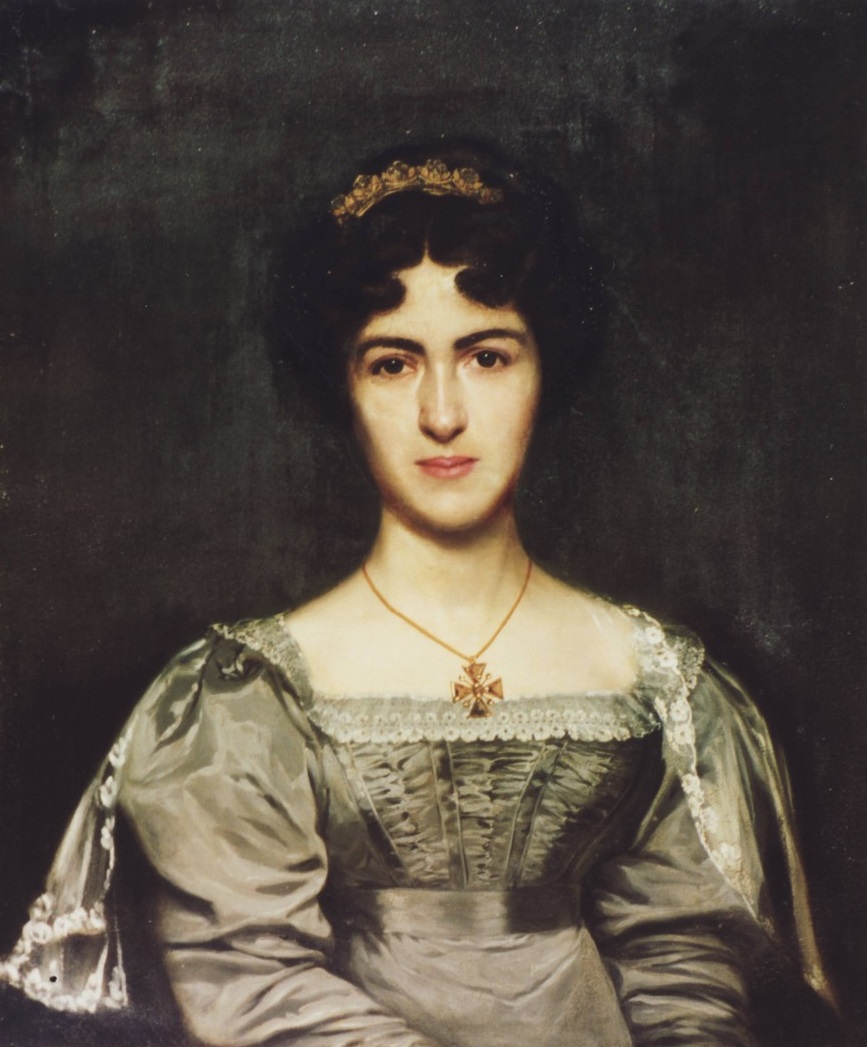 Elizabeth Montgomery.
Portrait perhaps c.1825 (it was a pair with the one of
Arthur Gibbon
).
Her dress was gold with the dirt. When cleaned, it came up as the original silver.
See
larger
and
full size
.
See
other scan
.
See
label at back
.
Elizabeth Montgomery
,
born 12 July 1796.
Her
father
, who was the natural son of the
10th Earl of Pembroke
, died in Feb 1797 when she was a baby.
She and her brother
George
were supported by their uncle the
11th Earl of Pembroke
who paid for them. They may have grown up largely at his houses
Wilton House
and
Pembroke House
, London, or at least regularly stayed there.
She and her mother
went to Wilton House for Christmas 1806
.
At marriage 1814 she is listed as of
Hythe
, near Southampton, Hampshire.
Elizabeth mar 11 Sept 1814 to Arthur Gibbon [born 7 July 1780] and had issue.



See marriage in 1814.
He was age 34, she was age 18.
She was the niece of the 11th Earl of Pembroke and had a great inheritance.
Postmarital contract 2 May 1815, Aberdeen, just before first child born.
She is entitled to a massive £8,000 from the Herbert family. This is perhaps £5m in today's money.

Baptism of Elizabeth Montgomery, 13 July 1796, St.Margaret's, Westminster, London.
19th century copy of original. See
full size
. And
other photo
.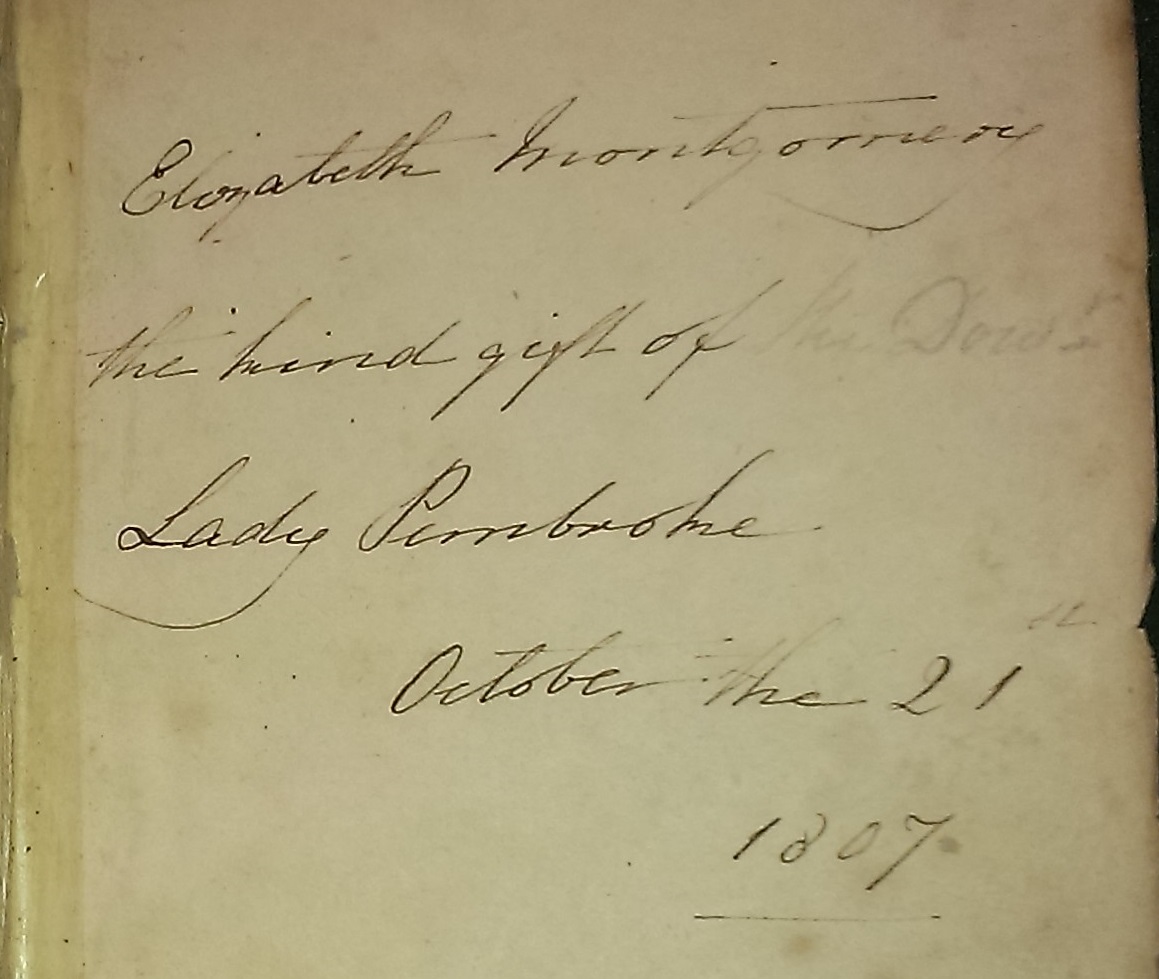 Inscription on a book given to Elizabeth Montgomery (age 11) on 21 Oct 1807 by "the Dowager Lady Pembroke".
This is Elizabeth Spencer, widow of the 10th Earl of Pembroke, who is being remarkably generous to the daughter of her husband's natural son.
The book is Fables by John Gay.
See full size. See title page.
[WSHC 2057/A6/36] shows a payment on 8 Apr 1808 to the Dowager Lady Pembroke for apparently minding the children George and Elizabeth while the 11th Earl was on honeymoon with his new wife.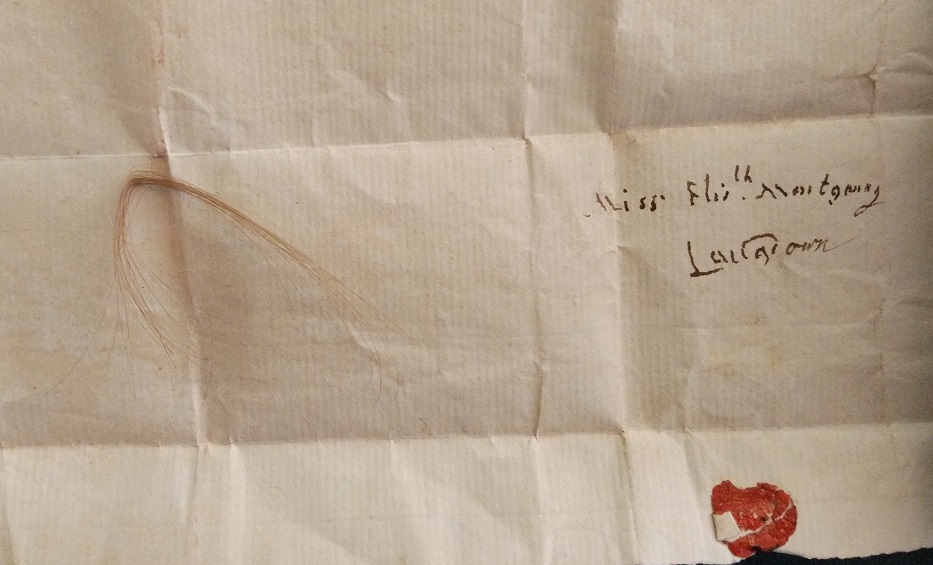 A lock of hair, with writing "Miss Elizabeth Montgomery" (i.e. pre-1814) and something illegible (maybe just "hair grown").
See larger and full size.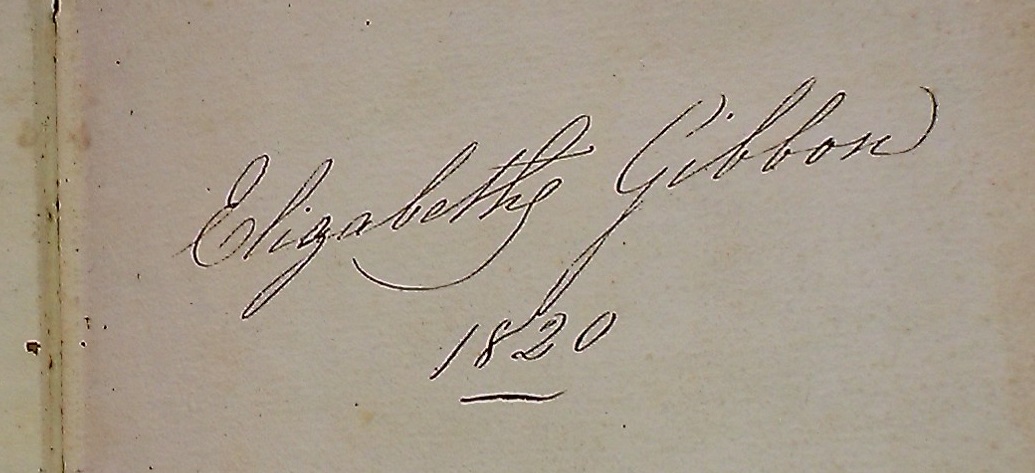 Inscription "Elizabeth Gibbon, 1820" [age 24, young mother] on a family medical guide.
The book is The Medical Guide by Richard Reece, 11th edn, pub 1814.
See full size. See title page.
---
Gold seal

Will of Arthur Augustus Gibbon
(died 1907) mentions a gold seal, engraved with Cupid and a Lyre.
It was given to Elizabeth Montgomery when a young girl by
Count Semyon Vorontsov
.
The Count's daughter married Elizabeth's guardian the 11th Earl in Jan 1808. Elizabeth was age 11 at the time.
The will here says that it went to
Florence Gibbon
(died 1949).
---
The marriage of Elizabeth Montgomery and Arthur Gibbon in 1814 is confusing.
It seems they first had a "runaway" marriage in
Scotland
at Gretna Green on 11 Sept 1814.
They then got married in a more regular ceremony in
England
at Bedlington, Northumberland, on 3 Oct 1814.
Her first child was born on 4 May 1815, less than 8 months after marriage. Possibly premature. But more likely she was pregnant, hence the hasty marriage.

First there is this entry in
Gretna Green, Scotland, Marriage Registers
.
Gretna Green
, just across the border in Scotland, was a famous place English people went for marriages without parental consent.
This says they married 11 Sept 1814 at Springfield (the E end of Gretna Green, see
map
).
Some
family papers
also say they married 11 Sept 1814.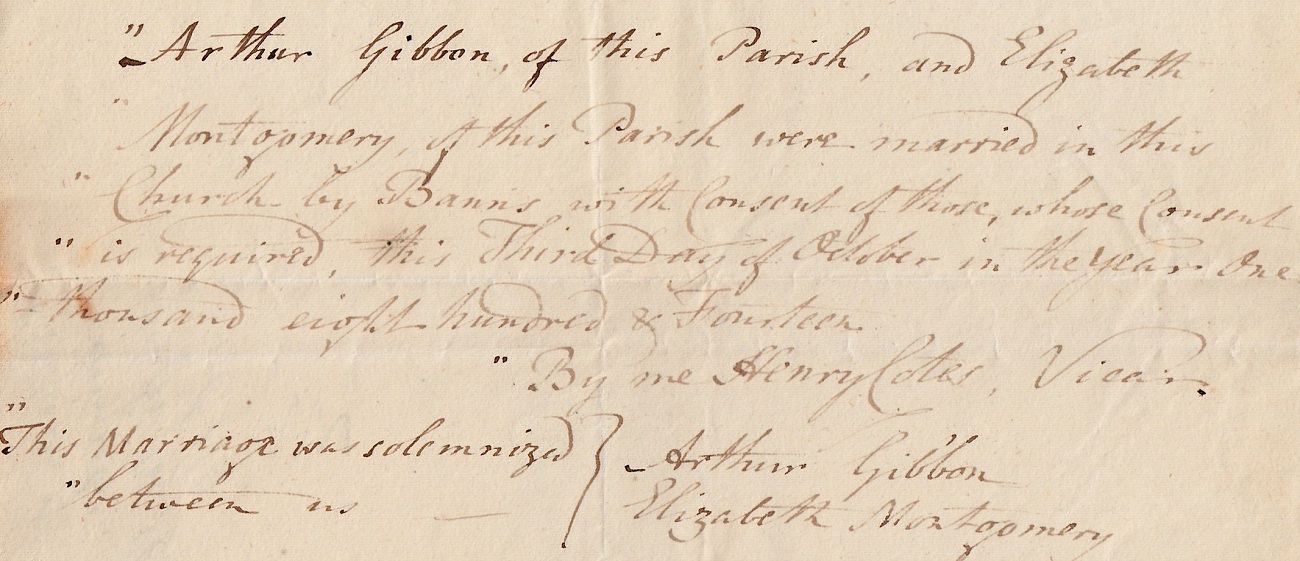 They then got married in a more regular ceremony in England on 3 Oct 1814 at Bedlington, Northumberland (see map).
This is nowhere near Gretna Green. Nor is it anywhere near where he lived (Aberdeen) or she lived.
But it is somewhat near Arthur's brother Robert Gibbon and his wife, who lived at Sunderland, not far away. They witnessed the marriage.
The above is a later 19th century copy of the entry in in Bedlington par records.
See full size. And other photo. And transcript.
This says they were both living Bedlington at marriage, but that seems untrue, or at least only temporary.
Abstract of marriage contract also says they married 3 Oct 1814.
One copy of marriage contract says they married "on or about" 3 Oct, then written in margin is 11 Sept.