Augustus Reebkomp (later Montgomery)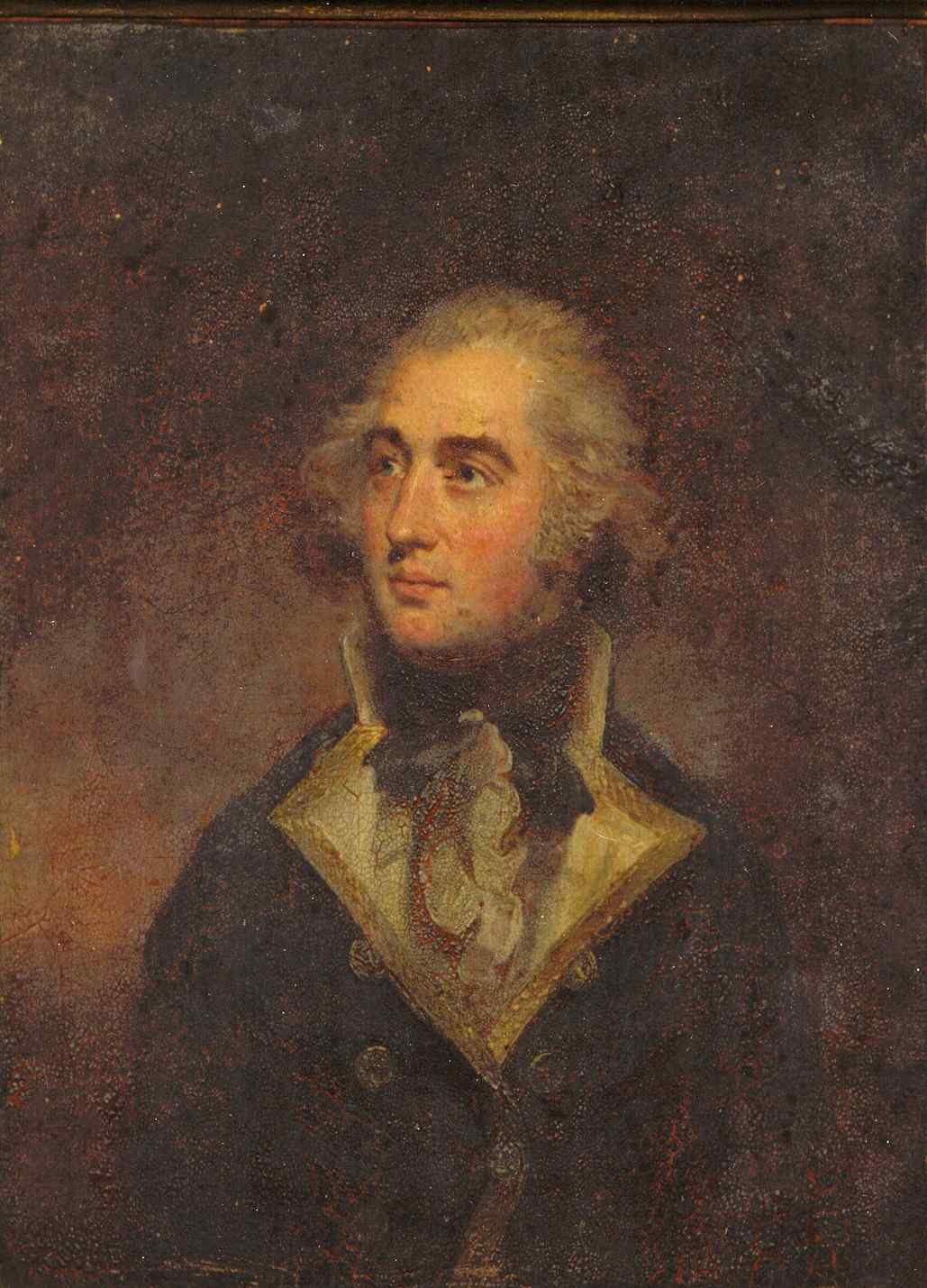 Capt. Augustus Montgomery, Royal Navy, 1789.
This is is a (very good) painted copy of the
Beechey portrait
at Wilton House.
Light adjusted digitally. See
full size
.
Picture in possession of
Gibbon of South Africa
.
Image courtesy of
Mike Hilligan
.
Augustus Reebkomp (later Montgomery)
,
born 23 Nov 1762, probably in Holland,
bapt in Holland, 16 Dec 1762,
descendant of
Edward III
.
Illegitimate son of 10th Earl of Pembroke, born "Augustus Reebkomp":
Reebkomp was the illegitimate son of the 10th Earl of Pembroke.
It is about as well-documented an illegitimacy as you could imagine, and about as well-accepted by the legitimate family. Even Lady Pembroke generously welcomed him at their seat Wilton House (though she blocked his adoption of the surname Herbert).
He was liked especially by his half-brother George (the future 11th Earl), who had no other brother.
Money came out of the Herbert family for them for almost a full hundred years.
Think he grew up mainly at Wilton.
Not sure how much contact he had with his mother Kitty Hunter. The Earl of Pembroke paid her a pension. Presumably she did not visit Wilton. But they stayed in contact. Her new lover the (future) Earl of Bristol was Reebkomp's godfather, and her eventual husband Alured Clarke stayed in contact with Reebkomp (and with the Montgomery family, after Reebkomp's death).
He was educ Eton 1767-71.
Royal Navy career:
He entered Royal Navy as child.
First record is June 1773, age 10.
See Royal Navy career of Augustus Montgomery 1773 to 1797.
He was in England and present at Wilton House during the Royal visit 1778.
He sailed to North America 1779.
He served in American Revolutionary War, 1779 to 1783.
There was a story among his Gibbon descendants that he went on the Grand Tour with his half-brother the future 11th Earl. But [Pembroke Papers, vol.I] shows no sign of him on his brother's lengthy tour (which was in 1775-80).
The 11th Earl sat for a portrait by Greuze in Paris in 1780, and Reebkomp had a matching portrait of himself painted by Greuze. However [Pembroke Papers, vol.I] shows no sign of him in Paris with his brother in 1780. More likely it was painted after he went on leave in 1783.
Becomes Captain. Takes the name "Augustus Montgomery".
He took the surname "Montgomery" on becoming Commander in 1781.
He became Captain in 1782. He then requested Navy records change to "Montgomery".
Listed as "A. Montgomery" in [Dublin Almanack, 1783].
American Revolutionary War ended Sept 1783.
He went on leave in Sept 1783 for nearly 5 years.
[Pembroke Papers] says he joined Lady Pembroke at Nice in Nov 1783.
[Pembroke Papers] says that when out of the Navy, in 1783-88, Augustus spent his time between England and the Continent.
His half-brother the 11th Earl defends him against some worries by their father, in a letter of 3 Apr 1787: "he is going on very well, living a great deal in a circle of very good acquaintance, whom he likes, and who like him ... rejoice at his being a thorough worthy and pleasant being, which he most undoubtedly is." [Pembroke Papers, vol.2, p.346]
He mar 1791 to Susan Maltass [born est c.1770].
His will refers to a marriage settlement. Marriage was settled by his father the 10th Earl.
The 11th Earl writes to his mother, 27 Aug 1793, saying that Reebkomp's marriage is not happy: "A Wasp's Nest there very likely is, but I fear she has been herself insupportable to him, and she is such an execrable fool, that I am inclined to fear there are but small hopes, and I have likewise heard enough to make me suspect that her conduct has not always been the most regular in any respect." [Pembroke Papers, vol.2, p.489]
However, Reebkomp in his will 1796 still refers to "my beloved wife Susan".
His father the 10th Earl died in Jan 1794.
Nov 1795, leave (Elizabeth conceived).
Death, 1797:
His will is dated 13 June 1796, written on board his ship the Theseus at sea. He says if his wife and children die he leaves his estate to his half-brother the 11th Earl.
Augustus died on board his ship the Theseus at Cawsand Bay, Plymouth, 6th Feb 1797, age 34 yrs.
There was apparently no fighting so he may have died of some illness.
He was bur 16 Feb 1797 in churchyard of Stoke Damerel church, Plymouth. No monument erected to him there.
His will was proved (by 11th Earl) 11 Mar 1797, Prerogative Court of Canterbury.
There were family names Augustus, Augusta and Montgomery in the Gibbon family after him.
Susan lived on for many years.
Letter of 1882 says a pension was paid to her every year from 1807 to her death in 1851.
The 11th Earl left her an annuity in his will (proved 1827). See extract. From Gibbon papers.
Susan went to live in Paris.
Note her mother was French.
Her final will was made in her house, 62 Rue Neuve-Saint-Augustin, Paris, with witnesses, 12 Dec 1850. She is "widow, householder". The will leaves all of her property to "Augustin Henry Saladin Montgomery my son visiting with me".
She died 12 July 1851, age est c.81 yrs [letter to Arthur Augustus Gibbon 27 Dec 1882].
Admin of estate 14 July 1853, Prerogative Court of Canterbury.
Augustus and Susan had issue:
Rev. George Augustus Montgomery,
born 7th Nov 1793.





Elizabeth Montgomery,
perhaps named after her grandmother Kitty Hunter [Elizabeth Catherine],
born 12 July 1796,
bapt 13 July 1796, St.Margaret's, Westminster, London (beside Westminster Abbey, see map and street view).
See copy of baptism entry.





Augustin Henry Saladin Montgomery.
His existence is only known from Susan's will of 12 Dec 1850 which leaves all of her property to "Augustin Henry Saladin Montgomery my son".
His name perhaps should be "Augustus". Note the will refers to Susan's late husband as "Augustin Montgomery".
Saladin is the great medieval Muslim leader who fought the Crusaders. This seems an amusing reference to his mother's Turkish background.

It is strange that Augustin is not mentioned elsewhere.
He is not mentioned in Reebkomp's will 1796.
He is not mentioned in abstract of Elizabeth's marriage contract 1815. In fact it states on p.2 top there are only two children, Rev. George and Elizabeth.
He is not mentioned in Deed of gift in June 1822. This in fact states that Rev. George is the "only son" of Augustus Montgomery.
Is it possible that Susan had a child with someone else sometime when she was a widow? And gave him the surname Montgomery?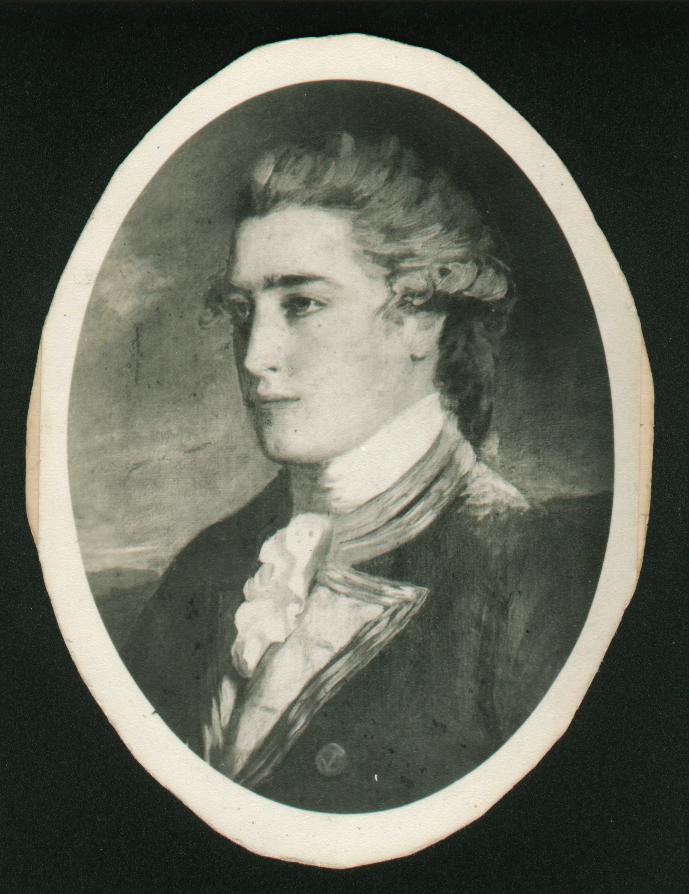 Augustus Reebkomp as a young man.
This is a photo of a lost portrait, thought to be by
Jean-Baptiste Greuze
.
Maybe painted at the time Reebkomp went on leave from the navy in 1783.
This is one of the two
Greuze portraits
. This one was sold around WWI and is now missing.


Reebkomp's baptism in Holland in 1762.
See full size.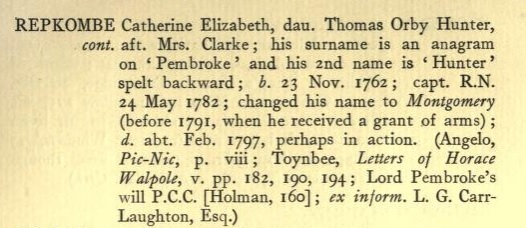 Entry for Reebkomp on pp.446-447 of [Eton College register, 1753-1790].
He went there in 1767-71.
Quite something for an illegitimate child to be sent to Eton.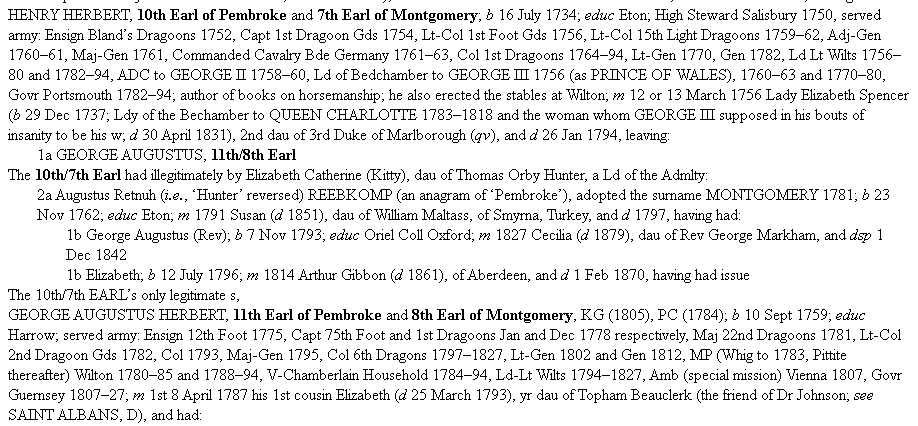 Gibbon finally appears in the PEMBROKE entry in Burke's Peerage.
Extract from [Burke's Peerage, 2004].
It was my initiative that got Gibbon into Burke's Peerage.


Susan's will dated 12 Dec 1850 leaves all of her property to "Augustin Henry Saladin Montgomery my son".
---
10th Earl acknowledges Reebkomp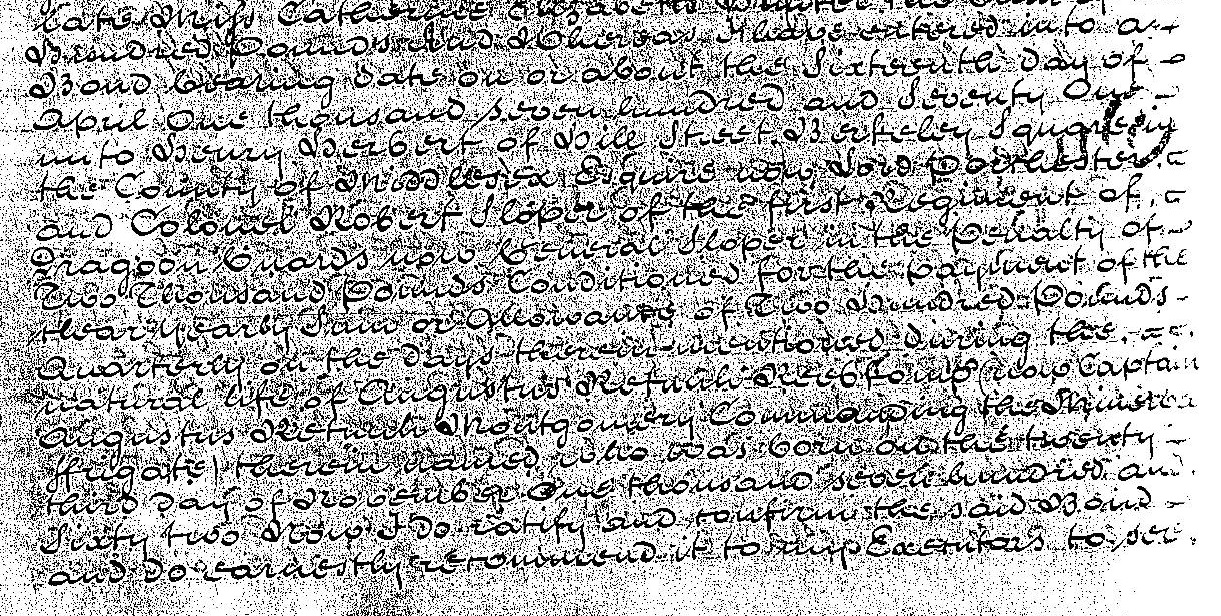 Will of 10th Earl
provides for his son Augustus Montgomery.
It refers to
[Deed of 16 Apr 1771]
providing for Augustus (then age 8).
On the next page he provides for a further annual income of £120 for Augustus.


In the 1793 codicil to his will, the 10th Earl explicitly says that Augustus is his son.


Reebkomp's will mentions a grant of a coat of arms from the Herald's Office "by which my father the Earl of Pembroke acknowledges me as his son".
---
The parish church of St.Andrew & St.Luke,
Stoke Damerel
,
Stoke
, city of
Plymouth
, Devon.
Augustus Montgomery was buried in the churchyard here in 1797. No monument.
This is at E end of Paradise Road, S end of Stoke.
See
satellite view
and
street view
.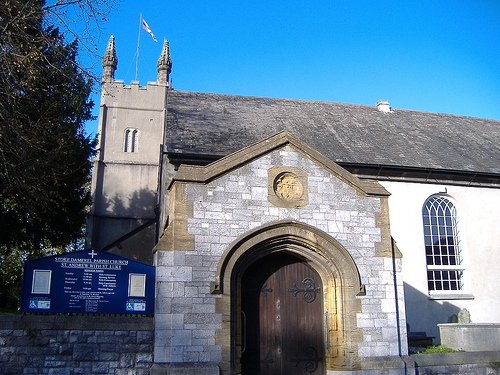 The church of St.Andrew & St.Luke, Stoke Damerel, Plymouth. Photo 2006.
See
full size
.
From
here
. See
terms of use
.
---
Susan Maltass lived at 62 Rue Neuve-Saint-Augustin, Paris.
She made her will there in 1850.
This is now Rue Saint-Augustin, in the 2nd arrondissement.
It runs between Avenue de l'Opera and Rue de Richelieu. See map.
No.62 was apparently at the W end and no longer exists.
French Wikipedia says the part of the street around no.59 was removed when Avenue de l'Opera was built in 1876.
Modern street view shows that even numbers on W end of Rue Saint-Augustin only go up to about 34 before the street ends.

Rue Neuve-Saint-Augustin on map of 1834.
See
larger
and
full size
.
From
here
.
See more
old maps of Paris 2e arrondissement
.
---
Lost portrait and other things



Will of Arthur Augustus Gibbon (died 1907) mentions a miniature portrait of Reebkomp and Susan.
Two copies of the same picture, framed in gold.
One copy went to Mildred Gibbon (died 1952).
The other copy went to either Lily Gibbon (died 1932) or Florence Gibbon (died 1949).



Will of Arthur Augustus Gibbon (died 1907) mentions cutlery with the initials "A.M."
This would be Augustus Montgomery.
The will here says that it went to Florence Gibbon (died 1949).
---
Gold chronometer watch
There was a large gold
chronometer watch
made by
John Arnold
given to Reebkomp by his father the 10th Earl of Pembroke.

Reebkomp's will
refers to
"the gold repeating time keeper by Arnold left me by my father"
.





Will of Arthur Augustus Gibbon (died 1907) says it went to either Monty Gibbon (died 1920) or Mildred Gibbon (died 1952).
---
References
---
Sources yet to be consulted
Deed dated 16 Apr 1771 providing for Augustus Reebkomp (then age 8).

Accounts of payments for Augustus Reebkomp. 1779-1791. Herbert papers at Wiltshire and Swindon History Centre. 2057/A6/14.

Grant of arms to Augustus Montgomery, registered at the College of Arms on June 16, 1791. Reference No - Grants 17/376. Lord Pembroke was the petitioner. The arms are those of the Herberts with a wavy border to denote illegitimacy.

"Captain Augustus Montgomery, RN (1762-1797): Wiltshire's forgotten aristocratic bastard", by Sheila R. Thomas, Wiltshire Archaeological & Natural History Magazine, vol. 101 (2008), pp. 213-25.
---
"I am glad Lord P. [Pembroke] provided well for them [George and Elizabeth] and he was obviously very fond of them."
[Letter from 16th Earl of Pembroke, 1960] after making contact with the Gibbon descendants of Elizabeth Montgomery.
The 10th Earl died after George was born but before Elizabeth existed.
It was the 11th Earl who really provided for them.
---