Rev. George Augustus Montgomery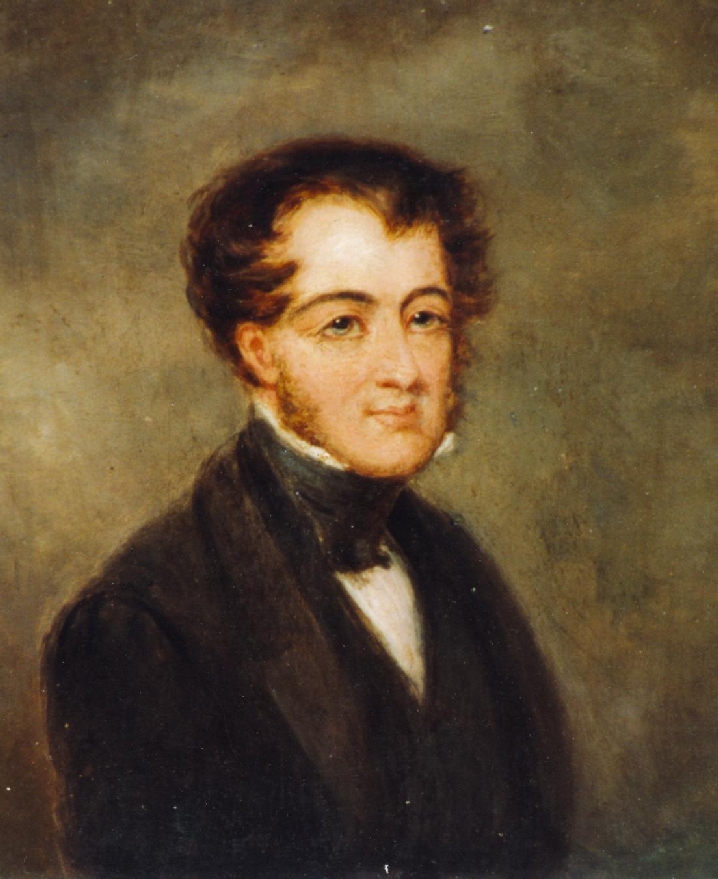 Rev. George Montgomery.
See
full size
.
See
other scan
.
Rev. George Augustus Montgomery
,
Church of England cleric,
born 7 Nov 1793.
His father, who was the natural son of the
10th Earl of Pembroke
, died when George was age 3.
He was educ
Oriel College
, Oxford. MA.
He is described as
"George Augustus Montgomery of Oriel College in the University of Oxford"
in
sister's marriage contract
1815.
He was ordained apparently 1818.
He baptised his niece
Elizabeth Gibbon
at Aberdeen 1819.
Rector of Bishopstone, Wiltshire, 1821-42:
He was Rector of Bishopstone, Wiltshire (near Salisbury and Wilton) from 1821 [plaque at church] until his death 1842.
His uncle the 11th Earl of Pembroke got him this position.
He is listed at Bishopstone at Deed of gift from Sir Alured Clarke in June 1822.
He was known as "George", e.g. see Aug 1822 letter from his uncle the 11th Earl of Pembroke: "I must say that George has a great deal of merit and promises to make a very good parish priest. He has an unhappy flock to deal with, an ill-built house, and like everybody else a diminishing income, but I perceive in him qualities which I think will enable him to cope with all difficulties and to enjoy all advantages."
He built new rectory at Bishopstone, and also built the church porch.
He mar 26 June 1827 to Cecilia Markham [born 27 Oct 1792, descendant of Edward I]. No issue.
His uncle the 11th Earl of Pembroke died at the Pembroke town house, Pembroke House, London, on 26 Oct 1827.
See Letter of 7 Nov 1827 that George wrote to his sister Elizabeth from Pembroke House.
He says he is going to Wilton: "before I leave this place for Wilton ... The Dowager is beginning to recover from her severe shock. Cecilia and myself go there next week for some time".
The 11th Earl left him £9,000 in his will. See extract. From Gibbon papers.
Prebendary of Ruscombe Southbury, 1828-42:
From 3 Feb 1828 [Fasti Ecclesiae Anglicanae] until his death 1842 he held the ancient title of "Prebendary of Ruscombe Southbury" at nearby Salisbury Cathedral (sometimes referred to as "the Cathedral Church of Sarum").
For definition of "Prebendary" see here and here.
His gravestone at Bishopstone church also lists him as "Rural Dean of Wilton" [this means he was a supervisor of the clergy in Wilton parish].
His will dated 13 June 1835. Two codicils 4 Apr 1837.
He left money to build a school in Bishopstone, and money to repair the church.
The school was actually built during his life, i.e. 1837-1842.
He was Rector of Bishopstone, living Bishopstone, at death 1842.
Death in accident, 1842:
He died in an accident at 1.30 pm, Thur 1 Dec 1842, age 49 yrs, at East Grafton, Wiltshire (confusingly next to another place called Wilton, some distance to the N of Salisbury, see map). He was inspecting the construction of the new church at East Grafton when there was a collapse and he was hit by (an estimated 3 tons of) falling masonry.
[1842 report of his death] said: "The loss of so good, so truly pious, so exemplary a man, even under the ordinary circumstances incidental to our common nature must have been deeply and severely felt by all around him; but there is something inscrutable to mortal comprehension in that awful - nay, appalling - dispensation of Providence, by which a life so thoroughly devoted to the service of God, and to the good of his fellow-creatures, was in an instant terminated, - even whilst he was engaged in the pious duty of inspecting the progress made in the erection of a new Church".
A letter of 10 Dec 1842 refers to "his late unfortunate decease".
In his will he had asked to be buried in tomb inside Bishopstone church.
His will was proved 25th Feb 1843, Prerogative Court of Canterbury.
His legacy was implemented by deeds, all dated 12th July 1843.
Cecilia lived on for many years.
[Letter from 16th Earl] says Cecilia was a great friend of Lady Herbert of Lea and also of Florence Nightingale.
She lived at Nunton House, Nunton, S of Salisbury, Wiltshire.
Cecilia's will dated 14 Apr 1866, codicil 20 Nov 1868.
She died at Nunton House, 9 Dec 1879, age 87 yrs.
Buried 15 Dec 1879 with husband at Bishopstone. See index.
Arthur Augustus Gibbon travelled to Bishopstone on 15 Dec 1879.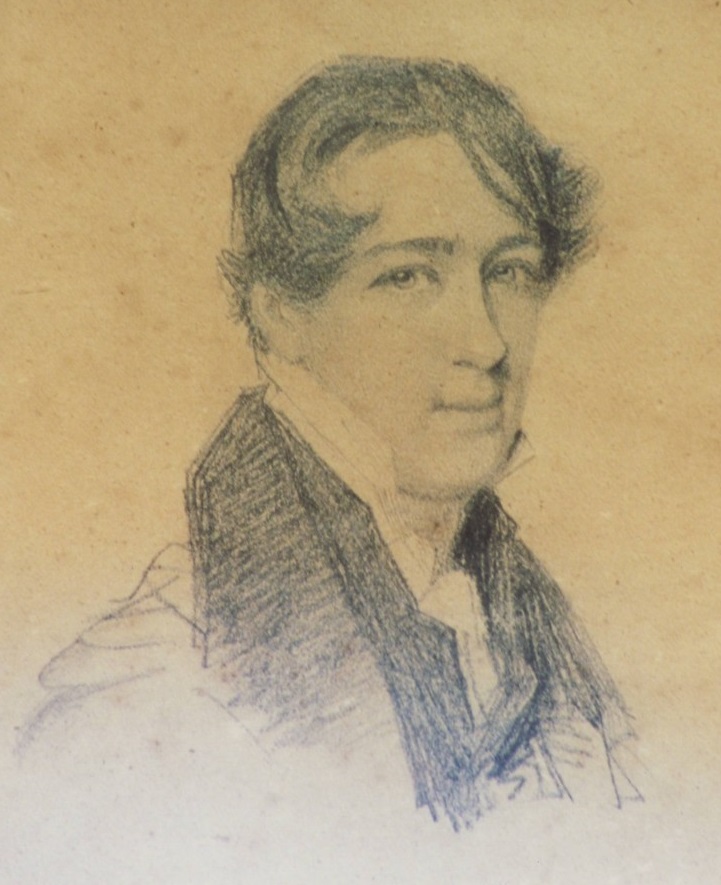 Unknown, possibly Rev. George Montgomery as a young man.
See
full size
.
See
other scan
.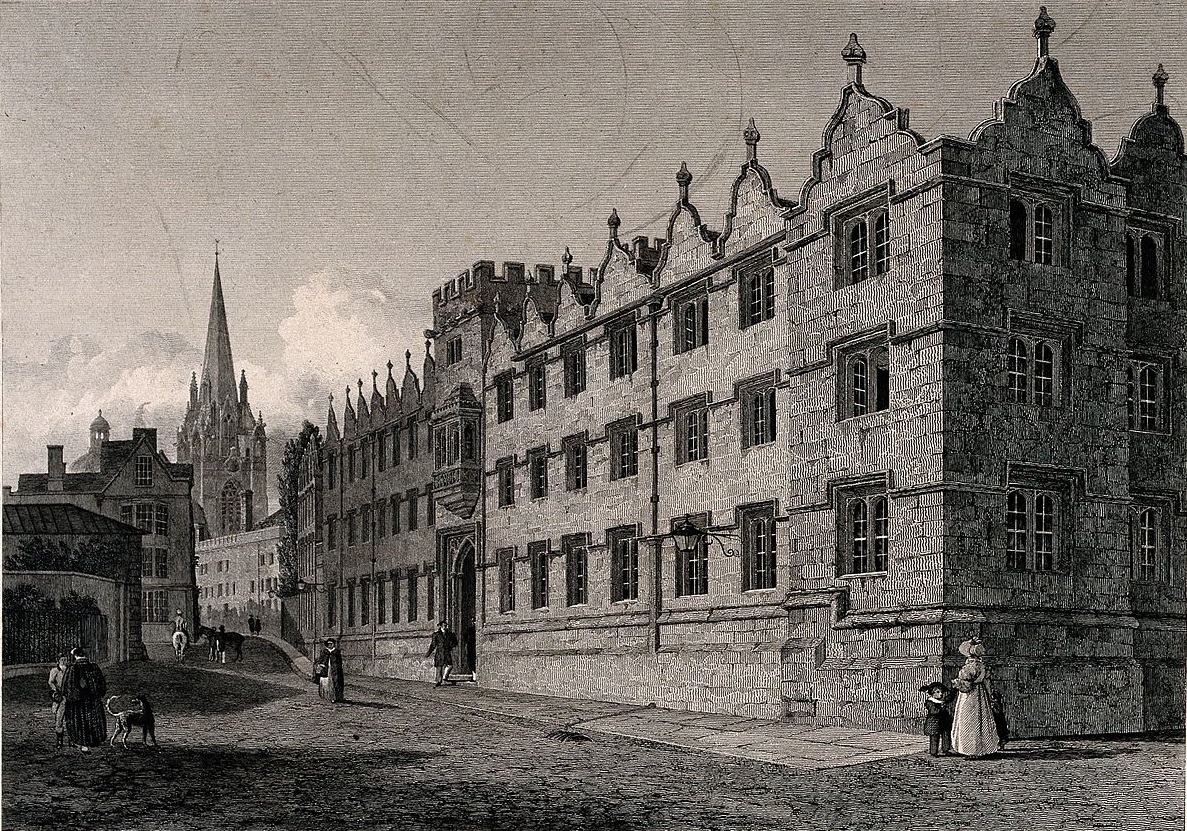 Oriel College, Oxford. Engraving of 1829.
See full size. From here.
See modern street view at same location.
See more images.


Label "Revd. G. Augustus Montgomery" and signature on a book.
See full size. See close-up.
The book is a life of Porteus, Bishop of London, pub 1810.
See title page.
Death of Rev. George Augustus Montgomery.
From
pp.433-434
of
The Gentleman's Magazine
,
vol.XIX
, Jan-June 1843.
Interesting that his father is only "supposed to be" of the family of Herbert.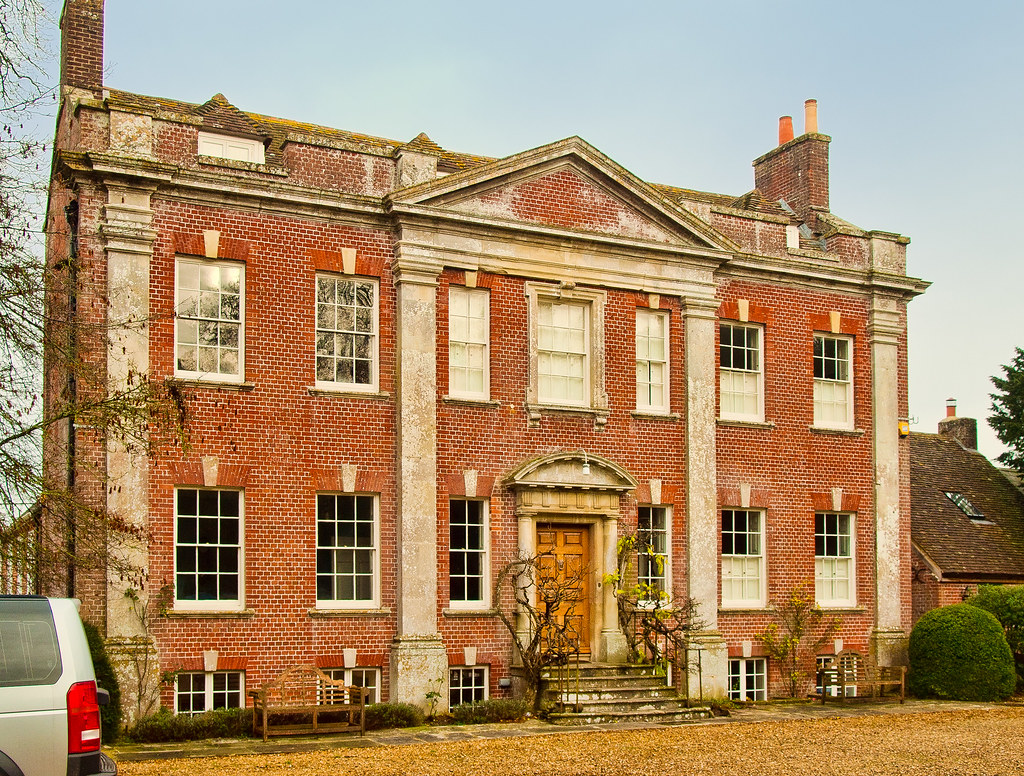 Nunton House, Nunton, Wiltshire.
Photo 2011. From
here
.
See
street view
.
---
References
---
Sources yet to be consulted