John Blennerhassett of Ballyseedy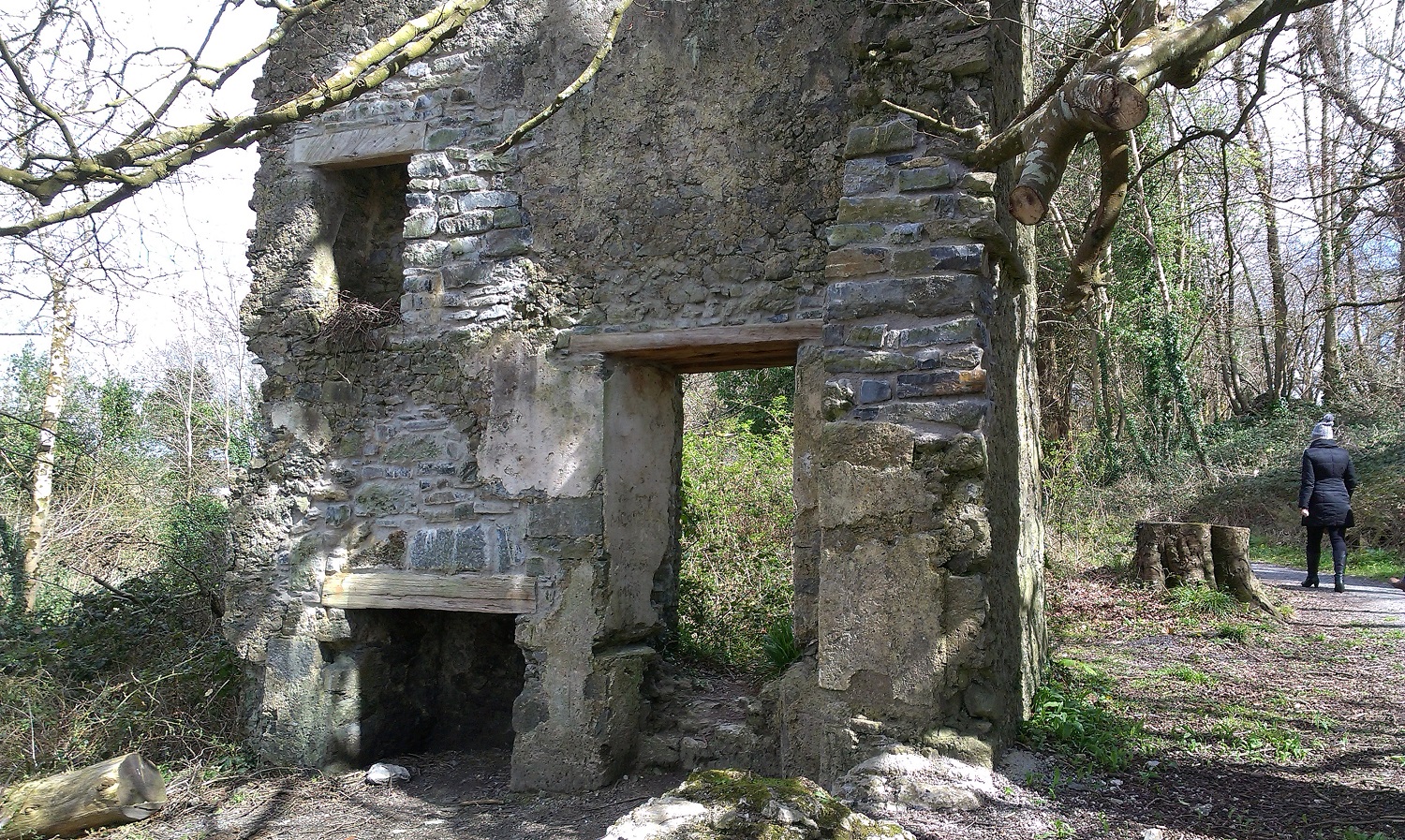 The
house
at
Old Ballyseedy
.
Photo 2016.
John Blennerhassett
(see
here
),
of
Ballyseedy
,
born est c.1620.
He mar [settlement 1654] to
Elizabeth Denny
[born 25 Feb 1635, descendant of
Edward I
].
High Sheriff of Co.Kerry
1658 and 1663.
MP for
Tralee
1661.
His father died 1676.
He died 1677, age est c.57 yrs.
He was possibly bur at Ballycarty church (see his son Arthur).
His will pr 1677.
Elizabeth's will dated 2 Nov 1689. She asked to be bur in Tralee church.
She died 1696, age 61 yrs. She was bur St.John's church, Tralee.
Her will pr 22 May 1696.
John and Elizabeth had issue:
Arthur Blennerhassett, of Ballyseedy,
died Tralee, 7 Jan 1686,
see entry in Denny Family Bible,
bur at "Bally Carthy" church.




John Blennerhassett, of Ballyseedy, born est c.1660.




Ruth Blennerhassett, born est c.1660,
would be after grandmother,
mar 1stly to Capt. Thomas Browne,
he died 1681,
mar 2ndly, post-1681, to her father's 1st cousin Thomas Blennerhassett and had issue.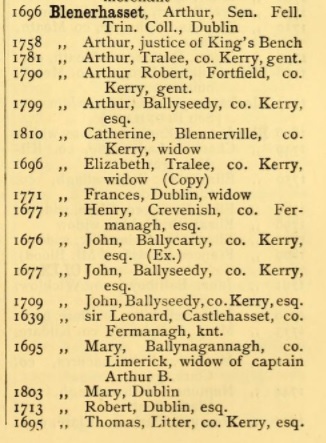 Wills of John Blennerhassett, of Ballyseedy, proved 1677, and his wife Elizabeth, proved 1696.
From
[Vicars' index of wills 1536-1810]
.
These were burnt in 1922.


Extract from elegy to this John's son John Blennerhassett (died 1709) by the Gaelic poet Aodhagán Ó Rathaille.
Ó Rathaille refers to him as "John, son of John, son of John of Ballyseedy".
From page 207 of [Dineen and O'Donoghue, 1911].


Extract from will of Elizabeth Denny.
From p.373 of [Denny, 1908].
---
Children

Entry in Denny Family Bible
for the death of Arthur Blennerhassett in 1686.
This says that
"Bally Carthy"
church was then the burial place of the Blennerhassetts.


Ruth Blennerhassett mentioned in the will of her brother John, dated 24 Jan 1709.