Capt. Tim Madigan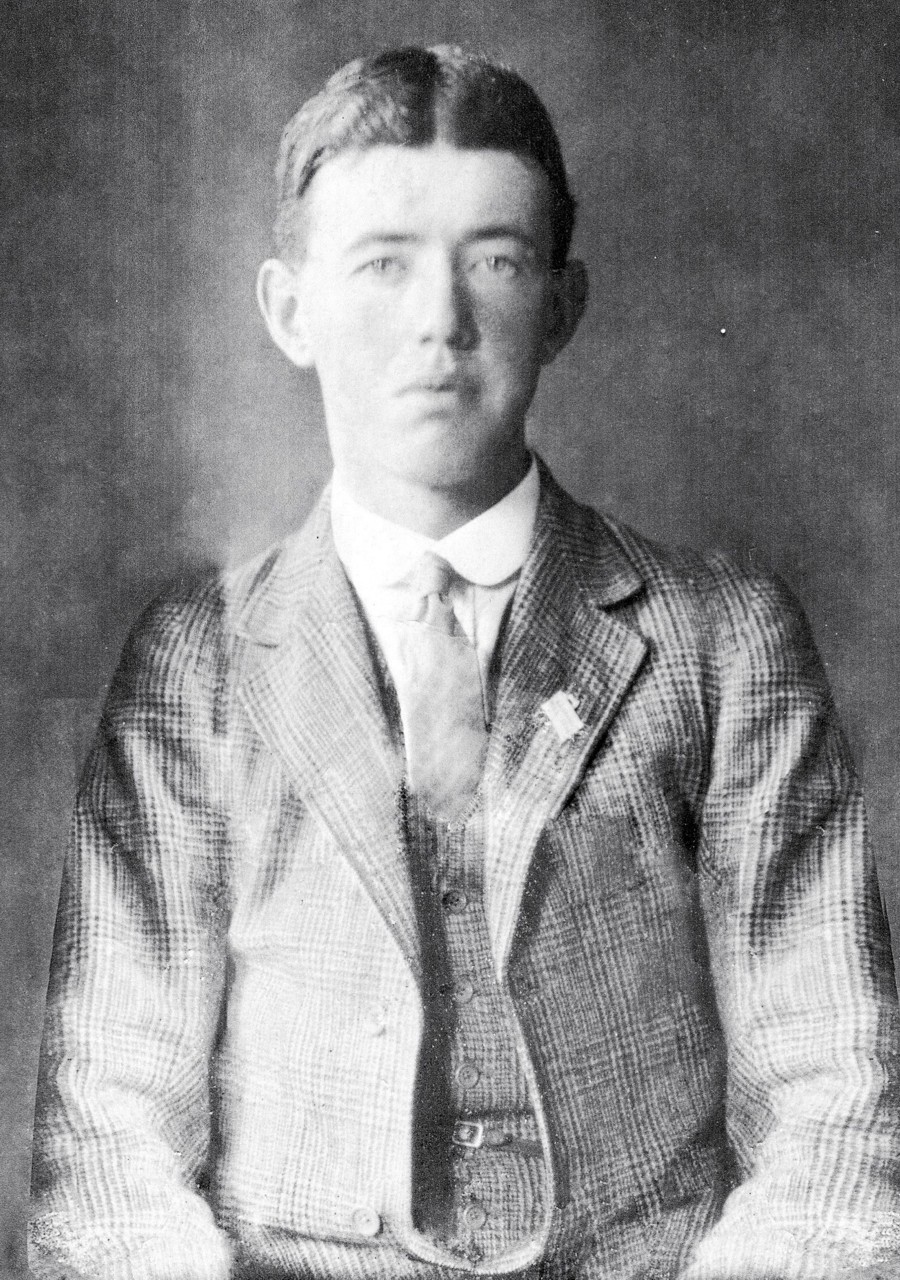 Tim Madigan, either 1914 (age 17) or 1920 (age 23).
See
full size
.
See a
painting
by
Jack Donovan
imagining what he would have looked like in uniform during the War of Independence.
Capt. Tim Madigan
,
IRA Captain who was shot dead by the British in 1920,
Timothy, born 11 Jan 1897, Shanagolden, Co.Limerick.
He was educ
Mungret College
, Limerick, 1911-13, as a boarder.
Returned to farm at family home,
Clashganniff House
.
Became interested in the Gaelic revival and Irish nationalism. He joined
Gaelic League
and
Sinn Fein
.
He played
Gaelic football
for
Foynes
.
He helped form Shanagolden company of
Irish Volunteers
in May 1914.
They took the MacNeill side (opposed to joining in WWI) in the
split with Redmond over WWI
.
The Shanagolden volunteers were not however involved in the 1916 Rising and they became inactive for a time.
IRA Captain in War of Independence, Sinn Fein District Councillor:
Tim became Captain (head) of the revived Shanagolden company of Irish Volunteers / IRA in 1917.
He was IRA Captain in War of Independence which started 1919.
As the war developed, the RIC decided to abandon smaller police stations. They abandoned their station in Shanagolden in Mar-Apr 1919 and moved to Foynes.
Tim and other IRA men burned the abandoned RIC station in Shanagolden in May 1919.
He was elected unopposed as Sinn Fein District Councillor for Shanagolden, Rathkeale Rural District Council, May or June 1920.
In June 1920 he joined other IRA men planning an attack on the RIC barracks at Sixmilebridge, Co.Clare. But the attack was called off.
As a new District Councillor he attended meeting of Rathkeale Rural District Council, 18 June 1920.
The kidnap of General Lucas, June-July 1920:
The British Army commander General Lucas was abducted by the IRA on 26 June 1920, and held until July 1920.
He was held at Balliston House (or Ballysteen House), SE of Shanagolden (see old map and modern map).
Tim helped guard General Lucas at Balliston House.
Denis Mangan also helped guard him.
Denis Mangan's mother made food for the prisoner.
General Lucas escaped on 29 July 1920.
Sara Mangan met General Lucas in the 1950s and he recalled his captivity.
In Aug 1920 Tim and the Shanagolden IRA men captured and "paraded" two RIC men at Shanagolden.
After this there were repeated Black and Tan raids on his house, Clashganniff House, looking for him.
More than once during raids, Clashganniff House was doused with petrol, and the Black and Tans threatened to burn it.
He attended meeting of Rathkeale Rural District Council, 10 Nov 1920.
Shot dead by British, Dec 1920:
He was shot dead by British forces at his home, Clashganniff House, 28 Dec 1920, age 23 yrs.
While Tim was home for Christmas, William Hall (one of the men "paraded" in Aug 1920) and other RIC men suddenly arrived in Shanagolden on 28 Dec 1920.
They captured Willie. They raided Clashganniff. Tim made a run for it, but was shot in a field. He was shot in the back from a distance by a Black and Tan named Barlow.
In the "court of inquiry" William Hall says: "As Timothy Madigan continued to run, we called on him to halt once again and as he paid no attention one more shot was fired at a distance of about 400 yards which caused him to fall."
William Hall said he had known Tim Madigan for 17 years.
Tim was carried into Clashganniff House badly injured. Dr. Agnes Nolan (despite her family's political differences with Tim) was called for and quickly came, but Tim shortly after died. Dr. Agnes said the bullet had pierced his lungs.
A British military "court of inquiry" was held at Clashganniff House the next day, 29 Dec, where the body was viewed, then released for burial.
He was buried at Kilbradran.
The Black and Tans watched the funeral. When they left the IRA emerged and fired shots over the coffin.
---
References:

Sources yet to be consulted:
In Aug 1920, during the
War of Independence
, a dramatic series of events occurred at
Shanagolden
, Co.Limerick.
The
IRA
at Shanagolden were under the command of
Capt. Tim Madigan
.
The
RIC
had removed from Shanagolden to
Foynes
(where they were augmented by the special RIC men known as
Black and Tans
).
Dick Humphreys
was in the Shanagolden area, staying in his relatives' home at
Gourbane
, recovering from his hunger strike of Apr 1920 (apparently recovering from pleurisy).
The incident began on Wed 25 Aug 1920, when an attempt was made to burn the creamery (the co-op) at Shanagolden, apparently by the Black and Tans.
The IRA wanted to reply, and found their chance the next day, Thur 26 Aug 1920, when two RIC men were caught unarmed in Shanagolden.
There was one regular RIC man, William Hall, and one Black and Tan, Thomas Huckerby.
They were visiting Dr. Cornelius Nolan at Elm Ville.
The IRA under Tim Madigan surrounded Elm Ville and arrested the RIC men.
A priest pleaded with the IRA not to shoot them. Tim decided to burn their uniforms and let them go.
They were marched down to the Square at the bottom of Shanagolden, stripped, their uniforms burnt, and they were sent away back to Foynes in only trousers.
Later that day, Thomas Huckerby returned to Shanagolden with a party of armed Black and Tans to search for the attackers, and exact revenge.
Two IRA members, Joseph Hartney and Jack Power, were a few miles from Shanagolden when they saw an armed party of Black and Tans coming up the back way from Foynes. They saw they were going to Shanagolden.
Hartney said: "I'll go up and tell 'em, I'll warn 'em". Power: "You won't be up in time". Hartney: "I will". Hartney ran 3 miles down the road the long way, unseen by the 'Tans. The 'Tans had only 2&frac12 miles to go.
The 'Tans were coming over the hill into the village when Hartney was crossing the Square below. The creamery was warned, and cleared out. They ran round the back of the houses, got all the young men out, they escaped up the fields. Denis Mangan escaped over the fields. Moss Danaher escaped out the back, but they got his father.
The 'Tans got no one, only old people.
In their anger they threw bombs at the Carnegie Library and rounded up anyone they could find.
The old people were taken out into the Square. One farmer Creegan had just come back from a fair selling wool, had £64 in his pocket, would be the bulk of his year's earnings, knew it would be taken if he was searched. Moss Danaher's father was not much consolation, he said don't bother, we will all be shot. But Moss's sister went over, slipped the money under her arm, walked back into the house. The 'Tans searched Creegan but found nothing.
Earlier in the day, as the IRA were marching the 'Tans up the street, a clerical student, in town on a message in a pub at one end of the village, had said as they passed: "That's the stuff to give 'em". The 'Tans returned furious, and searched every inch of the place where he was, throwing open all the presses and cupboards, but he was gone. He had taken no more notice of the incident, and had gone away immediately after. He went 3 miles out into the country. He was just in on a message.
Fearing bloodshed, Dr. Cornelius Nolan and a priest intervened to calm the angry police.
But then one man was shot dead.
John Hynes, age 60, was crossing back of house, going home for dinner. Thomas Huckerby saw him in the distance, and shot him dead.
The Black and Tans returned late that night and committed the following further acts in revenge:
They burnt the creamery (the co-op) to the ground.
They burnt a shop in Main St (either Reidy's or Madigan's, see screenshot from street view).
They took four men prisoner. They drove them out of town, threatened them, stripped them and left them to walk home like the RIC men had been left.
Dick Humphreys was out in Gourbane when the 'Tans came to Shanagolden. He went to the inquest the next day, Fri 27 Aug 1920, for the killing of John Hynes.
Thomas Huckerby was moved from Foynes, but no other action was taken against him.
He was later implicated in other controversial shootings [Regan's memoirs].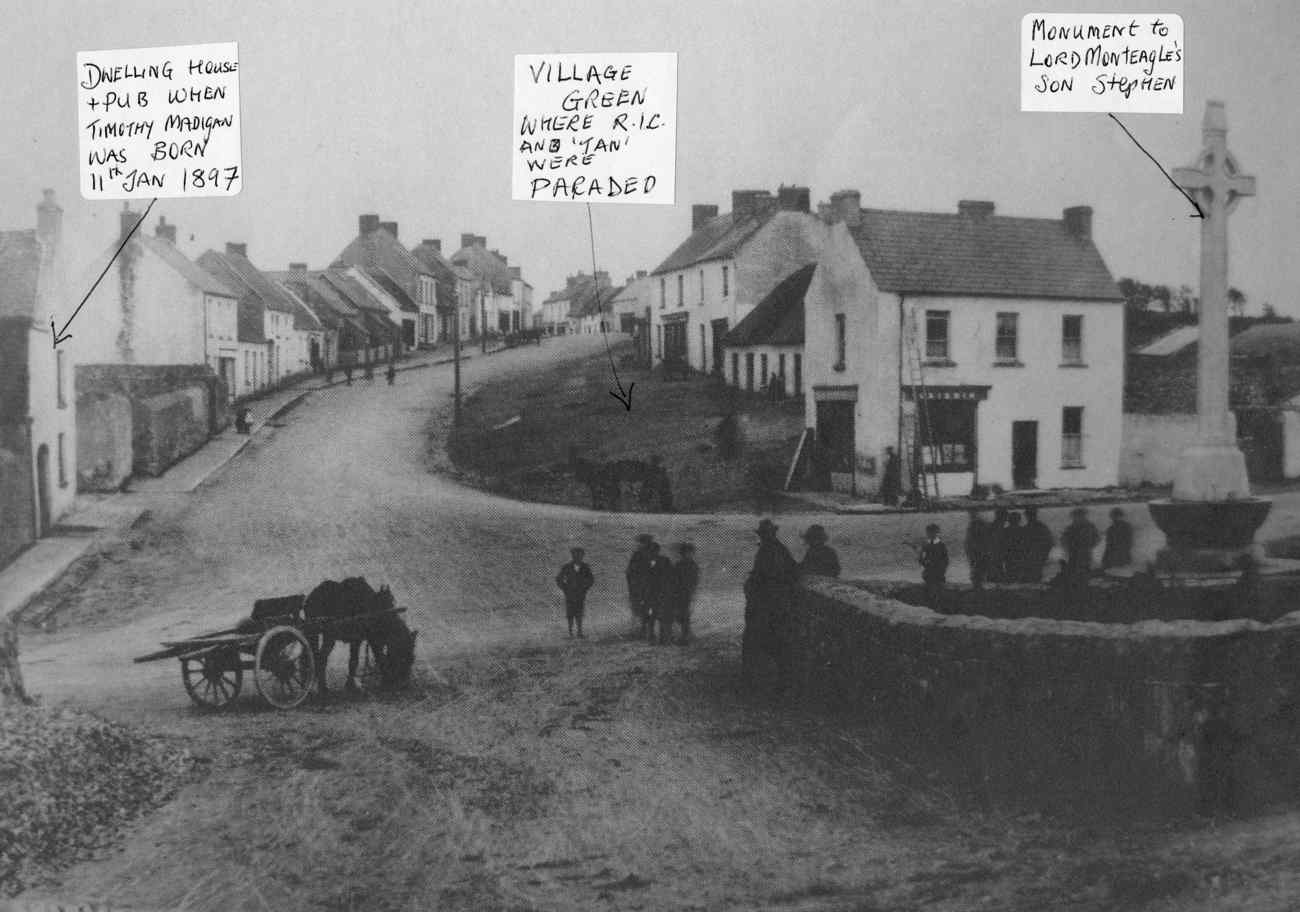 Where the RIC men were "paraded" in 1920.
Photo 1903. Near the
Madigan house
.
---
Kilbradran graveyard (also called Kilbrathern), some way SE of Shanagolden.
See
old map
and modern
street view
.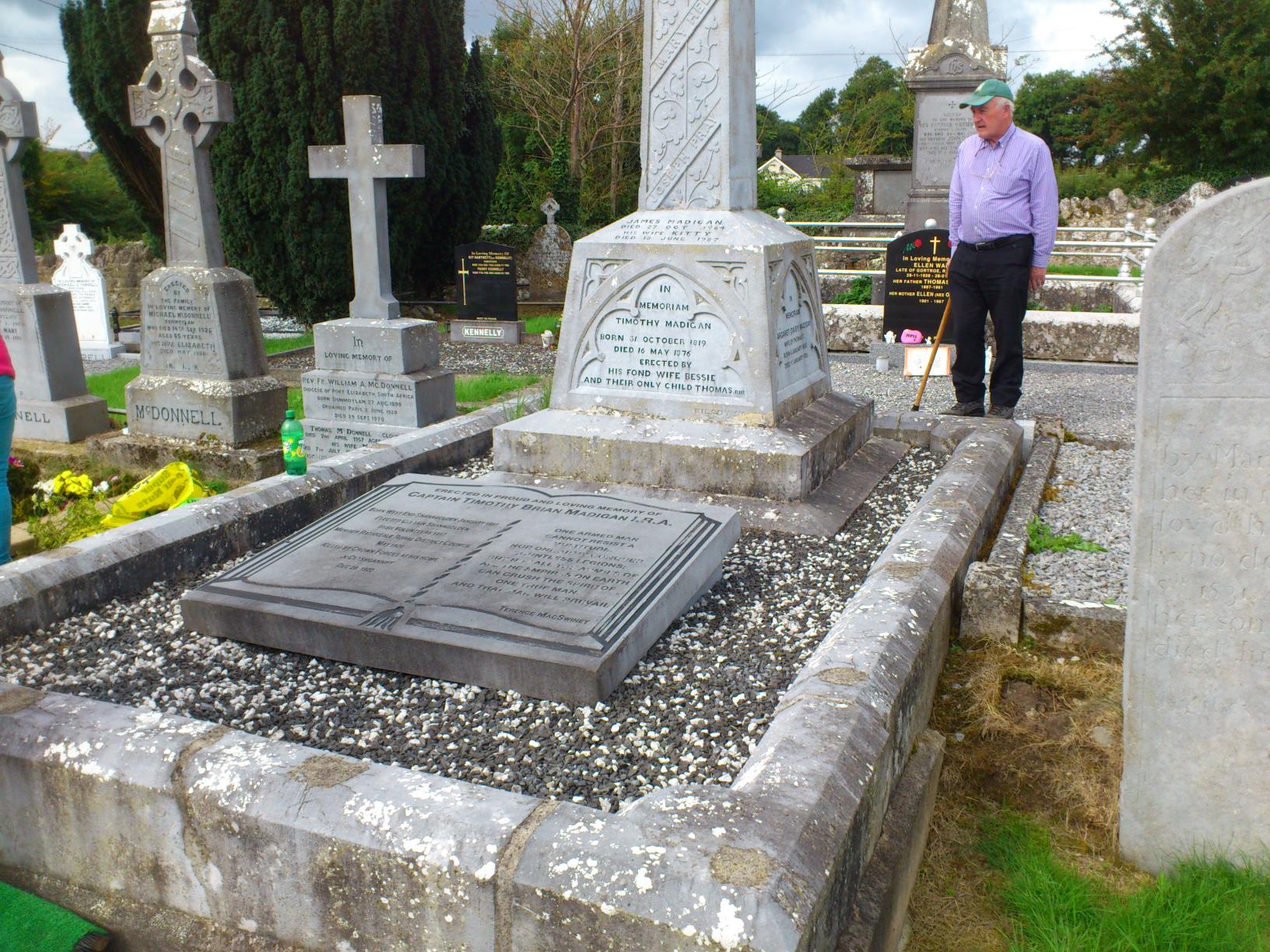 Madigan grave, Kilbradran.
Photo 2013. See
full size
.
See grave when work being done on it
in 2009
. See
other shot
.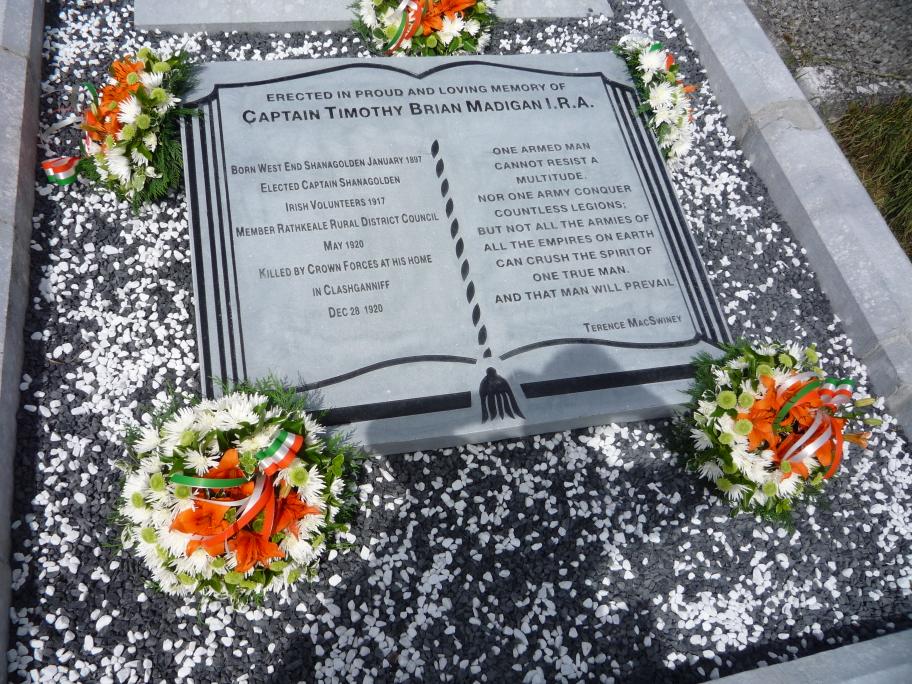 Capt. Tim Madigan on Madigan grave.
New headstone erected 2009.
See full size. See other shot.
---
Old IRA memorial, Newcastle West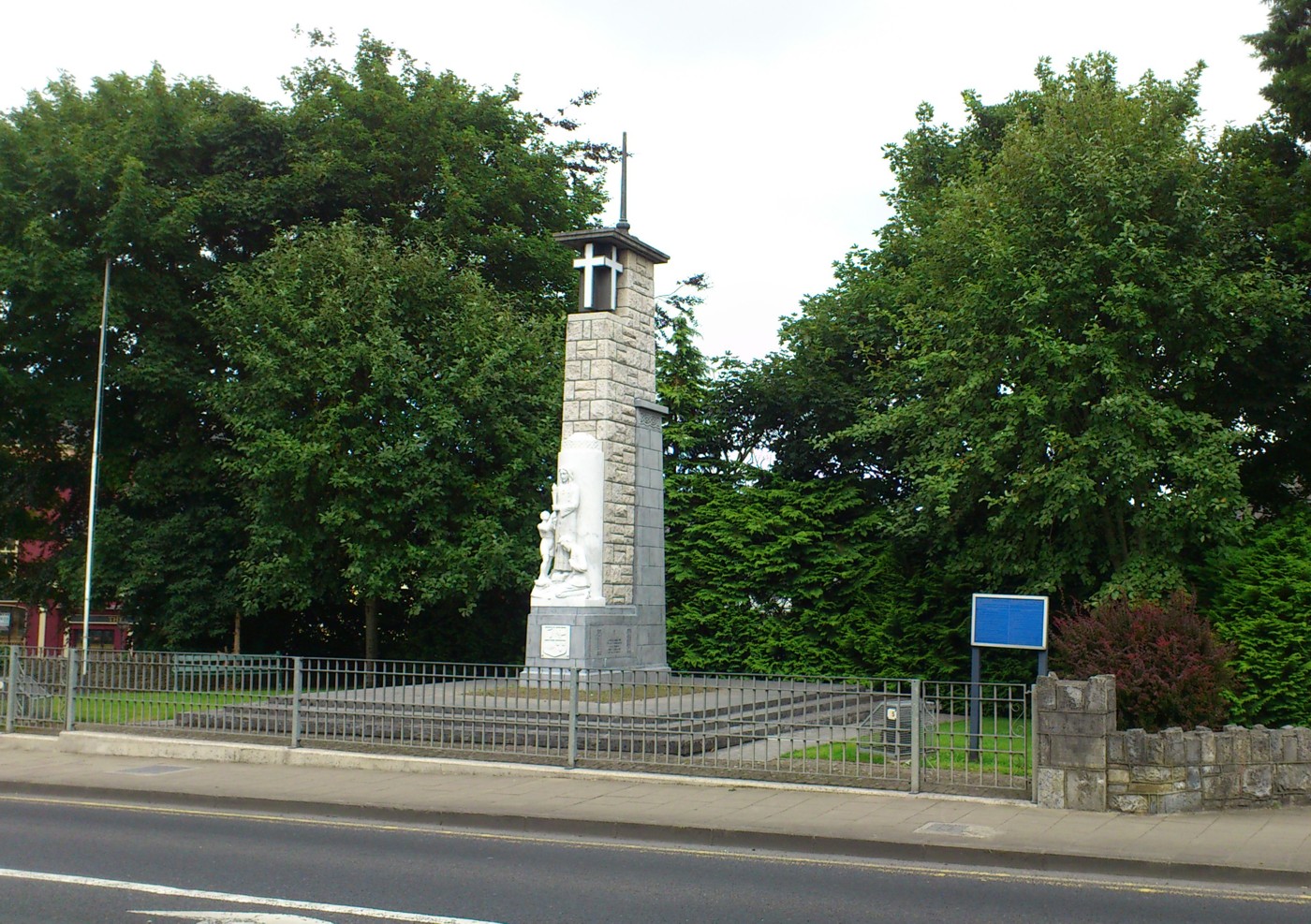 Old IRA monument at
Newcastle West
, Co.Limerick.
Erected 10 Apr 1955. It is a monument to the West Limerick dead of the War of Independence and both sides of the Civil War.
Opposite the Catholic church. See
Google street view
.
Photo 2013. See
full size
and
other shot
and
close up
.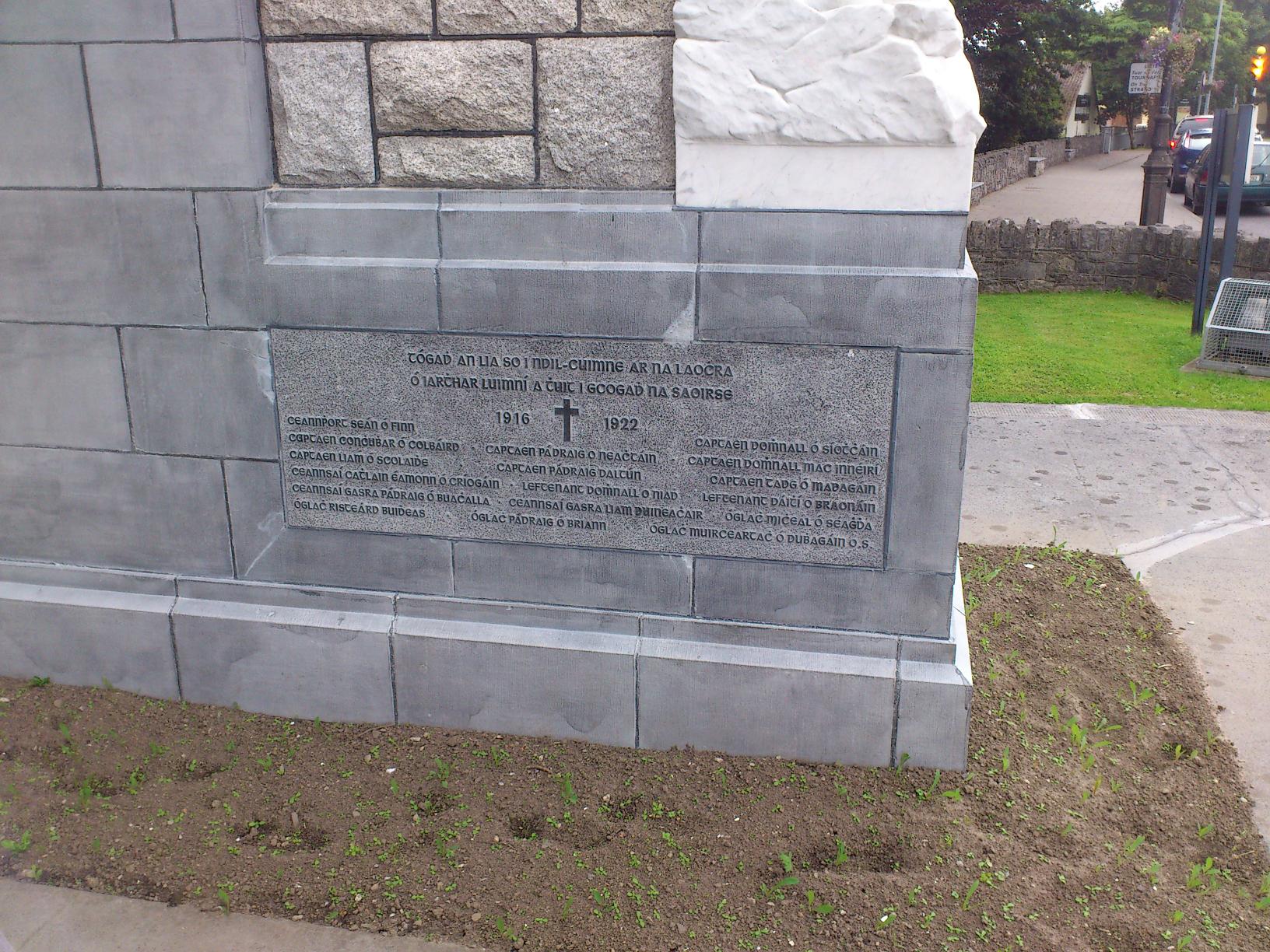 Tim Madigan (Tadhg) is listed in Irish on the above monument.
Photo 2013. See full size and other shot.


Tim Madigan is also listed in English and Irish on the blue sign at the above monument.
Photo 2008. See full size and other shot.
---
Other memorials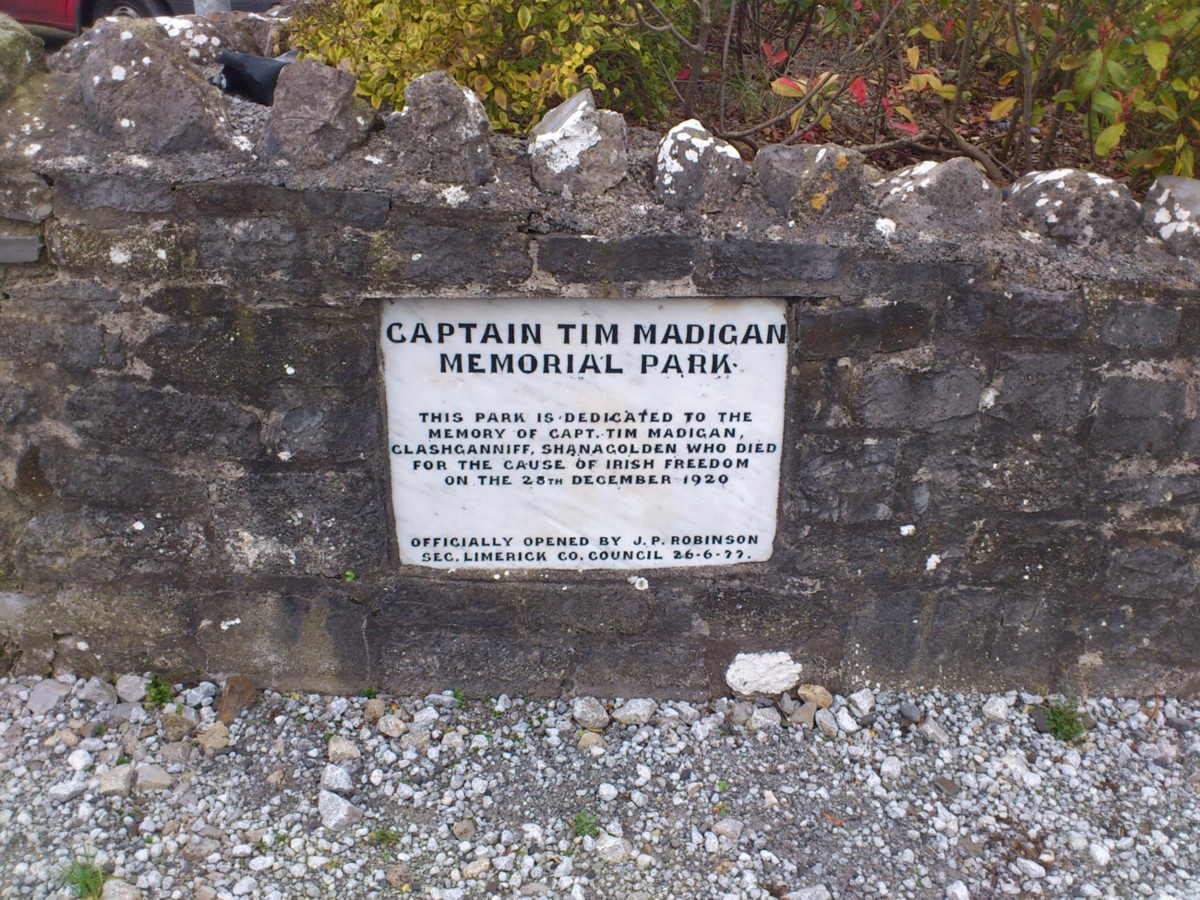 There is a "Captain Tim Madigan Memorial Park" (sports field) at N end of Shanagolden, opened 1977.
See
street view
.
The above is the plaque at the site.
Photo 2013. See
full size
.
See
other 2013 shot
and
older shot
.
---
References
---
Sources yet to be consulted