Tim Ryan, of Newross

Baptism of Margaret Ryan, 19 Sept 1819
[Newport RC par records]
.
Tim Ryan
,
Timothy.
His family was called the Ryan "Tim" family.
He was a farmer in
Newross
, Kilnarath par, NE of
Newport
, Co.Tipperary.
He mar pre-1814 to Margaret Hourigan.
Tim and Margaret were in Newross since at least 1814, all children born Newross, bapt Catholic in [Newport RC par records].
He is listed as farmer, Newross, at childrens' bapts 1814 to 1823.
"Tim Ryan" and "Margaret Hourigan" sp the bapt of (probably Tim's nephew) Denis Ryan in 1816. Tim must be him. Margaret looks like her, except why use maiden name?
"Timothy Ryan" wit the mar of Catherine Hourigan 1818.
"Tim Ryan" is listed at Newross in [Tithe Survey, 1827]. He holds 76 acres, the largest plot in the townland.
"Margaret Ryan" sp bapt of (would be her nephew) Edmond Hourigan in Sept 1827.
Tim is listed at Newross at dau's bapt 1828.
He probably died before 1835.
[Census, 1835] shows only "William Ryan (Timothy)" in Newross (see William Ryan of Newross). Note Tim's son would be age only 15.
Tim must have died before 1848.
[Griffiths Valuation, 1848] shows his son Mickey Tim Ryan holding Newross.
Tim and Margaret had issue:
When
[Fred Faulkner]
incorrectly listed the above as children of
William Ryan
, he also listed two further daughters:
Elizabeth Ryan. She mar --- Kilfeather.

Antoinette Ryan.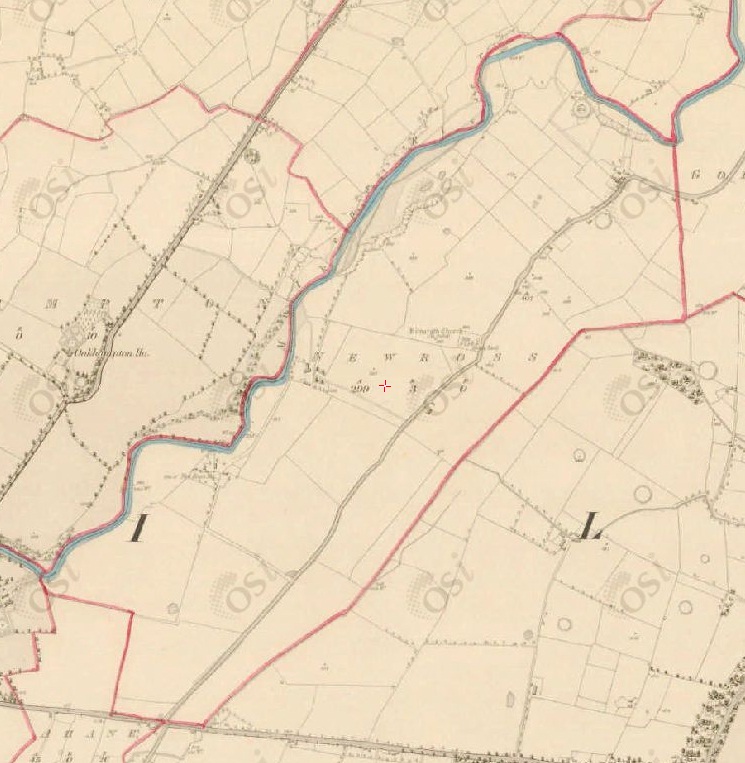 Newross on
1829 to 1842 map
.
Ahane townland to S.
Castlewaller townland to E.
---
Unidentified relatives of Mick Humphrys listed at his funeral 1934:

Eugene Ryan, solicitor.
George Ryan.
Joseph Ryan.
Louis Ryan.
Denis Ryan.