General Robert Hunter
General Robert Hunter
,
bapt Oct 1666, Edinburgh.
Governor of New York and New Jersey. Governor of Jamaica. See
wikipedia
.
Robert began his military career in 1688 when a guard was formed to protect the future Queen Anne as the rift began with her father James II.
He was appointed aide-major, 19 Apr 1689, in the regiment of dragoons raised by Henry Erskine, 3rd Lord Cardross, in support of William of Orange in Flanders.
In 1690 he became Captain in Colonel John Hill's regiment of foot.
On 28 Feb 1694 he was transferred to the Royal Scots Dragoons with rank of Captain.
On 28 May 1695 he was appointed Major of brigade in Flanders.
Appointed Major of Charles Ross' dragoons (5th Royal Irish Dragoons) on 23 Apr 1698 [Lustig, 1983] or 13 Apr 1698 [Seaver, 1929].
Promoted to brevet Lieutenant Colonel on 1 Jan 1703.
Distinguished himself as a soldier under Marlborough. He fought with Marlborough at Blenheim in 1704.
He served under Lord John Hay, commander of the Scots Greys, and after his death in Aug 1706 he married his widow.
He was a poet, playwright and amateur scientist. He was a friend of the writers and politicians Richard Steele, Joseph Addison, William Congreve and Jonathan Swift.
He mar Elizabeth Orby [born 1686, descendant of Edward III].
They married in 1707 [Lustig, 1983].
She was widow of Hunter's commander Lord John Hay, and a wealthy heiress.
Through her he inherited estates at Croyland Abbey, Lincolnshire, and at Chertsey, Surrey.
His family took the name "Orby Hunter".
Lieutenant Governor of Virginia, 1707 (captured at sea, never served):
He was appointed Lieutenant Governor of Virginia in 1707.
The Governorship of Virginia had been given to George Hamilton, 1st Earl of Orkney [one of Marlborough's generals] in 1705. Orkney appointed his friend Hunter as lieutenant to govern on his behalf.
Hunter sailed to Virginia on 20 May 1707, but was captured en route by the French. He was taken to France as prisoner. Had a very civilized captivity. Even received letters.
Letters survive written by Swift, early 1709, to Hunter in captivity in Paris, which "rallied him pleasantly on his social successes there" [DNB].
Swift falsely suggested that Hunter was the author of the "Letter Concerning Enthusiasm" [dated Sept 1707, pub anonymously 1708]. In fact it was written by the 3rd Earl of Shaftesbury.
Hunter was released in a prisoner swap for the French Bishop of Quebec in 1709.
He became Captain General.
Governor of New York and New Jersey, 1710-1719:
Hunter suggested that the
Palatines
(Protestant refugees from persecution by Catholics in Germany) be settled in the British colonies. He petitioned the London Board of Trade to that effect.
The Board made a report to
Queen Anne
, 5 Dec 1709, proposing a settlement in the
Province of New York
:
"May It Please Your Majesty: In obedience to your Majesty's commands, signified to us by the Right Hon'ble the Earl of Sunderland, we have considered the proposals made to us by Colonel Hunter, for settling 3,000 Palatines at New York and Employing them in the Production of Naval Stores"
.
The plan was approved on 7 Jan 1710. He is described as "
Brigadier
Robert Hunter".
He sailed from
Plymouth
, 10 Apr 1710, bringing with him nearly 3,000 Palatines in a convoy of ships. See
list of ships
. The ship he was on, the
Lowestoffe
, arrived at New York, 14 June 1710.
He was appointed
Governor of New York
and
New Jersey
the same day, 14 June 1710.
His wife Elizabeth joined him in America in 1711, arriving at Philadelphia in July 1711. Their children apparently were born and grew up for a while in America.
He organised the Palatines to work in the forests of New York producing
tar
for the English Navy.
See
letter from him
from New York, 24 July 1710. He is
described
as:
"one of the few popular Royal Governors in American history"
. But he had many problems with the Palatines, who became the pioneer settlers of
Schoharie County
, New York.
He is
described
as:
"a man of wit and humor"
. Also
described
as:
"a Whig and friendly to Marlborough"
.
He was a friend in America of
Lewis Morris
and
James Alexander
.
He authored (with Lewis Morris) a satiric farce
Androborus
(1714). This was the first play to have been written and printed in British America.
Elizabeth died in Perth Amboy, New Jersey, Thur 9 Aug 1716, age 30 yrs.
She was bur in the Chapel in Fort George, Manhattan, New York City.
See [The Boston News-Letter, report dated from New York, Mon 13 Aug 1716].
They had issue (see below).
Hunter also had an affair c.1716 with Betty Holland [a New York seamstress] and had natural issue:
Elizabeth Hunter,
natural dau,
born 1716 to 1719,
fl 1733.
He returned home 1719, with rank of Brigadier General.
In 1720 he became comptroller of the customs at the Custom House, London (the 1715 building that burnt down in 1814). He swapped jobs with William Burnet, who became Governor of New York.
He served as comptroller under the First Lord of the Treasury, the 3rd Earl of Sunderland, and later, from 1721, under Walpole.
He inherited Burton Pedwardine, Lincolnshire, after his wife's father died in 1724.
He became a member of the Spalding Gentlemen's Society 9 March 1726.
This is the oldest surviving local antiquarian society of England, founded 1710, in Spalding, Lincolnshire (just N of Croyland). Isaac Newton (died 1728) was a member.
Governor of Jamaica 1727-1734:
He was appointed
Governor of Jamaica
in 1727. He was asked to re-assert British control of
Jamaica
against the
Maroons
(free and escaped slaves).
He gained rank of
Major General
20 June 1729.
He was frustrated by Jamaica's mountainous terrain, which the Maroon leaders used to their advantage in guerrilla warfare.
He set up a sugar plantation c.1730 which he called
"Hunterston"
in
Portland Parish
, NE Jamaica.
He sent
slaves
to work the plantation.
His will dated 5 Jan 1733 [new style year].
He died Jamaica, 31 Mar 1734, age 67 yrs, shortly before the reinforcements he so often requested finally arrived in Jamaica.
He was bur 1 Apr 1734, churchyard of the Anglican church, Spanish Town, Jamaica.
The church survives but Hunter's grave does not survive.
He is described at death 1734 as lord of the manor of Croyland.
His will proved with codicil in Prerogative Court of Canterbury, 4 Nov 1734. He is listed as of Burton Pedwardine, Lincolnshire, and Captain General and Commander in Chief of Jamaica.
Robert and his wife Elizabeth (married 1707, died 1716) had issue: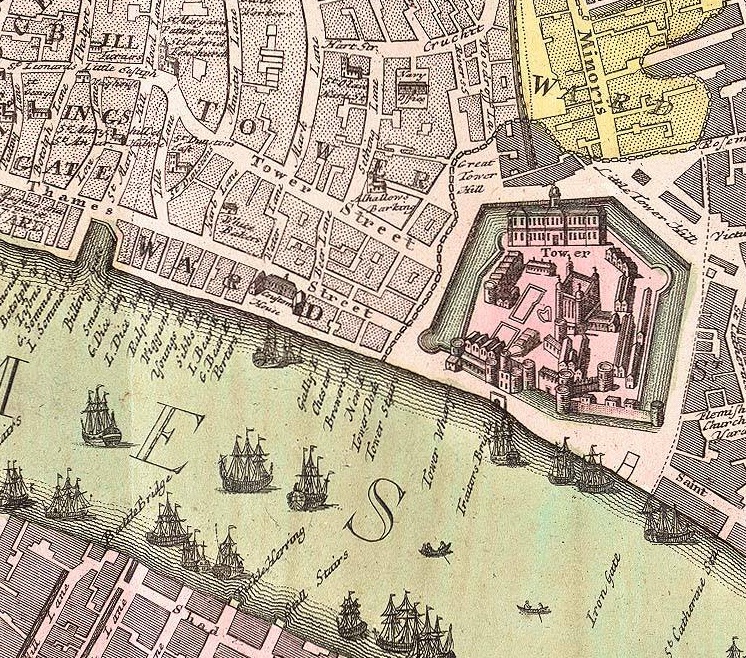 The
Custom House
, London (the 1715 building that burnt down in 1814).
On the river near the Tower of London.
From
Homann Heirs' map of London, 1736
.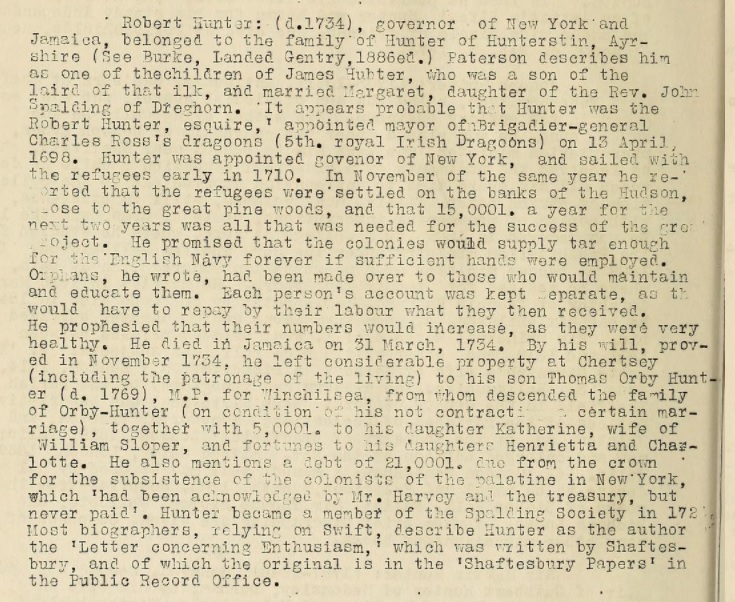 Biography of General Robert Hunter in [Seaver, 1929].
Text was formerly here.
---
The
10th Earl of Pembroke
had an affair in 1762 with General Robert Hunter's granddaughter
Kitty Hunter
.
There were claims she was a "stable girl" or "an actress", but the status of her father and grandfather shows this is nonsense.
She was a society lady of fashion, from a political and military family. And quite likely the reason she met the 10th Earl was because their families already knew each other, or at least moved in the same circles.
Here are the most obvious connections:
And some other connections:
---
Governors of Jamaica in fiction
Both of the following are ludicrous but good fun:
The movie Swashbuckler (1976) depicts a fictional Governor of Jamaica in 1718.

The Pirates of the Caribbean series of movies (2003 to date) feature a fictional Governor of Jamaica, Weatherby Swann, and his daughter Elizabeth Swann.

Weatherby Swann is widowed (like Robert Hunter).
In so far as any logical timeline can be established, Swann was Governor of Jamaica in the 1720s. In real life, Robert Hunter was Governor of Jamaica 1727-1734.
Tribute to Governor Swann in
Pirates of the Caribbean
.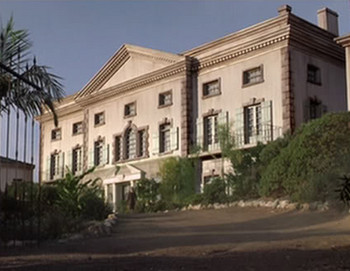 Governor Swann's Mansion in Pirates of the Caribbean.
---
George Orby Hunter
George Orby Hunter is unidentified.
Presumably he descends from General Robert Hunter and Elizabeth Orby.
See
discussion
about who he might be.
George Orby Hunter,
born 1773 (according to age at death).
Though if he was an Ensign in 1783 he must be born earlier, maybe c.1765.
Colonel in English infantry.
He translated the works of Byron (died 1824) into French.
Lived 6 Grande Rue, Dieppe, France (see map).
He died at his house in Dieppe, 26 Apr 1843, age 70 yrs.
Translation completed by Pascal Ramé and published Paris, 1845.
See biography in [DNB] (which is unable to identify his parentage).

Biography of George Orby Hunter in
[Seaver, 1929]
.
Text was formerly
here
.
---
Elizabeth Orby Hunter
Elizabeth Orby Hunter is unidentified.
This is her married name.
Presumably her husband descends from General Robert Hunter and Elizabeth Orby.
Elizabeth Orby Hunter,
born 1756.
Described at death as widow, of Upper Seymour Street, London.
She was bur 12 June 1813, St Marylebone, Westminster, age 57 yrs. See index and index.
See her will (and here).
Her will was proved June 1813, leaving a vast amount of money for the care of her parrot. Also: "and if any one that I have left legacies to attempt bringing in any bills or charges against me, I will and desire that they forfeit whatever I may have left them, for so doing, as I owe nothing to any one. Many owe to me both gratitude and money, but none have paid me either."
---
References
---
Sources yet to be consulted
Will of Robert Hunter. PROB 11/668/26 in [NA.UK].

Letters from Swift to Hunter in 1709. Swift, Works, xv, 326, 337.
Minute-Books of The Spalding Gentlemen's Society, 1712-1755, published by the Lincoln Record Society, 1981.

The Governors of New Jersey 1664-1974: Biographical Essays, New Jersey Historical Commission, 1982. Paul A. Stellhorn and Michael J. Birkner, Editors.

New York:

"Robert Hunter and the Settlement of the Palatines, 1710-1719", C.B. Todd, in Memorial History of New York, Vol.2, J.G. Wilson, New York, 1892.
The History of the Province of New York, William Smith, 1757.

Manuscripts related to General Robert Hunter

1709-11: correspondence with SPG [Society for the Propagation of the Gospel, founded 1701 to "minister to Her Majesty's subjects in plantations, colonies and factories beyond the seas"], Lambeth Palace Library NRA 19434 SPG
c.1723-24: report on and account of Claim for Maintenance of Palatines in New York Province, NRA 5914 Goodwyn, see HMC correspondence file - Goodwyn
1727-33: despatches and instructions, National Library of Jamaica, see K.E. Ingram, Sources of Jamaican History 1655-1838, 1, pp.307-8

Reviews of [Lustig, 1983]:

Review by Robert C. Ritchie, The American Historical Review, 1984, American Historical Association.
Review by Jessica Kross, The Journal of American History, 1984, Organization of American Historians.
Review by Sung Bok Kim, The William and Mary Quarterly, 1986, Omohundro Institute of Early American History and Culture.
Review by Colin Bonwick, The English Historical Review, 1986, Oxford University Press.
---
Links