James Nolan of Kilbane
References:

"Father Tom Nolan (1837-1882) Fenian Priest", Tim Donovan, Deel Views, Rathkeale Community Council, Summer 2013. Note this has to be corrected as it was discovered that Fr. Nolan was born 1838 in Kilbane.
James Nolan
,
of
Kilbane
, near Limerick city.
See
entry
in tree by
Paddy Waldron
.
He mar 16 November 1825 to
Catherine Fitzgerald
[born 1805, Towlerton, Ballysimon, Co.Limerick, dau of William Fitzgerald and Catherine Enright].
They mar at St.Patrick's RC church, Dublin Rd, Limerick. The mar was wit by John Nolan and William Fitzgerald.
James died Kilbane.
He must have died before 1852 (when wife apparently found alone at Kilbane).
He might be James Nolan who died at Newcastle in
1838
.
She must be "Catherine Nolan" who is listed in [Griffiths Valuation, 1852] as holding plot 2 in Kilbane (the largest plot in Kilbane, 102 acres) and living in the largest house in Kilbane (would be Kilbane House).
Some of their children moved c.1853 [Jim Nolan tree] to W Co.Limerick.
She died Kilbane.
She must be Mrs. Nolan, the widow of James Nolan, of Kilbane, who died 1 June 1893 at Kilbane, age 90 yrs (born 1803).
See Limerick Chronicle, 3 June 1893.
Death not found in [GROI].
James and Catherine had issue:
---
Proof that William, John, Catherine and Fr. Tom are siblings
The family of Nolan of Kilbane has been reconstructed as follows.
It is now proved that William, John and Catherine are siblings:
Funeral of James Nolan 1897 shows William as his brother in law.
Funeral of William 1900 shows Catherine is his sister.
Funeral of John 1895 shows Catherine is his sister.
[Fitzgerald tree] shows William and John as brothers. That they are brothers is shown on the grave at Ballysimon.
It is also proved that Fr. Tom is a sibling:
The will of James Nolan, 1861, shows Fr. Tom as a sibling.
Kitty Madigan said Fr. Tom Nolan was a brother of her grandmother Catherine Nolan of Kilbane.
[Donovan, 2010] says John Nolan, TD was a nephew of Fr. Tom Nolan.
Other evidence:
Catherine's children James Nolan of Ballyane and Thomas Nolan of Waterpark and Patrick Nolan of Kiltemplan are listed as "cousins" of James Nolan of Kilbane at his funeral 1916. They are in fact 1st cousins.
When Fr. Tom was on the run in 1867, he went for help to his "nephew's" home at South Cappa. This was in fact his brother's home (either John or William) and later his nephew's home.
Fr. Tom Nolan sp the bapt of Catherine's son John Nolan in 1863. This would be his nephew.
John Nolan, TD is listed as "uncle" of Mary Nolan at her death 1935. This is incorrect. He is 1st cousin of her father. He is also her 2nd cousin (through his mother).
John Nolan, TD is listed as "cousin" of Rev. Mortimer McCoy at his funeral 1927. John's mother was 1st cousin of Rev. Mortimer.

The proof that Catherine is the sister of William and John.
Her sons
James, Thomas, Pat, Frank and Cornelius
are listed as nephews of John Nolan in his
funeral list
1895.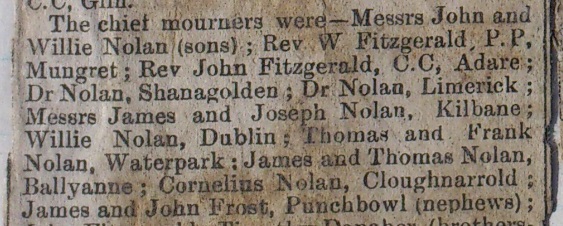 More proof: Funeral list of William in 1900 shows Catherine's sons are his nephews.


Extract from will of James Nolan, dated 11 Nov 1861.
It refers to "my beloved brothers John Nolan of Kilbane near Newcastle in the County of Limerick and Thomas Nolan R.C. Curate in the parish of Donaghmore in the County of Limerick".
From Ireland, Original Will Registers 1858-1920.
---
Ballysimon graveyard, SE of Limerick city (beside the motorway, see
satellite
and
street view
).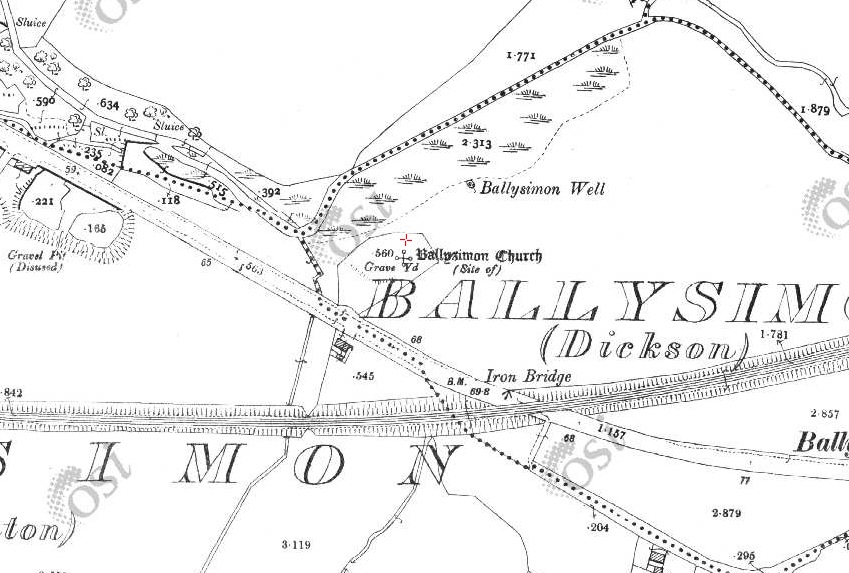 Ballysimon graveyard (red cross) on
1887 to 1913 map
.


The Nolan graves are in a row in the centre of the graveyard.
They are graves 102 to 108 on this plan.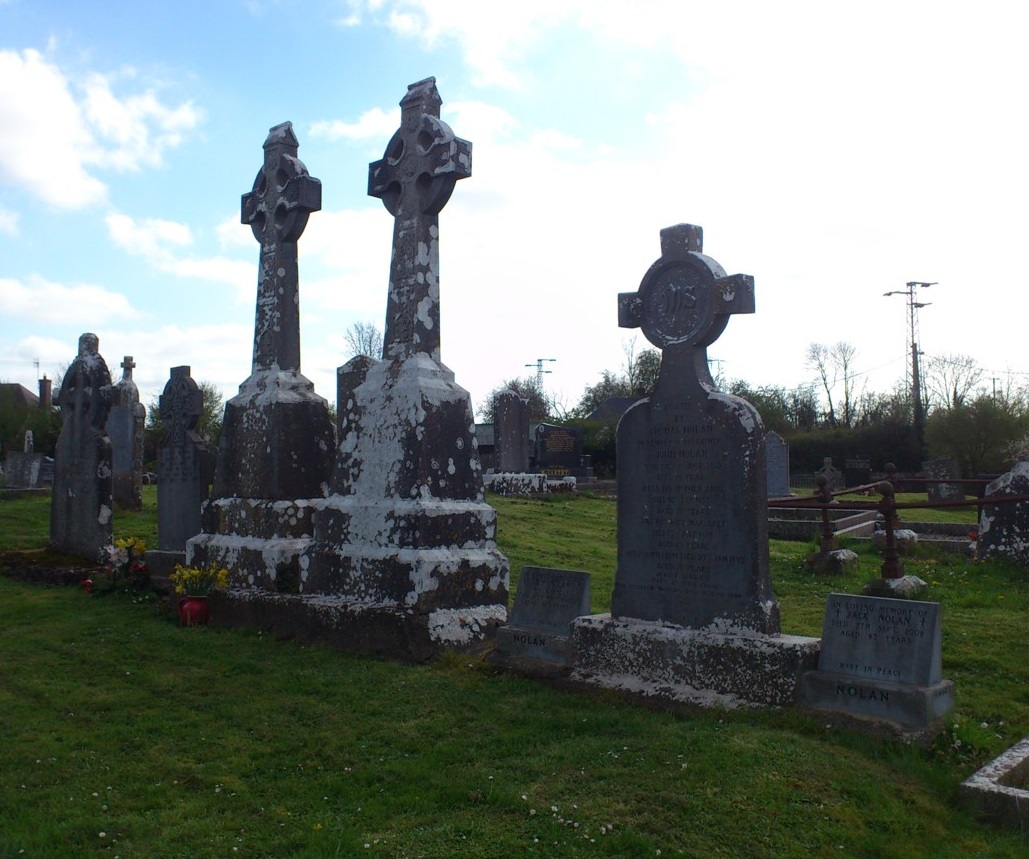 Nolan graves (a row of graves 102 to 108), Ballysimon, Limerick.
Grave of Kate Nolan is on LHS.
Grave of John Nolan and William Nolan is the RHS high cross.
Grave of Nolan of Garryglass is on RHS.
Gate of graveyard visible in background.
Photo 2014. See full size. See close-up of LHS graves.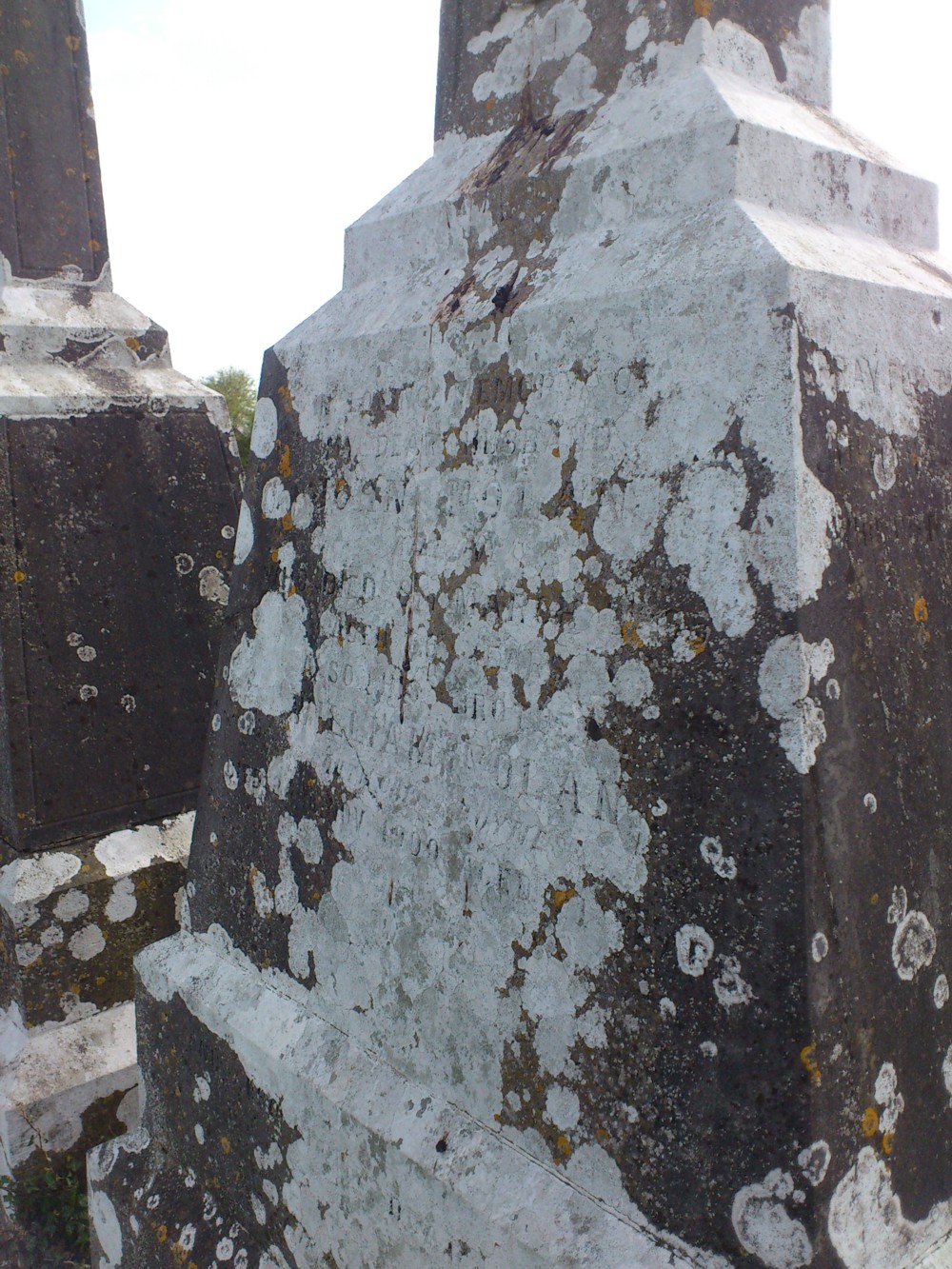 Close-up of grave of John Nolan (died 1895) and his brother William Nolan (died 1900).
Photo 2014. See full size. See other shot.
See 2013 photo from here.
See grave reading. From here.