Cornelius Nolan
References:

Sources yet to be consulted: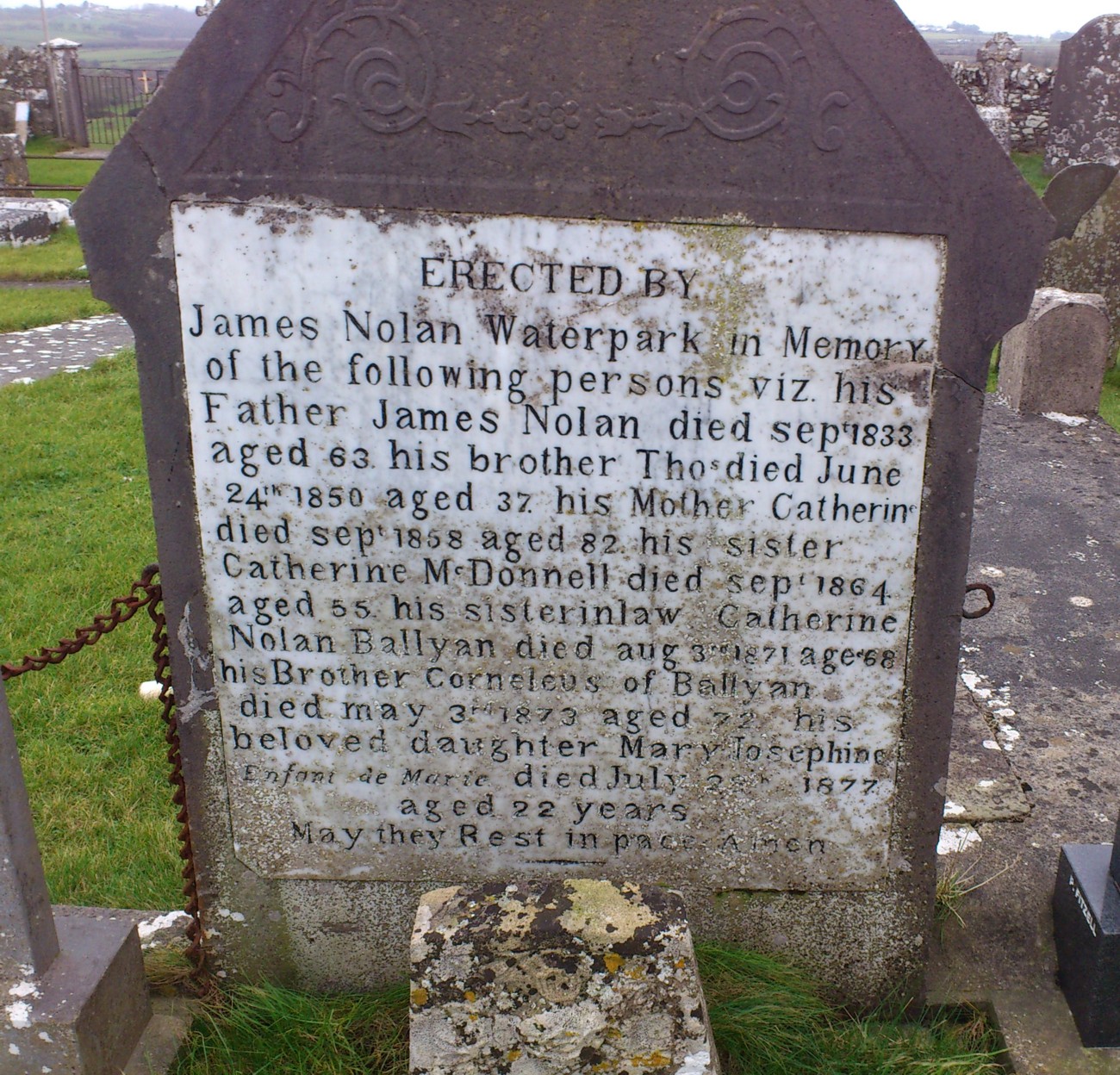 Grave of Cornelius Nolan and Catherine McMahon and
Cornelius' parents
.
Knockpatrick, Co.Limerick.
Photo 2013. See
full size
.
Cornelius Nolan
,
born 1800 or 1801.
See
entry
in tree by
Paddy Waldron
.
He mar pre-1825 to Catherine McMahon.
She would be born 1803, by age on grave.
But given birth of her youngest child, she was probably born around 1807.
Cornelius was a farmer. Lived Ballyane House, Ballyane, Co.Limerick (just W of Waterpark).
[Jim Nolan tree] says "Con went to Ballyann when he married".
[Jim Nolan tree] has a date "1834" for them, but it is unclear what this date could be.
"Conr. Nolan" is listed at Ballyane House in [Tithe Survey, 1833]. He is occupying a large titheable holding of 80 acres (the largest plot in the townland) and a further untitheable holding of 1 acre.
"Cornelius Nolan" is listed in [Griffiths Valuation, 1852] as holding plot no.2 (Ballyane House) in Ballyane, 91 acres. He is renting from John C. White. The plot has some small buildings which he rents out. Ballyane House is the largest plot in the townland, and the largest house in the townland.
Catherine died 3 Aug 1871.
Grave says age 68 yrs, but given birth of youngest child this may be inaccurate.
She was bur Knockpatrick.
Cornelius is listed as farmer at dau's mar 1870 and son's mar 1871.
He died Ballyane, 3 May 1873, age 72 yrs [grave] or age 73 [GROI]. Listed as farmer.
See transcript in [GROI].
He was bur Knockpatrick.
Cornelius and Catherine had issue:
Dr. Cornelius Nolan, in the
dispute of the will of his aunt
, said that his parents had 23 children.
Among the daughters are:
(dau) Nolan,
mar --- Lynch,
lived Riverside Drive, New York.

(dau) Nolan,
mar --- O'Sullivan.




(dau) Nolan,
mar --- McDonnell [a second McDonnell, not the James McDonnell above],
had issue:

Michael McDonnell,
[Donovan, 2010] says he is nephew of Dr. Cornelius Nolan,
solicitor in Rathkeale, Coroner,
signed a welcome to Fenian John Daly in Rathkeale in 1897,
died age 33 yrs, funeral in Rathkeale.

IRA man Denis McDonnell of Shanagolden (born 15 Oct 1898) is a member of this family.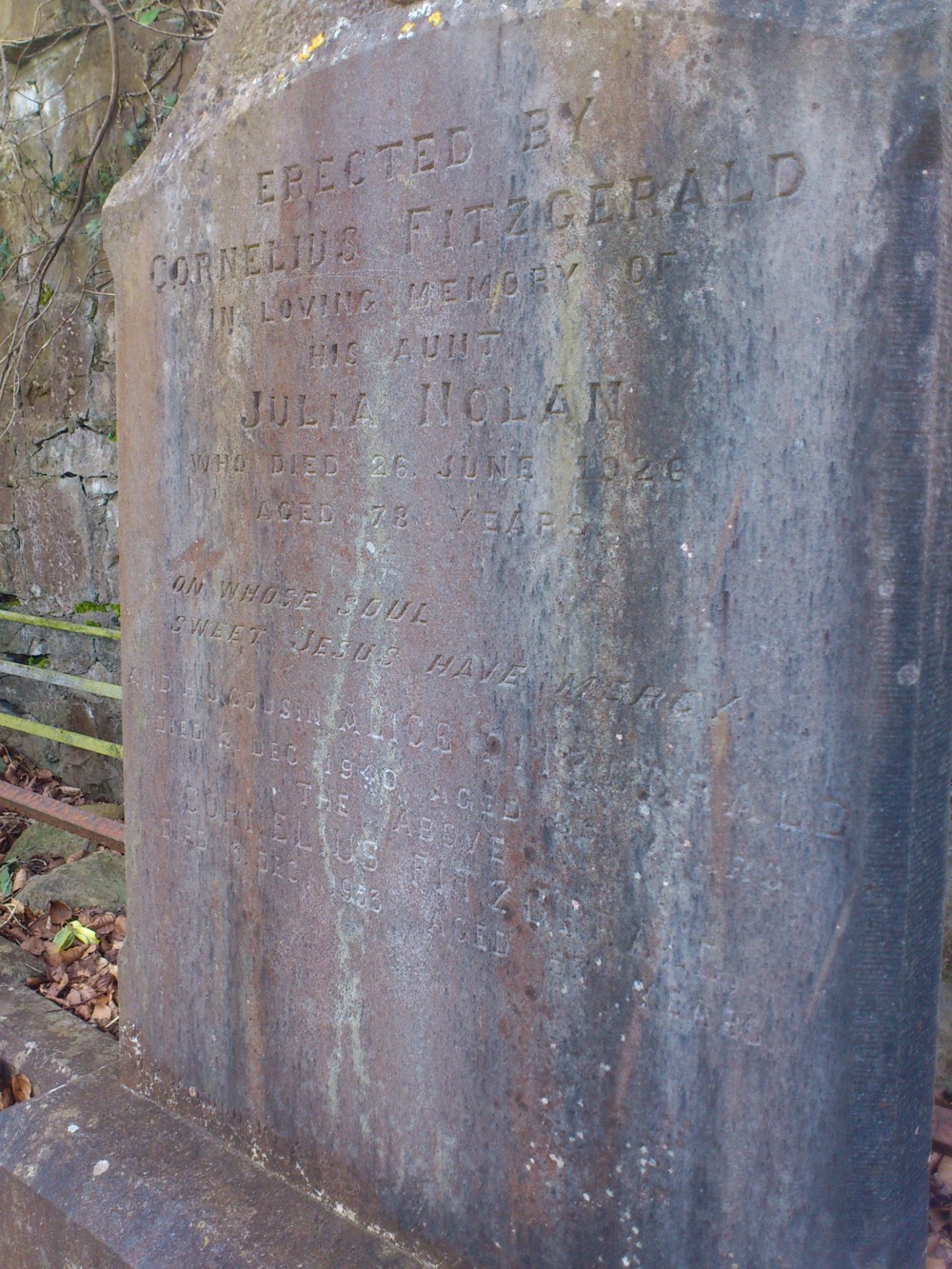 Grave of Julia Nolan (died 1926).
With the
Fitzgerald graves
, Mount St. Lawrence cemetery, Limerick.
Photo 2014. See
full size
.
---
Listed as nieces of Julia Nolan at her death 1926:




1995 letter by Kitty Nolan has a couple of errors about this line:

She says "Another great aunt" (meaning a sister of Dr. Cornelius Nolan] "married Robert Cussen (Solicitor)".
This must be an error for the great-great aunt Margaret Nolan who married Joseph Cussen in 1845.
There is only one Robert Cussen, solicitor in the law directory of [Thom's] for the period. And he did not marry a Nolan, but rather married a Moylan in 1899.

She says a sister of Dr. Cornelius Nolan was "Great Aunt Lottie, married Jim Mulqueen". But then as their issue she names the children of Charlotte Frost and Patrick Mulqueen.
Charlotte Frost is in fact the "Great Aunt Lottie" in question. She is Kitty Nolan's great-aunt, through Frost, not through Nolan.