Joseph O'Mara, the opera singer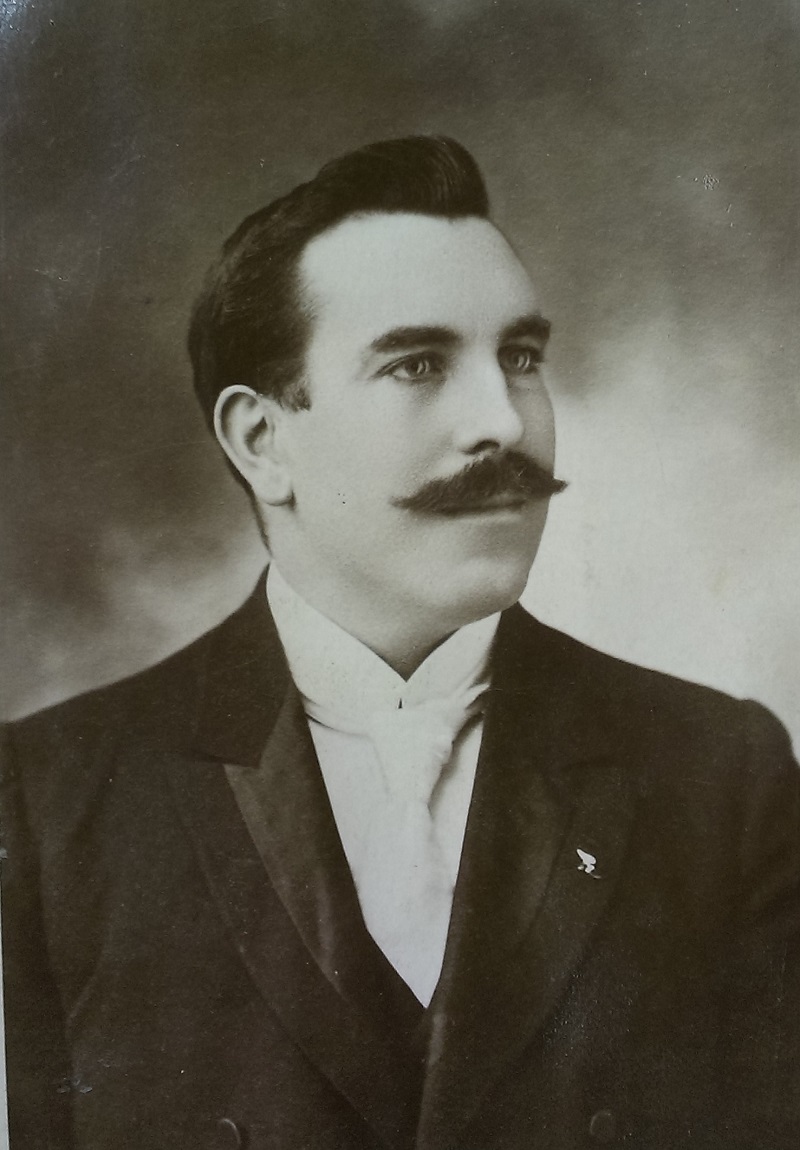 Joseph O'Mara, the opera singer.
See
larger
and
full size
.
From
[P40/917]
. Used with permission of
[UL Archives]
.
See
colour version
from
Limerick Museum
. Think this is a modern colourised version of the original.
See
picture with signature
as a postcard, postmarked Birmingham, 20 Apr 1906. And
reverse
. From
Karen Ievers
.
Joseph O'Mara, the opera singer
,
born 16 July 1864, Limerick.
See
Wikipedia
.
Tenor
opera singer.
Article on Crescent Alumni
describes him as
"the leading Irish tenor before the arrival of John McCormack"
.
He was educ Crescent College, Limerick, left 1880.
At about age 18 (i.e. 1882), largely through influence of schoolfriends, he thought he had a fancy for the sea. His father said: "Go ahead my boy; the sooner you go, the sooner you come back." He went to sea for 12 months. He returned "having seen as much as I wanted to in that time." [Crescent College profile].
He sang in St.Michael's Church choir, Denmark St, Limerick (near his home).
Opera career begins: He went to Italy to study opera. He studied opera in Milan under Signor Moretti, 1889-1891.
"Ivanhoe", 1891-1892:
Joseph first sang in public when he got the part of
Ivanhoe
in production of the new opera
"Ivanhoe"
by
Sullivan
(of Gilbert and Sullivan) at the new
"Royal English Opera House"
(now the
Palace Theatre
), London.
"Ivanhoe" premiered 31 Jan 1891, with alternating casts. Joseph began as Ivanhoe 4 Feb 1891.
His brother
Stephen
had business in London and saw him perform. Letter of
26 Feb 1891
says:
"I went to "Ivanhoe" last evening, and Joe has improved ever so much, his voice is clearer and fuller and the acting is simply perfect."
Some sources say "Ivanhoe" ended July 1891. Other sources say O'Mara performed Ivanhoe in London for 12 months until 1892.
The latter is true since
undated letter in 1892
says
"Mary enjoyed herself very much at 'Ivanhoe'. ... Uncle Joe sings on Thursday and Friday next week"
.
Letter of
22 Jan 1892
discusses Joe's future plans.
For 3 years he was chief tenor at Theatre Royal, Drury Lane, near Covent Garden.
He was in pantomime, Jack and the Beanstalk, in Drury Lane.
In 1894 he had his first appearance as tenor in Royal Opera House, Covent Garden in Grand Opera. Chief tenor there also.
He starred as Lohengrin (the leading role, and leading Tenor role) in Wagner's "Lohengrin", with Sir Augustus Harris' Company, 1894-95.
He sang in Grand Opera in Liverpool. He was in pantomime, Aladdin, in the Prince of Wales, Liverpool.
He is listed as "musical artist", living London, at mar.
He mar 24 June 1896 to
Bride Power
[Bridget, born 1873].
She was only dau of Michael Power, "manager of bacon factory", of Waterford. She was living Waterford at mar.
They mar at Rathmines RC church, Co.Dublin
[GROI]
.
Joseph toured Britain, the US, Ireland.
He sang at the Hollis Street Theatre in Boston in Oct 1897.
He is not listed at his father's funeral in 1899. He was probably abroad.
At one event he sang at in London, he was introduced to the Prince of Wales.
He sang for Carl Rosa Opera Company.
A recording of him survives from 1901.
He performed Maritana with the Moody-Manners Company in London, 1902. Leading tenor with them 1902-1908.
He starred as Don Jose (the hero and the leading Tenor role) when in 1903 the Moody-Manners Company performed "Carmen" at the Queen's Theatre, Holbeck, Leeds.
He starred as Romeo (the hero and the leading Tenor role) in Charles Gounod's "Romeo et Juliette".
He starred as Lieutenant Pinkerton (the villain and the leading Tenor role) in Puccini's "Madame Butterfly", 1904 or later.
He starred as Tannhauser (the leading role, and leading Tenor role) in Wagner's "Tannhauser".
Other operas he sang in included "Faust" and "The Jewess" and "Aida" and "Tosca".
Letter of July 1908 from Patricia O'Mara on holiday in Kilkee, Co.Clare, says: "Eileen, Nora, Aunt Bride, Uncle Joe and the others are staying at Cliff Cottage."
Freedom of Limerick, 1908:
Joseph was granted Freedom of Limerick on 1 Oct 1908. See
certificate
from
Limerick Museum
.
Think this was the time when he sang from the balcony of his brother Stephen's house
Hartstonge House
to a huge crowd gathered on the street.
[1967 article]
quotes
Michael Rynne
(then a child), who recalls how
"Catherine Street - lit up from end to end by tar-barrels and torches - was packed by hundreds of people who listened in dead silence to that truly magnificent voice which required no microphone to carry it down towards William Street."
He used to visit his niece
Mrs. O'Sullivan
in Killarney, and a crowd would gather outside and he would sing.
In around Nov 1908 he was singing in New York, to great acclaim.
In 1909 he joined the Thomas Beecham Company in Britain. He sang with them at Covent Garden 1910.
His brother Stephen left Hartstonge House c.1909, definitely gone by 1910.
Plaque on Hartstonge House says Joseph lived at Hartstonge House at one time, but this may be wrong.
Cannot find the family in Ireland in 1911 census.
O'Mara Opera Company, 1912:
He founded O'Mara's Travelling Opera Company (or the O'Mara Opera Company Ltd) 1912. He was Managing Director and leading singer. He toured with them until 1926.
See poster advertising The O'Mara Grand Opera in May 1913. From here. Original from NLI.
He gave a free concert in Limerick 1916. See Drama and Variety in [McMahon and Flynn, 1996].
See O'Mara Opera Company programme, Theatre Royal, Limerick, 28 Jan 1918. Joseph himself is performing as the lead tenor, Rudolph, in "La Boheme" by Puccini.
His company performed "La Boheme" and "Madame Butterfly" at the Theatre Royal, Leeds, 1918.
Lived 43 Raglan Rd, Pembroke, Dublin. Listed there in [Thom's, 1919, p.1851]. Was not there in [Thom's, 1914, p.1829].
Living 43 Raglan Rd at dau Eileen's mar 1919.
His company performed Verdi's "Rigoletto" at the Theatre Royal, Leeds, 1921. See poster formerly here.
He sang in Australia.
He sponsored an annual "O'Mara Cup" at the Feis Ceoil.
Biography in [Thom's Irish Who's Who, 1923] lists him as living 6 Adelphi Terrace, London, W.C. (right in the heart, see map).
He was living "Glenmore", 14 Ailesbury Park, off Merrion Rd, Dublin, at dau's death 1925 and registration of death in 1926.
Start of Irish radio, 1926:
He sang on the first day Irish radio started, 1 Jan 1926. He sang "The Bard of Armagh". His brother Stephen (who died later that year) ordered the finest new radio from America so that a gathering of relatives and friends in Limerick could hear him.
He retired Mar 1926 [obituary]. He played "Lohengrin" again for his farewell performance when he retired.
His last public appearance was at concerts to celebrate 700 years of Dominicans in Limerick, Mar 1927 [Riordan, 1992].
Joseph dies, 1927:
He died 5 Aug 1927, at his house, "Glenmore", 14 Ailesbury Park, Dublin, age 63 yrs [GROI].
Oddly, he is simply listed as "Company Manager" on death cert.
See death notice, Irish Times, Saturday, August 6, 1927.
See obituary in Irish Times, Saturday, August 6, 1927.
Limerick city flag flew at half mast at the town hall. See item (and header) in Irish Times, Monday, August 8, 1927.
Funeral Mon 8 Aug 1927. He was bur Glasnevin Cemetery.
Private funeral. Messages of sympathy received from President W.T. Cosgrave and Bryan Cooper TD.
See funeral report in Irish Times, Tuesday, August 9, 1927.
See obituary in Irish Times, Saturday, August 13, 1927, p.4 and p.3.
The O'Mara Opera Company continued productions until 1934.
Bride dies, 1935:
Bride is listed with address 18 Ailesbury Rd, Dublin, in her grave record.
She died 11 Sept 1935, "Verdella", Church Rd, Greystones, Co.Wicklow, age 62 yrs [GROI].
See death notice in Irish Independent, September 13, 1935.
Funeral 13 Sept, bur Glasnevin Cemetery.
See funeral report (and header) in Irish Independent, Saturday, September 14, 1935.
Joseph and Bride had issue: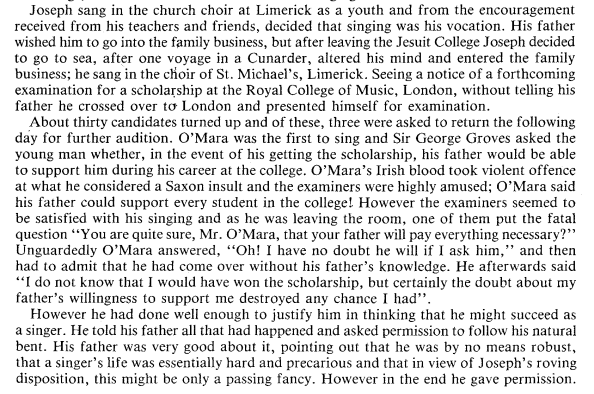 [Potterton, 1970]
outlines the story of how Joseph first considered a singing career, and how he got his father to agree.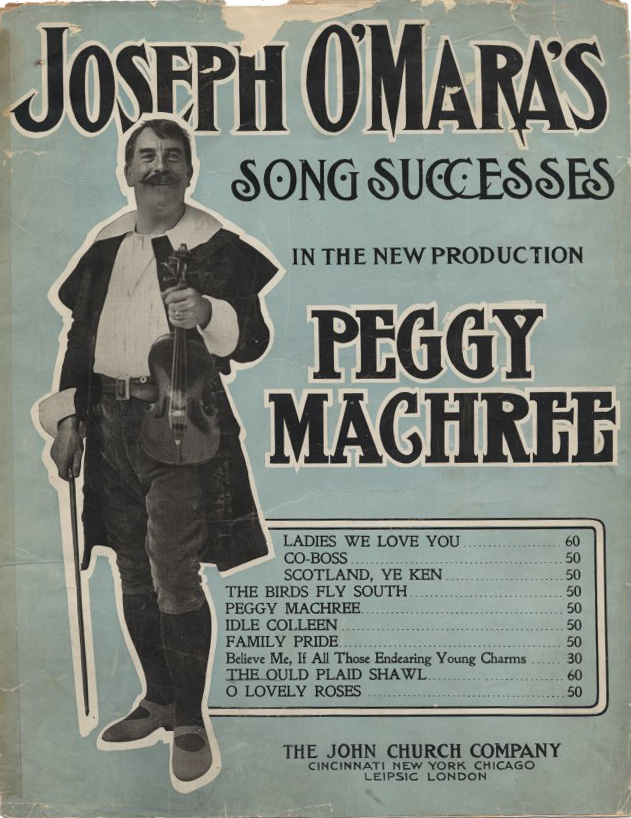 Sheet music cover of Joseph O'Mara's Song Successes in the new production Peggy Machree (1908).
From here. Original from here.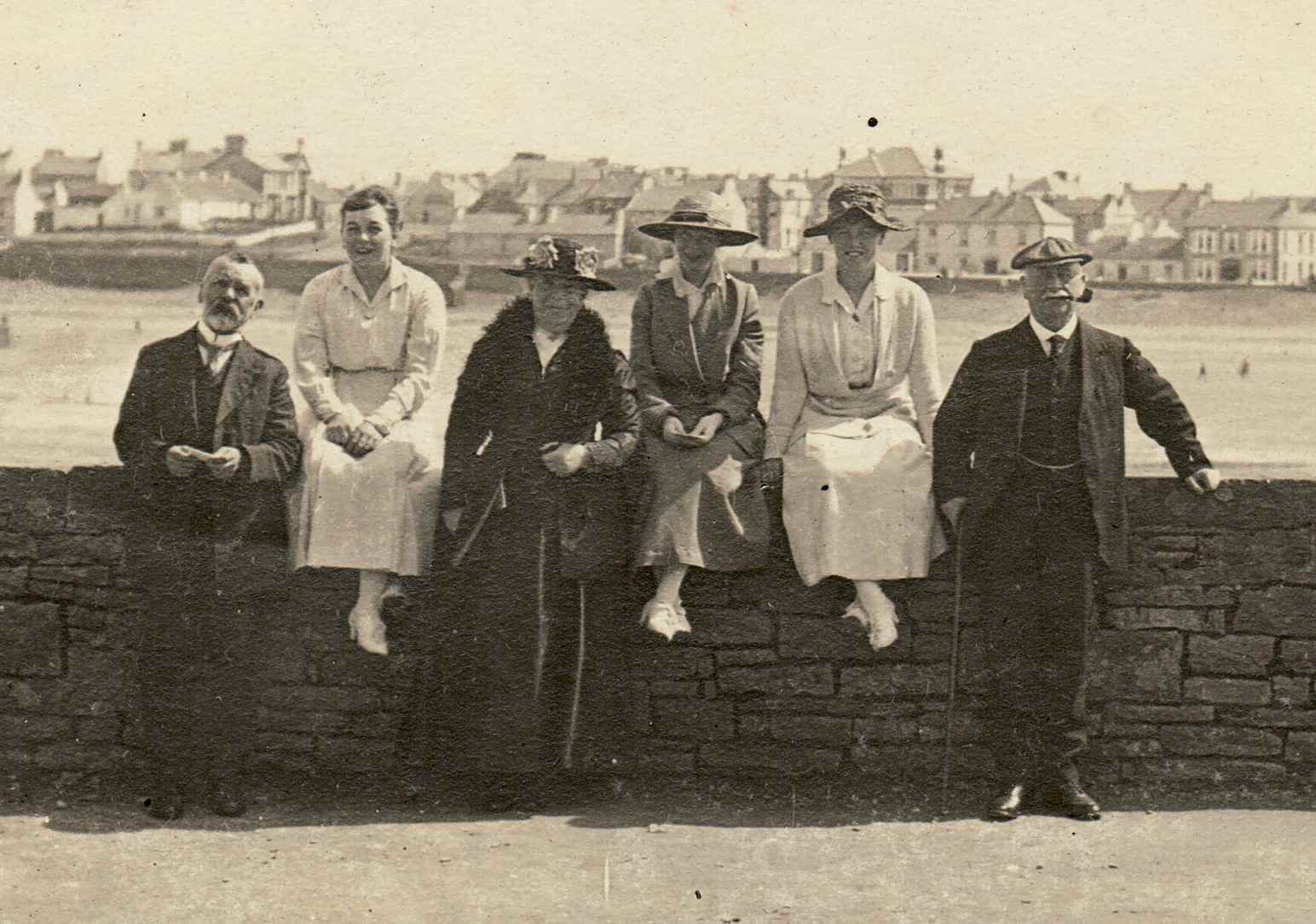 Left to Right: Michael Judge, Nora O'Mara, Kate O'Mara, unknown, Eileen O'Mara (born 1897), Dick Ray.
Kilkee, 1914.
See larger and full size.
---
[Potterton, 1990 reprint]
lists some more surviving recordings.
The song
Ochone! When I Used to Be Young
.
From the opera
Shamus O'Brien
(1895) by
Charles Villiers Stanford
.
Sung by Joseph O'Mara in 1902, London
[Potterton, 1970]
. Or maybe 1901.
In public domain. From
archive.org
. See
MP3
.
The song
"Friend and Lover"
by
Landon Ronald
.
Sung by Joseph O'Mara, 1902, London.
In public domain. From
The First Opera Recordings, 1895-1902: A Survey
. See
prestoclassical.co.uk
.
---
References
---
Sources yet to be consulted
Joseph O'Mara file, "Limerick people files", filing cabinet, Local section, [LCL].

"Items about Irish men and women", The Irish Monthly, Vol. 19, No. 213, March 1891, pp.157-162. [NLI] 1H 624.

Newspaper cutting of granting of Freedom of Limerick. Limerick Chronicle, Sat 3 Oct 1908.

"Singer O'Mara here with Peggy Machree", New York Times, 18 October 1908.
"Stories of the Operas", by O'Mara Opera Company. Mentioned on end page of 1918 programme.
"An Irish Co's Season". Item in Saturday Herald, 9 July 1921.

Autobiography, by Neville Cardus, 1947.

Mentions Joseph O'Mara. See extract in [PAT/33].
Later works
"Joseph O'Mara: Operatic Tenor" (also here), Anthony Riordan, Old Limerick Journal, No.29, Winter 1992.

"Joseph O'Mara", by Gus Smith, Irish Stars of the Opera, Madison Publishers Ltd, 1994.

Repub in The Limerick Anthology, edited by Jim Kemmy, 1996.

Limerick's Joseph O'Mara: Ireland's forgotten tenor, George Hamilton, Sunday Independent, August 6, 2017.
Limerick Music Throughout the Decades, Paddy Brennan (2018).
---
---
---
"If there is any Irish Man, or Woman, in New York who was born in Ireland or whose ancestors were Irish, or who ever was in Ireland, that man or woman ought to go to Broadway Theatre, see and listen to Mr. O'Mara's presentation of Patrick Bidwell's new romantic musical comedy 'Peggy Machree'".
- The New York Herald, around Nov 1908. Quoted in [Potterton, 1970].
"There is an Irish Caruso at the Broadway and his name is Joseph O'Mara."
- The New York Journal, around Nov 1908. Quoted in [Potterton, 1970].
---