John Lloyd, of Caherline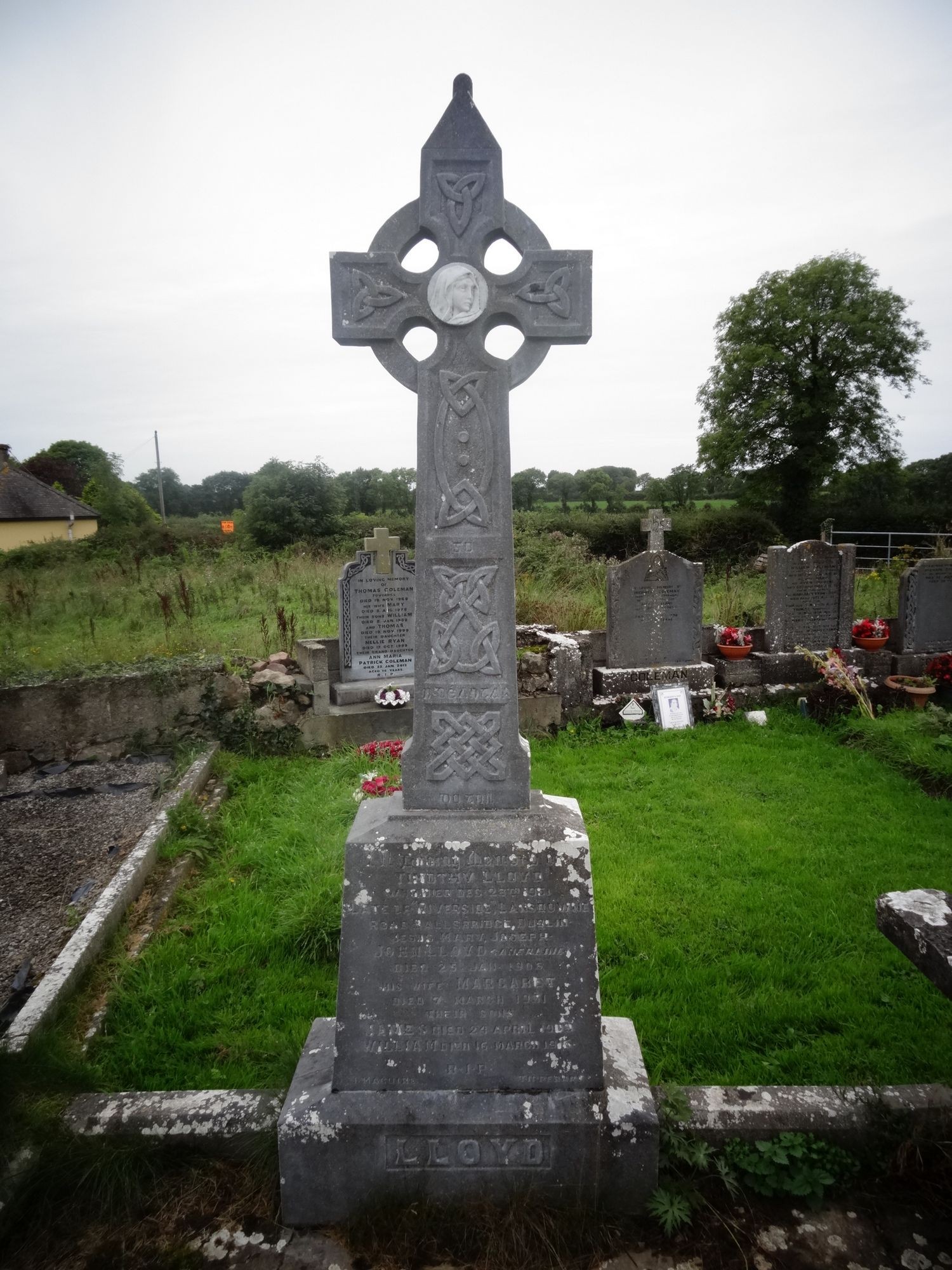 John Lloyd and
Tim Lloyd
grave,
Towerhill graveyard
.
Photo 2013. See
full size
.
From
historicgraves.com
.
John Lloyd
,
born 1833 or 1835, Co.Limerick,
possible descendant of
Edward I
.
Farmer, of
Caherline House
, Ballybrood par, E Co.Limerick.
He came to Caherline after 1852. There by 1867.
Living "Caherline House" as at mar 1867, listed as farmer.
"John Lloyd" sp his niece Cathy Humphreys' bapt 1878.
"John Lloyd" sp his niece Teresa Humphrys' bapt 1883.
"John Lloyd" (probably him rather than his son) owned pub at 68 Upper Georges St, Kingstown (later Dun Laoghaire), Co.Dublin. Listed there in [Thoms] 1897 to 1903 edns.
[P106/172(7)] is letter of c.1900 from Margaret Lloyd, Caherline House, to Anno. Asks about Dr. David's health.
The pub in Dun Laoghaire was taken over by his son-in-law Jack Walters who married his dau in 1902.
He and his wife were both at her brother Dr.David's funeral 1903.
David Lloyd says he owned 2 or 3 houses in Co.Limerick. One was in "Pallas Grean" (might refer to Caherline).
He is listed at Caherline House in 1901 census. He is "farmer". They have 4 farm servants. It is the biggest house in Caherline.
John dies, 1906:
He died at Caherline House, 25 Jan 1906 [grave], [death notice], [NAI], age 71 or 73 yrs.
See death notice in Freemans Journal, January 30, 1906.
He was bur Towerhill, Co.Limerick.
Probate of will granted at Limerick, 30 Sept 1909, to his brothers-in-law Fr. James Humphrys and John Humphrys, effects £532 [NAI].
Margaret is listed

at 68 Upper Georges St, Kingstown, in [Census, 2 April 1911], with her two daus and Jack Walters.
Margaret dies, 1931:
She died 7 March 1931, age 89 yrs, at her daughter's house, 32 Clarinda Park East, Dun Laoghaire.
See death notice in Irish Independent, 9 Mar 1931.
Funeral Mon 9 Mar 1931, bur Towerhill, Co.Limerick.
John and Margaret had issue: