Blog - 2010s
(2010 to 2019)
2019
English families updates. Visits and photos.
Irish families updates from DNA findings.
Historic OS maps of UK
National Library of Scotland allows non-commercial use of historic maps.
Lists of visits
2018
New website style, Aug 2018
Mount Merrion House, Co.Dublin
2017
Liam Cosgrave dies, 4 Oct 2017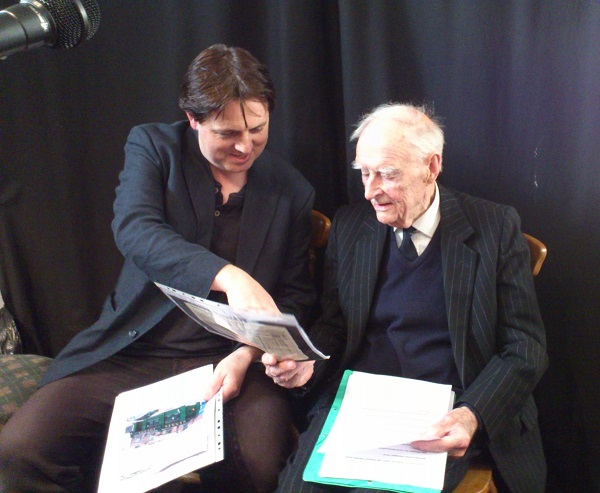 My mother's first cousin Liam Cosgrave and I discuss our family history in 2013. Liam recalled times spent with his grandfather (my great-grandfather) Alderman Michael Flanagan, who lived through the Famine of 1845-50. It is incredible to think that Liam knew a man who lived through the Famine.



St. George's chapel, Windsor Castle
New scans in Gibbon branch
Huge update to early Humphrys tree, based on Glenstal Abbey papers.
Ryan tree now fully online.
P40 O'Mara papers in UL Archives
High-quality images from old Humphrys and Rahilly glass negatives
2016
New images in Flanagan branch
Major update of Wells branch
I track down and photograph a document dated 1727 in my family tree, June 2016.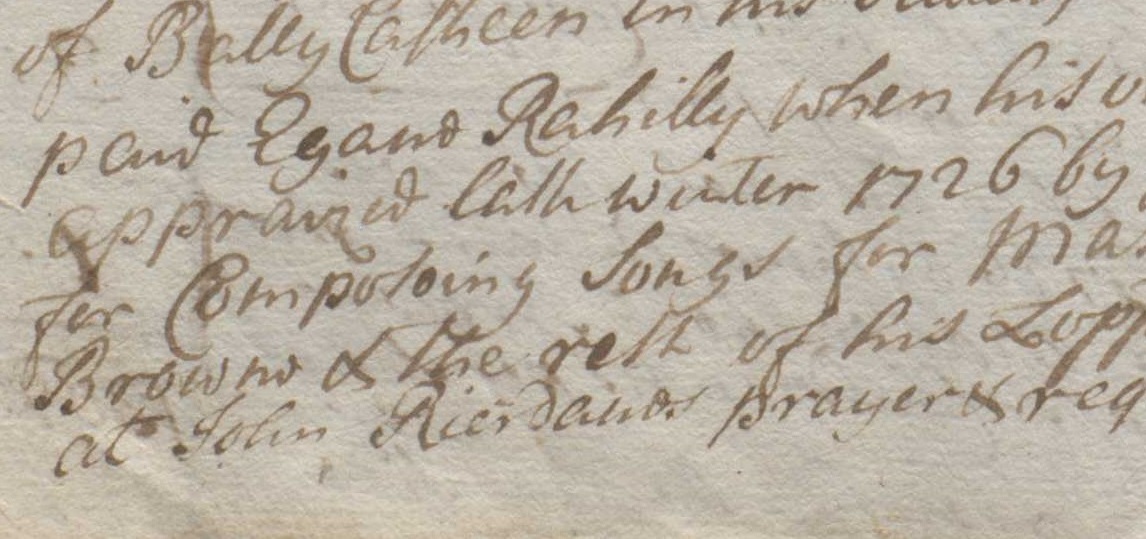 Aodhagán Ó Rathaille mentioned in accounts dated Sept 1727.



Films of James Mark Sullivan and the Film Company of Ireland
Humphreys and O'Rahilly prisoners in Mountjoy and Kilmainham
"The O'Rahilly" 1916 memorial events, Apr 2016.
Yeats ancestry updated
2015
Kerr branch entirely updated
I wrote a short biography of Alice Cashel in Cumann na mBan: County Galway Dimensions, Galway County Council, 2015.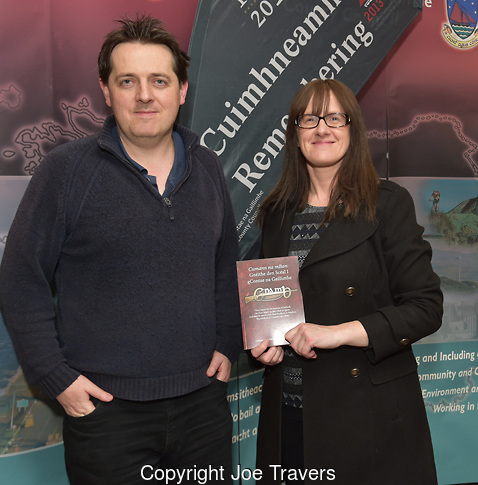 Me at the launch with one of the other contributors.
From Joe Travers.



Unfortunately, the rock star Bono does not have a Royal Descent:
Flanagan tree pushed back one more generation, to 1777:
I track down and photograph a document dated 1722 in my family tree, June 2015.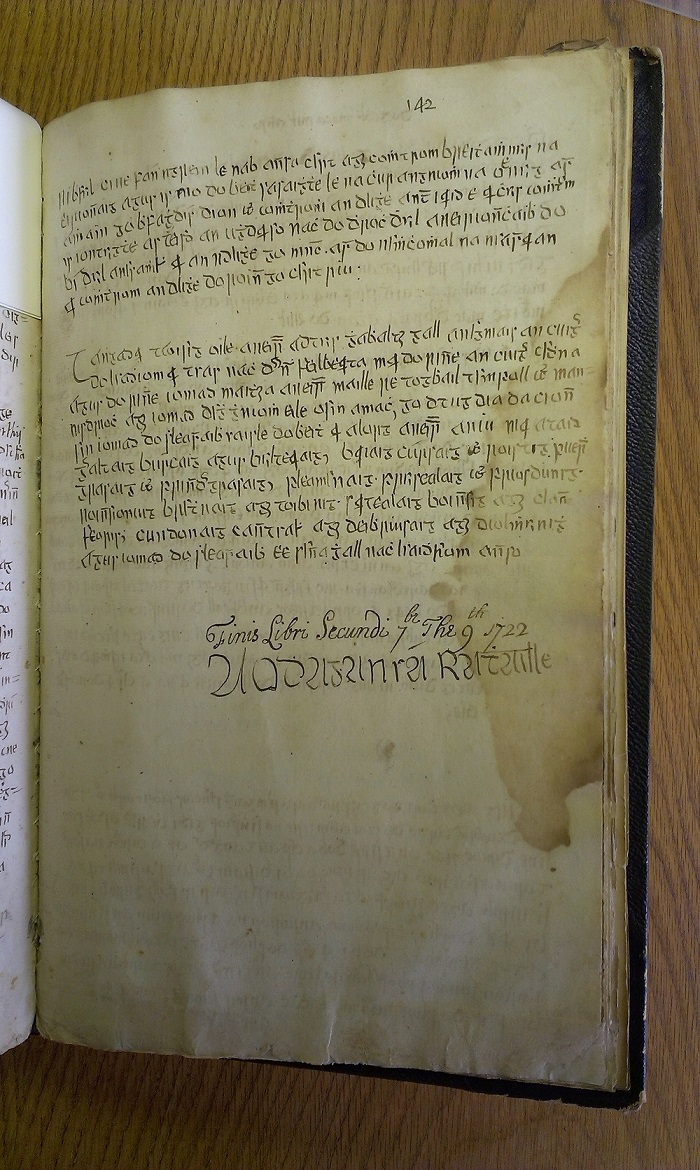 Signature of Aodhagán Ó Rathaille dated 9 Sept 1722.
See full size.



Talk on O'Rahilly family history, Ballylongford, 11 Apr 2015
I gave a talk on the O'Rahilly family history at a seminar on The O'Rahilly in Ballylongford, Co.Kerry, on 11 Apr 2015.


The topic of my talk.
See full program.



Apparently we exist because a man called Kennedy O'Brien was killed in a faction fight in 1825.
UCD Archives
New updates
2014
The song "Darling Michael"

"Darling Michael" (2014).
Dicey family tree - new photos
Possible living descendants of the poet Aodhagán Ó Rathaille
O'Rahilly tree now fully online.
O'Rahilly (or Rahilly, or O'Rahilly "Fionn", or The O'Rahilly) of Sliabh Luachra (and Ballylongford and Dublin)
The poet James Clarence Mangan
Brian Boru Millennium talk, 12 Apr 2014
I gave a talk on how we all descend from Brian Boru at the Brian Boru Millennium Commemoration Weekend, Killaloe, Co.Clare, 12 Apr 2014.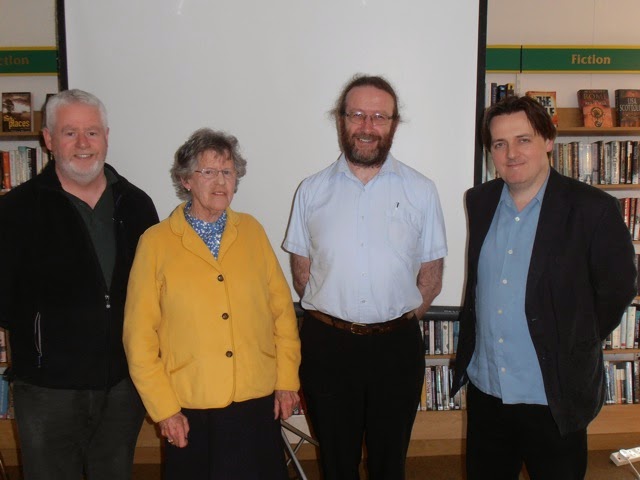 Brian Boru weekend, Apr 2014. Left to right:
Genealogist John Hamrock (of Ancestor Network).
Historian Grania Weir (dau of 16th Baron of Inchiquin).
Genealogist Paddy Waldron.
And myself.
See full size. From Ancestor Network. Used with permission.



Donnybrook, Co.Dublin
Lloyd may have a Royal Descent
My wife and my children have 23 descents from Edward III
Ahnentafel (Ancestor Number) Online Parser
2013
Glasnevin Cemetery - New photos and street view
Westminster Abbey
Mangan tree now fully online.
Entirely new Nolan and Donovan trees.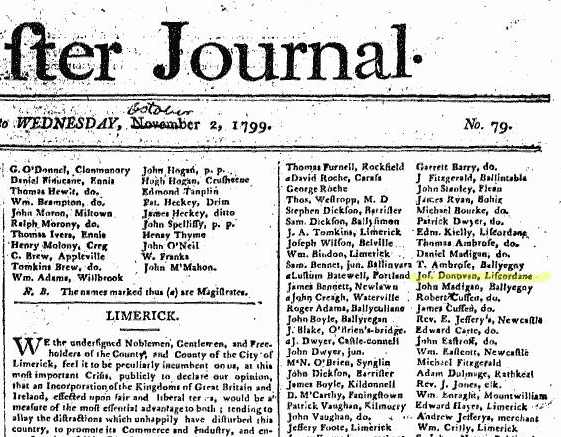 Finns Leinster Journal, 28 Sept to 2 Oct, 1799.
My ancestor Joseph Donovan of Lisgordan signs a statement in favour of the proposed Act of Union.
See full size.



I discover a possible Royal Descent for my grand-uncle, Jan 2013
Major update to Maltass and Icard
New tree and images
New images
2012
Fixed error in ancestry of Kitty Hunter
I previously had Kitty Hunter's ancestor Sir Charles Somerset listed in error as son of the 4th Earl of Worcester. In fact, he is son of the 2nd Earl. (Thanks to Hal Bradley for pointing this out.) Fixing this required wiping out many, but not all, of Kitty Hunter's Royal Descents.
I also took the time to check thoroughly the line from Sir Charles Somerset down to Kitty Hunter. This descent is now definitely proved:
Gould of Limerick city
US Presidential election, Nov 2012
Media coverage
---
Media appearance: "Coleman at Large", Irish radio, Aug 2012
I talked about my genealogy work on "Coleman at Large", Newstalk radio, 14 Aug 2012.

Click to play first part of "Coleman at Large" show on identity.
Length 25 minutes.
The second part is missing.
You have to grab Newstalk shows while they are there. The first part of the show used to be from 28:43 to the end (53:00) in this: This URL no longer works. It points to another show.
The second part of the show is missing. It was never online.

The celebrity who discovered to his shock that he was not Irish was indeed John Hurt.
---
Cecil tomb at Westminster Abbey
New details and images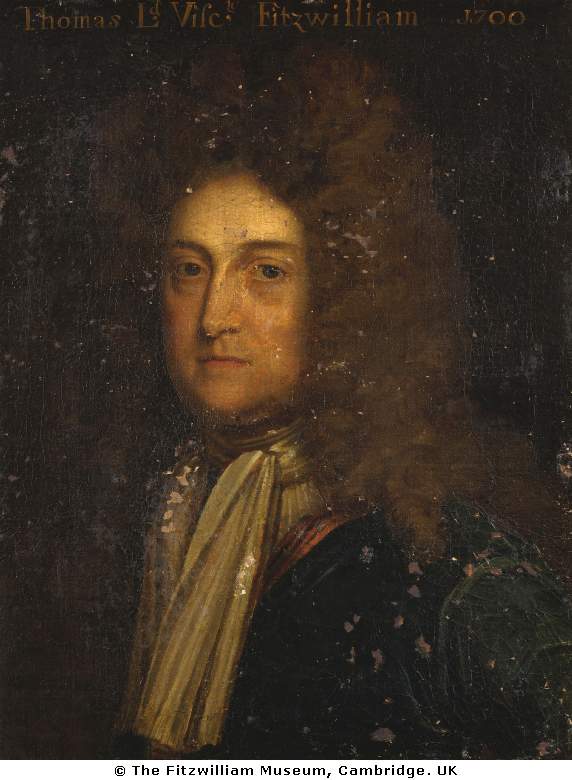 4th Viscount Fitzwilliam.
Portrait 1700. Used with permission.



Detailed mapping
New details and images
Detailed mapping
New images in O'Rahilly branch
New images in O'Mara branch
2010
Google Street View for UK and Ireland
This is an image, not an embed: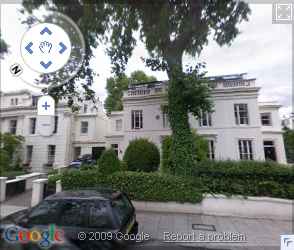 Street view of James O'Mara's house,
30 Maida Ave, Maida Vale, London.
Click to rotate and see location by canal.



Irish Times article, 1 Dec 2010
Royal Descent of 5th Viscount Fitzwilliam
UK election, 6 May 2010
New O'Rahilly and Humphrys images
Brooke Shields on "Who Do You Think You Are?" (US), 2 Apr 2010.
Brooke Shields descends from:

The show focused very much on France. But she also descends from:

Brooke Shields on the show.
The show focused on her French Royal ancestors, neglecting her other Royal ancestors.



New details
New details
My MRCA work is mentioned on "QI", Jan 2010

Episode 10, "Greats" of Series G of Stephen Fry's QI show.
BBC One TV, 29 Jan 2010.
See 6:12 to 9:27.
See copies.
Unfortunately, they seem to be working from an old article, since they name-check Daniel Boone, whose Royal Descent has since been disproved. It is a shame, since there are so many other famous people they could have mentioned.

This is the short version. In the extended version ("QI XL") there is nothing extra on our section.
QI Blog, 13 Jan 2012.
Royal Descent of General Robert Hunter
---